Culture
Fanny Brice, the legendary comedienne and songstress immortalized by Barbra Streisand in the musical and film "Funny Girl," would have been 125 years old today. Brice, born Fania Borach on the Lower East Side's Forsythe Street, captured hearts as a star member of "The Ziegfeld Follies," the character of Baby Snooks on the radio, and in films including "The Great Ziegfeld" and the silent "My Man."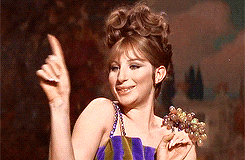 As a member of the Follies, Brice's best-loved acts included her rendition of the song "My Man," Channing Pollock's English version of the French "Mon Homme," her Yiddish-inflected characterization of Irving Berlin's "Sadie Salome," and her farcical take on Ethel Barrymore's "Camille." She tried her hand at straight drama once, with the 1925 Belasco production "Fanny;" critics didn't take to the performance, and Brice returned to comedy.
As the Forward's Chana Pollack wrote in 2014, Brice "opened her career-making act as the Yiddish 'Salome' with this line: 'I've been a bad woman, but such good company, Nu?'" Such good company, indeed.
Listen to Brice sing "Second Hand Rose" in the video below.
Talya Zax is the Forward's culture fellow. Contact her at zax@forward.com or on Twitter, @TalyaZax
The Schmooze
"I watch this movie maybe once every two weeks," my friend Jamie said to me, giggling, as we found our seats for a screening of "Funny Girl." The Museum of Jewish Heritage was screening the film as a part of their ongoing "Hello, Gorgeous!" Film Festival, in which they're showing a different Barbra Streisand movie for free every week during the summer. She was so excited to see Barbra on the big screen.
The theater was filled with a decent amount of people for a 6:30 p.m. screen time in the Financial District. Many of them were women with white or graying hair, plus the occasional younger ones like Jamie and myself. I had seen the movie many times, of course, and I knew the songs without even trying, but I came to see it tonight mostly because I thought it would be a fun thing to do with my friend who adores the film so much she sat next to me reciting lines from memory. As we watched, I remembered how I felt the first times I saw "Funny Girl," when I was in elementary school.
When I was in fifth grade, I gave a "Living History" presentation on Fanny Brice. I knew about Fanny because my mother, a lover of movie musicals and of Barbra Streisand, had introduced me to "Funny Girl." Entranced by Streisand's comedy and singing and fabulous eyeliner, I wanted to learn about the woman she portrayed. Was she really as funny and noisy and boisterous as Barbra? I wanted to be like both of them!
The Schmooze
The role that launched Barbra Streisand has been recast — and it didn't go to the Jewish heir apparent.
The next Broadway production of "Funny Girl" will star Lauren Ambrose as Fanny Brice, the real-life Jewish comedian whom Streisand played during the show's original 1964 Broadway run.
The role, which earned Streisand a Tony nomination and later an Oscar for the film version, has been the source of considerable speculation in recent months, as the search has intensified for the star of the new staging. Bartlett Sher, the Tony-winning director of the new show, has said he was looking for an "unforgettably thrilling voice… a once-in-a-generation talent [with] excellent comedic timing."
Thank you!
This article has been sent!
Close