Culture
Portraits of Holocaust survivors show their strength, not their sorrow
B.A. Van Sise's photographs aren't stereotypical — and that's exactly the point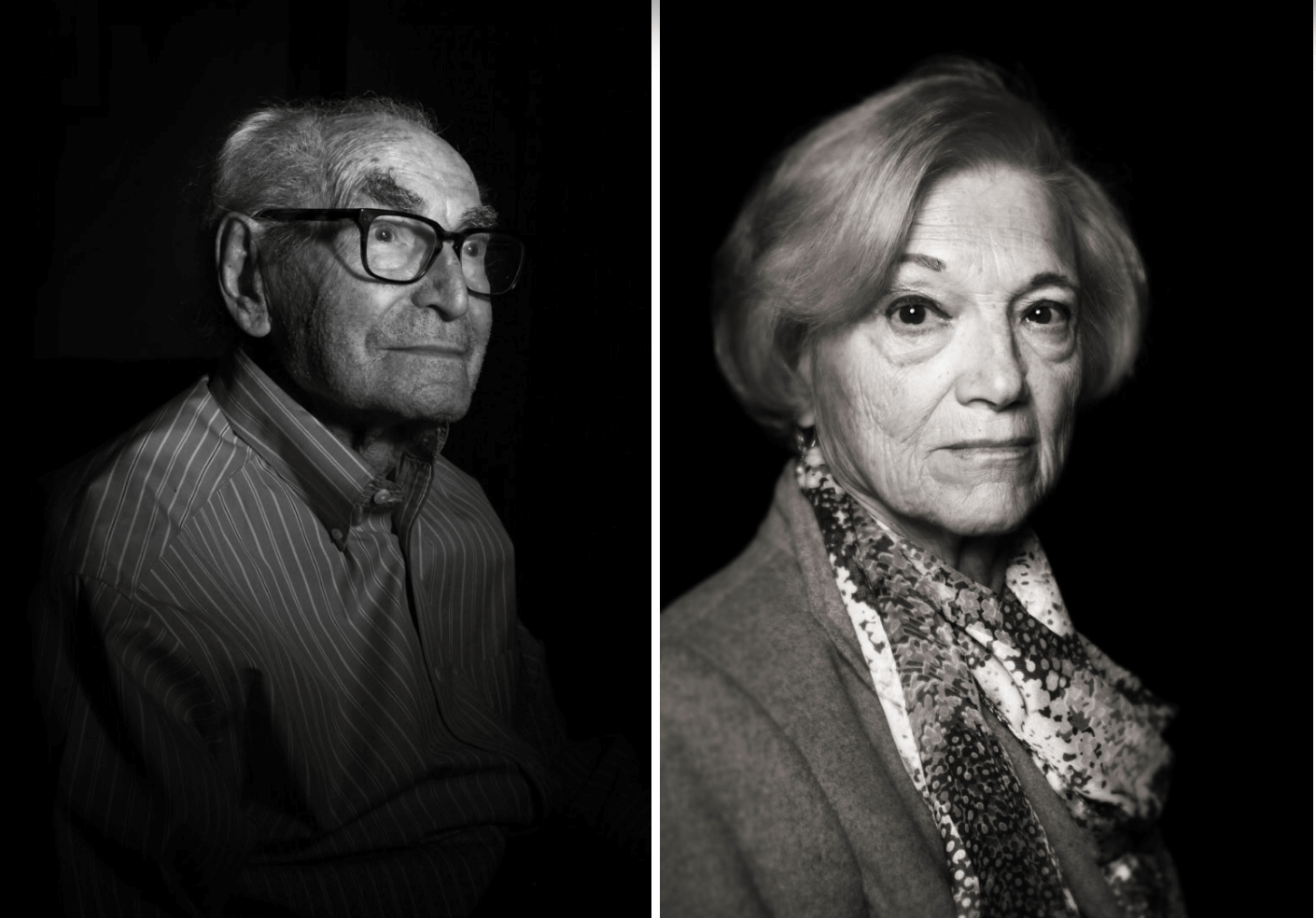 At 92 years old, Auschwitz survivor Sam Sillberberg hikes about 3 miles every day. And before he let B.A. Van Sise photograph him atop a rock on a beach in Southern California, Van Sise had to arm-wrestle him and drink his homemade cherry liqueur. 
"I exercise and hike a lot because when you're out in nature it elevates the spirit. I also wanted to show that I've still got some strength,"  Silberberg said.
Sillberberg was 9 when the Germans invaded his hometown of Jaworzno, Poland, 12 when he was sent to a forced labor camp with his father and 15 when he was taken on a death march.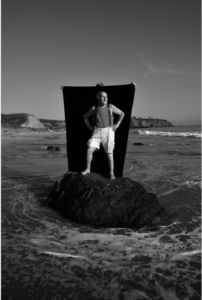 He was imprisoned by the British on Cypress, fought in Israel's war for independence and then made his way to the United States, where he worked as a linotype operator in Ohio. After living in New York City for a time, he moved to California, where he worked in real estate.
"I have a sense that I accomplished a lot. I've done what I felt was necessary to do — not just to survive but to live after survival. I want people to see that despite age you can live a full, spiritual life," he said.
It is precisely this vibrancy and vitality that Van Sise captured in his yearslong project to photograph Holocaust survivors across the United States. Several of the 140 portraits are now part of a new exhibit, "Invited to Life: Holocaust Survivors in America" at the Center for Jewish History in Manhattan.
The images, which will be part of Van Sise's forthcoming book "Invited to Life: Finding Hope After the Holocaust," invites viewers to think about survivors through a different lens. Rather than focus on the terror, loss and immeasurable suffering of the Holocaust, the portraits focus on the determination, strength and joy survivors found as they built new lives in the U.S. after the war.
"I have a certain disappointment, I guess is the way I'd phrase it, in the way that Holocaust survivors are almost always depicted. When you see Holocaust survivors depicted they're always sad and feeble, pathetic, old, depressing people. They're not," Van Sise said as he stood in front of Sillberberg's portrait inside the gallery. "There is the strength of them, the resilience of them. There is vitality. I am constantly inspired by them. There is something remarkable about someone who goes through this and still gets up in the morning and does the ordinary things of life and the extraordinary things of life. Surviving is enough but yet they always do more."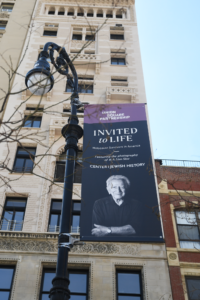 Van Sise took his first portrait of a survivor in December 2016 and the last one in April 2022. In between, he traveled more than 30,000 miles, took at least 100 COVID swabs, logged hundreds of hours of interviews and snacked on more packets of Delta airplane peanuts than he can count.
As the world shut down and rolled up during the first year of the COVID-19 pandemic, Van Sise, who is primarily a travel photographer, was suddenly out of work. His mind kept returning to the few Holocaust survivors he'd met when he was working on an earlier project about refugees for The Village Voice.
Most of the survivors, who now range in age from 77 to 104, were just children and young teenagers during the Holocaust. When he started this project, Van Sise, who once worked as a first grade school teacher, couldn't help but see them as the children they once were.
"It was really challenging to deal with it and think of them as anything other than children. I would come home and listen to Klezmer music and cry," he said.
The exhibit, which will run through August, has a special resonance for Bernard J. Michael, president and CEO of the Center for Jewish History. His mother was sent to a concentration camp when she was 13;  his father fought with Russian partisans.
"I look at these pictures and everybody is someone I see at my parents' table in the Bronx. I remember as a kid other Holocaust survivors — they were my parents' friends — gathering at our apartment for holidays, happy times, and sad times. They were different. They had an inner core of steel without the bitterness," Michael said. "They had the sadness or bitterness in there, but they had also accomplished what they needed to accomplish, which was not to have had the Holocaust destroy them. The Shoah didn't win."
Theirs is a Jewish story, said Michael, but also an American one. "It's about how they rebuilt their lives from nothing; they had no English language, no money, sometimes no family. It deals with survival; and how through sheer strength of will they built a new life in America," he said.
During each photography session, Van Sise spent time speaking with and getting to know his subjects. He asked them how they came to the U.S., zeroing in on their post-war life. In the book, each photograph will be accompanied by an essay showing the myriad ways in which these survivors have demonstrated resilience, remembrance, creativity and connection.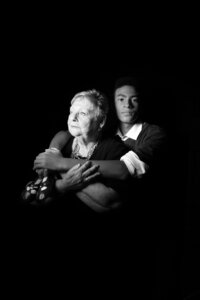 Mireille Taub survived because she and her family escaped on the last train to leave Paris before the Nazi occupation. Just 19 months old at the time, she has no memory of the trip — save for a flashback of her mother holding her as they crossed the border from Spain into France. So many decades later, Taub still has the six-pointed star from her uncle's jacket and the sewing kit her mother brought on the train.
Taub, who taught reading literacy in a lower-income school, is photographed with one of her three grandchildren, 16-year-old Dylan. In it, she wears a chunky, beaded necklace and a textured blouse.
"I had to decide what to wear that would be the most flattering and would also project the person I am. I think B.A. understood my quirkiness," Taub said, speaking over the phone from her Long Island home.
Taub's uncle, who was already in Chicago, helped the family get to the U.S. Initially, her father was going to work for Marshall Field's. Instead, he got a job in New York City's garment district, and eventually started a small business that manufactured luxury handbags.
Taub met her husband when she returned to Paris in 1964 to live and study. To this day she continues to follow her parents' mantra: Life is for the living. "I continue to ask myself, 'Have I grown up yet? What else can I try? What can I do better?'" she said.
After her retirement, Taub continued to work. She taught tolerance and social justice as well as working with teachers to improve their writing.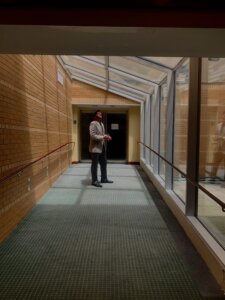 If many of the portraits exude strength and serenity, the one of Allan Hall and his wife, Lori, radiates pure joy. Born in Poland, Hall and his family spent two years hiding from the Nazis in the basement closet of a Nazi building. In 1947, when he was 12, he arrived in the U.S. aboard an American Airlines plane.
"I had the aisle seat and I remember seeing something white," Hall, who now lives in Miami Beach, told me. "I wasn't sure what it was because after the war we had very little lighting. Then I realized it was the skyline over Manhattan. I was coming from the dark into the light."
Van Sise's work has been featured in solo exhibitions at the Center for Creative Photography and the Museum of Jewish Heritage, as well as in group exhibitions at the Peabody Essex Museum and the Whitney Museum of American Art. Several of his portraits of American poets are in the permanent collection of the Smithsonian's National Portrait Gallery.
Standing in the gallery, amid the portraits, Van Sise reflected on how this project, like his others, changed him emotionally.
"In the beginning, I found it utterly depressing. Sitting with the exact same people," Van Sise told me as he stood in the gallery in the Center for Jewish History. "Then I began to reframe the way I spoke with them and it started to change the way I think about how you view a life, live a life."