Film & TV
'Fiddler on the Roof' — the movie that mattered so much that they made a movie about it
A new documentary chronicles 'Fiddler's Journey to the Big Screen'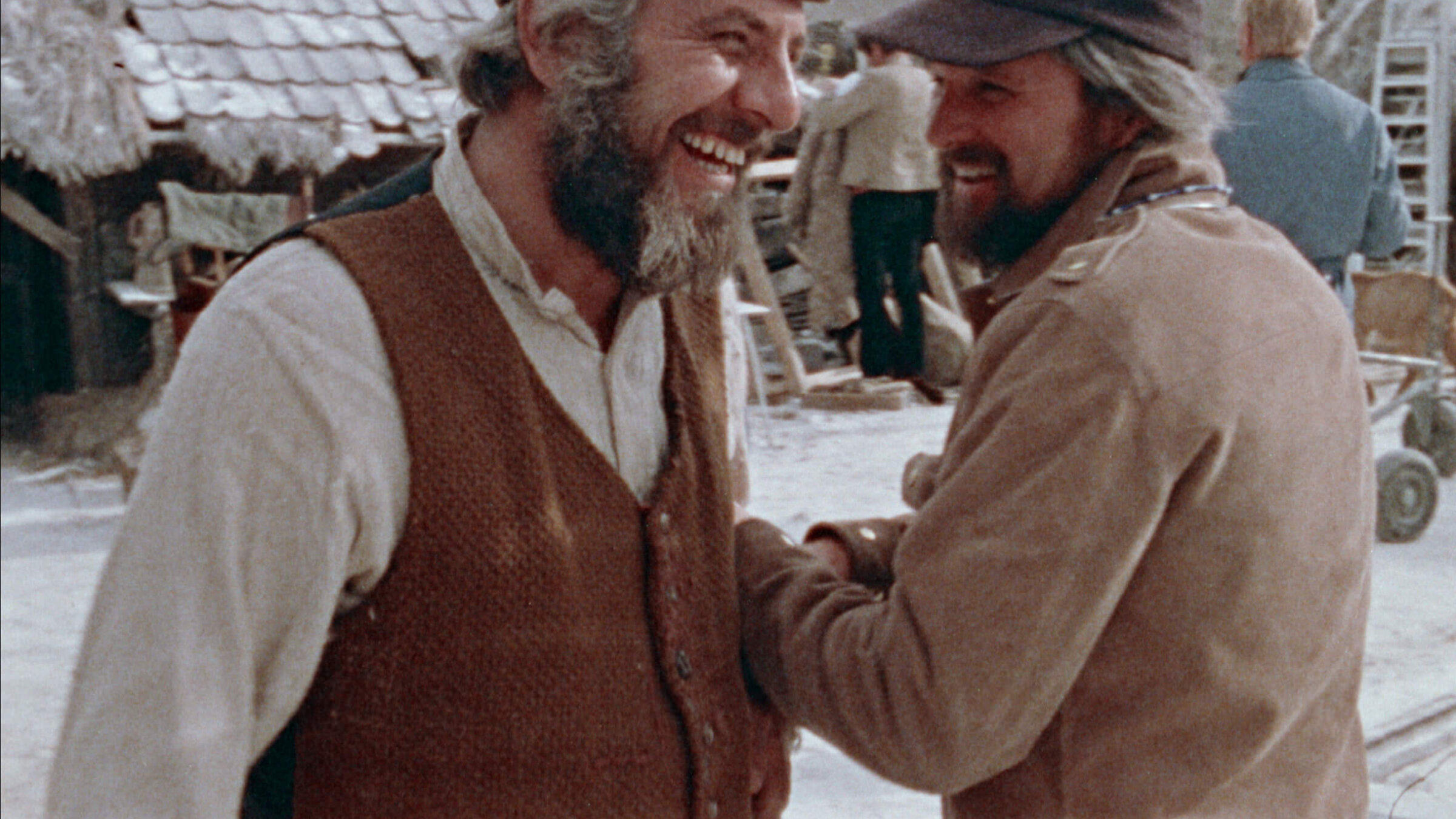 Narrated by Jeff Goldblum, "Fiddler's Journey to the Big Screen," should strike a resounding chord with movie musical mavens everywhere; and if they also happen to be aficionados of musical theater better yet. The timing couldn't be more fitting — Norman Jewison's blockbuster, "Fiddler on the Roof," a film Pauline Kael dubbed, "The most powerful movie musical ever made," celebrated its 50th anniversary just a few months back. And the new film comes in the wake of the stunning revival of "Fiddler" in Yiddish, compliments of the National Yiddish Folksbiene Theater and the 2019 doc, "Fiddler: A Miracle of Miracles" that explores "Fiddler's" enduring appeal.
Though it debuted on Broadway in 1964, "Fiddler" has never stopped resonating with viewers across the globe, despite the naysayers early on who suspected "Fiddler" would have a limited audience. Sholom Aleichem's source material, Joseph Stein's book, Sheldon Harnick's lyrics, Jerry Bock's music and Jerome Robbins' choreography proved to be groundbreaking theater.
More to the point, the musical told a universal story, its specificity notwithstanding. Yes, it is set in a pre-revolutionary impoverished (imaginary) Russian shtetl, Anatevka. But almost anyone can relate to Tevye, a Jewish dairy farmer, whose values are rooted in tradition, yet is in conflict with his three daughters, each of whom has modern ideas that threaten his place in the world. At the same time, his community is threatened as antisemitism burgeons on all sides and menacing soldiers are encroaching.
Now, Oscar-nominated filmmaker Daniel Raim, best known for his documentaries that preserve film history through portraits of cinema icons, zeros in on the likable 95-year-old Jewison and the many challenges he (and others on the team) faced in creating the long-vanished universe of shtetl life in Tsarist Russia and to reimagine, to some degree reinvent, the stage hit as a big screen epic.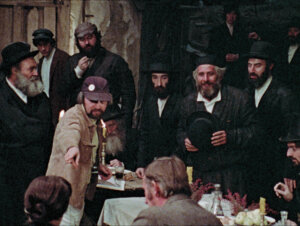 "Journey" seamlessly interweaves snippets from "Fiddler," the film and staged versions, with rare behind-the-scenes footage along with original interviews recorded over many years. Among those who make appearances are composer John Williams, production designer Robert F. Boyle, cinematographer Oswald Morris and the actors—from its star Topol to Rosalind Harris, Michele Marsh and Neva Small who played daughters. Lyricist Sheldon Harnick, now in his 90s also makes an appearance.
The early 70s were a problematic time for movie musicals. The era of such hits as "The Sound of Music," and "West Side Story" (also choreographed by Jerome Robbins), had been followed dozens of flops, in some instances featuring movie stars who couldn't sing, such as Clint Eastwood in "Paint Your Wagon." To helm a movie musical required special chops and experience.
The Toronto-born Jewison was perfectly cast for the role. He had a background in acting and singing, had directed and produced live TV, including musical specials, starring respectively Judy Garland and Harry Belafonte. Jewison had also directed the films "In the Heat of the Night," "The Russians Are Coming, The Russians are Coming," and "The Thomas Crown Affair."
Still, there was the little problem of his ethnicity. He isn't Jewish and in fact when studio head Arthur Krim offered him the "Fiddler" gig, he said, "But I'm a goy." Krim wasn't fazed at all, insisting that he was looking for a film that was broad-based and spoke to a huge cross-cultural, cross-national audience.
Tapping Jewison was an uncanny choice. In his 2005 memoir, "This Terrible Business Has Been Good to Me," he said that he has always identified with Jews.. In the doc he recalls how his name "Jewison," suggesting "son of Jew," marked him as a Jew in an antisemitic elementary school. Throughout his life he was a Civil Rights activist, a protester, sympathetic to the plight of minorities.
That said, he constantly struggled with issues of legitimacy in making the film and was determined to hit the right notes —from creating a real and credible Anatevka to casting Tevye, a role most identified with Zero Mostel who garnered raves on Broadway.
Jewison had his reservations about Mostel. He found him too stagey, too Brooklyn, too American and not at all what Sholom Aleichem had in mind. Others lined up for the role, including Danny Kaye and Frank Sinatra, neither of whom cut the mustard for Jewison, though he continues to be entertained by the image of Sinatra playing Tevye. But he landed his Tevye when he saw actor Topol tackling the part in the London stage production. Topol was more low-key and naturalistic than Mostel, though he too needed to minimize his acting on camera, Jewison said.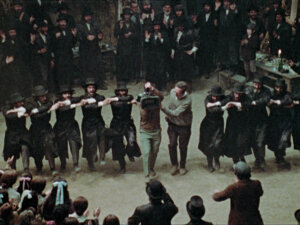 Unlike the fragile and surreal staged productions, which only hinted at the violence that took place in the shtetls, Jewison deliberately made clear the presence of the marauding soldiers and the growing brutalization of the Jews. Authenticity was bedrock. Villages that resembled shtetls no longer existed in Russia or Poland, so he looked elsewhere and found the closest facsimile in Lekenik, then part of Yugoslavia, which ironically no longer exists either.
For an added layer of inspiration he and production designer Boyle studied Roman Vishniac's old photographs of shtetl life in 19th century Eastern Europe. Cinematographer Oswald Morris set out to forge a universe that was faded, brown and dusty. To that end he covered the camera lens with a dark silk stocking.
Jewison never lost sight of the story's more elusive threads — from the poetry to the painterly elements to the music. He brought in Chagall sketches and hired Isaac Stern to play the plaintive violin sections, some of which was composed by John Williams who said he always remained mindful of a Yiddish sound.
One of Jewison's more amusing recollections centers on Stern's fear that he would be asked to mount a roof in order to play the Fiddler. He insisted he could never do that. Jewison assured him they would hire an actor for the trek. Stern's task was to play and be recorded, no climbing involved.
Much of the documentary is nostalgic and humorous. The actors playing Tevye's three daughters affectionately recall their anxieties, auditions and working processes. Determined to be accurate, Harris suggested that they let their hair grow, including the hair in their armpits and eat as much as they wanted; Tevye's daughters certainly didn't shave or worry about being svelte. Regrettably, Jewison was no fan of their "acting" choices. He said they looked "pudgy" and insisted they shave their armpits and lose the weight ASAP.
In the end, the remarkably moving film — that feels so frighteningly timely now as millions of terrorized refugees flee Ukraine — walked off with 13 award nominations and nine wins, including three Oscars and two Golden Globes, the latter for Best Picture and Best Actor respectively. But in many ways the most meaningful endorsement came from Prime Minister Golda Meir, who sat stony-faced throughout the premiere in Israel. The only fleeting emotion she showed was when the townsfolk were forced to leave Anatevka. She quickly, surreptitiously wiped away a tear and a few moments later squeezed Jewison's arm. For him, it was the ultimate benediction.
Years later, when Jewison was back in Israel, he met with Israel's first Prime Minister David Ben-Gurion, who stared at him skeptically before asking (and here Jewison renders one bit of mean mimicry), "'What kind of a Jew are you?'" To which Jewison responded, "'What is a Jew?' Ben-Gurion looked at me and said, 'anyone who is crazy enough to want to be a Jew is.'"
Still, although Jewison's Jewish trajectory is fascinating, I couldn't help but wish we had learned more about how or why making "Fiddler" enhanced his sense of identity. Was there a special turning point or was it cumulative? But that's a small quibble. "Journey" is an engaging film, deceptively simple. I saw it twice. One viewing does not do it justice.
Simi Horwitz won a 2018 Front Page Award from the Newswomen's Club of New York for her Forward story, "Ruchie Freier: Hasidic Judge, American Trailblazer." She received two 2020 New York Press Club Awards, three 2021 National Arts & Entertainment Journalism Awards, and a 2021 Simon Rockower Award.