A Conversation with Ksenia Svetlova on Israeli Politics + Arab Affairs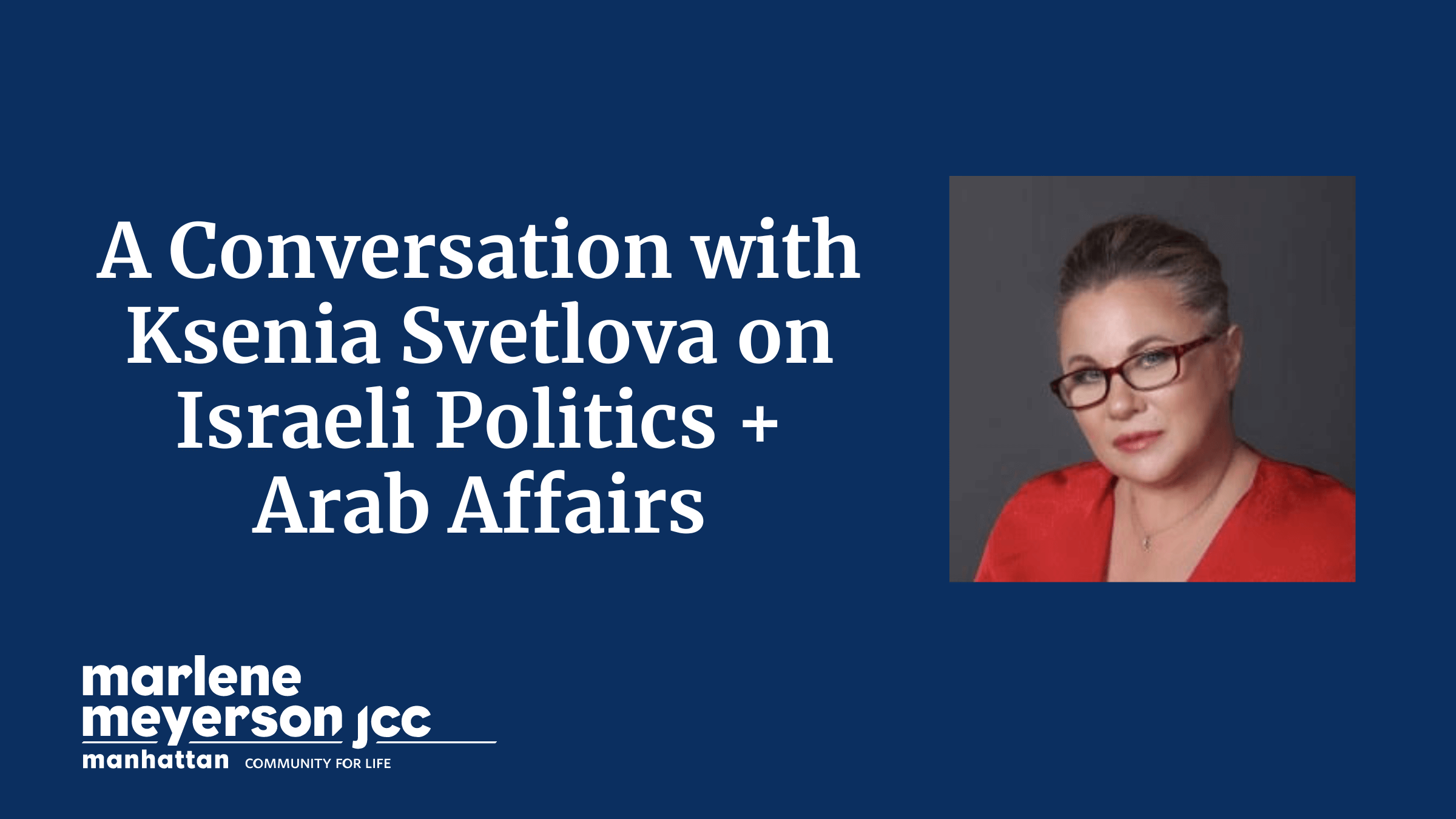 Thu., Sep. 22, 2022
7 P.M. ET
Marlene Meyerson JCC Manhattan
THANKS TO ALL WHO JOINED US!
This event was not recorded.
Join us for a conversation with journalist and former member of the Knesset Ksenia Svetlova on the Israeli-Palestinian conflict, the upcoming elections, how to get out of political stalemate, and what role the conflict played in the coalition government and its downfall. We will also delve deeper into Arab affairs through the years, and how the shifts in political dynamics and diplomatic relationships in the region have created a new reality for Israel and the conflict. The conversation will be moderated by Laura E. Adkins, Opinion Editor of the Forward. Her writing has appeared in The New York Times, The Washington Post, the Los Angeles Review of Books, and other outlets.
This event is co-sponsored by J Street and IPF Atid.
Ksenia Svetlova is a nonresident senior fellow at the Atlantic Council's Middle East programs and is a former member of the Israeli Knesset, a researcher, and a writer. She focuses on issues of Israeli-Palestinian conflict, Israeli-Arab relations, Russian influence in the Middle East, as well as the regional and international relations of the Middle East. She has covered the Middle East for 15 years at Israeli TV, and has written for the Jerusalem Post, Times of Israel, Haaretz, BBC Russian, Newsweek, Media Line, and other international media. She is currently leading an Israel-Middle East program at Mitvim—the Israeli Institute for Regional Foreign Policies. Her first book On High Heels in the Middle East was published  in 2021 (Pardes Publishing, Haifa).
The "Pay what you wish" feature ensures that JCC programs can be accessible for the entire community. Programs at the JCC take time, energy, and resources to create and we hope you will pay an amount that is both comfortable for you as well as acknowledges the efforts and resources of our staff and speakers. Payment through "Pay what you wish" is not a tax-deductible donation since goods/services will be provided.
Registrations are processed on a first-come, first-served basis.
Please contact Registration by email at [email protected] for additional information or if you are having trouble registering; be sure to include your name, contact information, and class/program/event for which you wish to register.
By registering for a Marlene Meyerson JCC Manhattan program, you consent to the JCC's Cancellation Policy. Participants in JCC programs are subject to all Policies and Practices of the Marlene Meyerson JCC Manhattan.