Hineni: Now Where Do I Go?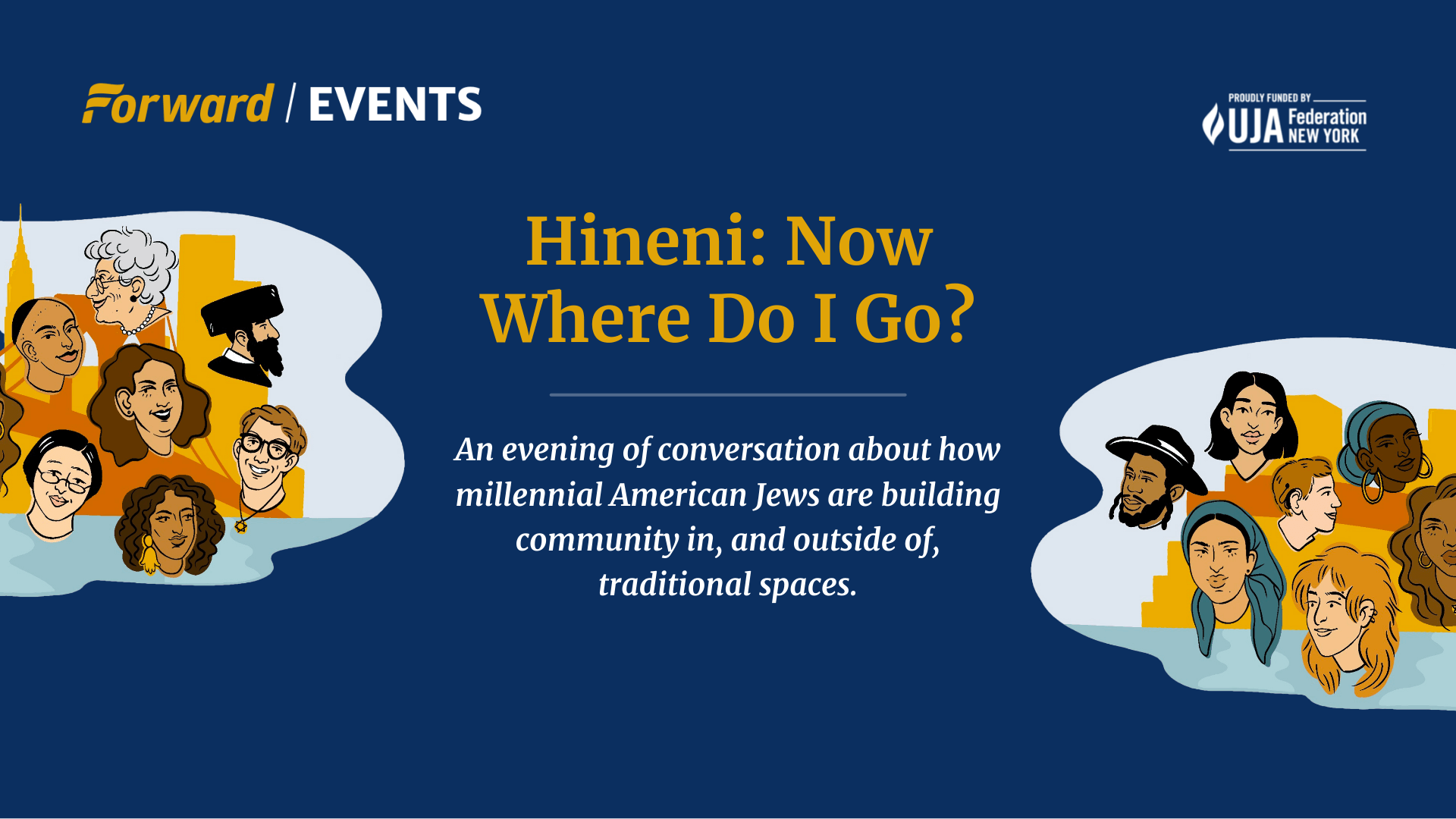 Thu., Jul. 28, 2022
7 P.M. ET
Virtual OR Great Lakes Brooklyn, Brooklyn, NY
THANKS TO ALL WHO JOINED US!
This event was not recorded.
The Forward presents an evening of conversation about how millennial American Jews are building community in, and outside of, traditional spaces.
American Jewry is more diverse than ever, and 41% of Jews between the ages of 18-29 report not feeling attached to any particular branch of Judaism. Queer yeshivot, neighborhood minyanim, Jewish artist fellowships and political organizing around social justice, including Israel, have taken root in their place.
"Hineni" — which means "Here I am" — is a conversation with diverse Jews from across New York City discussing what is gained (and lost) by making Jewish life outside of traditional spaces, whether denominations are still effective and what this potential shift away from traditional spaces means for American Judaism culturally and politically.
Panelists for the evening include:
Abby Stein,

rabbi, educator, author and activist. After leaving the Hasidic community, and coming out as a woman of trans experience, she has given 400+ speeches, around the world, raising awareness on LGBTQ issues in Judaism, antisemitism, media, and more.

Kendell Pinkney, rabbi and theatre artist.

Most recently, he has been featured in the acclaimed new docuseries

The New Jew

with actor-comedian Guri Alfi,

Saturday Night Seder

and Crooked Media's

Unholier than Thou

podcast. He currently serves as the Rabbinic Educator for Reboot.

Arielle Angel, editor-in-chief of Jewish Currents.
Alex Zeldin, columnist for the Forward. His work focuses on issues of Jewish communal affairs, Russian-Jewish politics, American foreign policy, and U.S.-Israel relations.
The event will be moderated by the Forward's deputy opinion editor, Nora Berman.
You can attend this event virtually or by attending in-person at: Great Lakes Brooklyn | 400 3rd Avenue #2nd Floor, Brooklyn, NY 11215.
This event is hosted by the Forward as part of our New York Voices project, generously supported by UJA-Federation of NY.