Meet the Mormon "Fiddler on the Roof"
A discussion with culture writer Mira Fox and members of the cast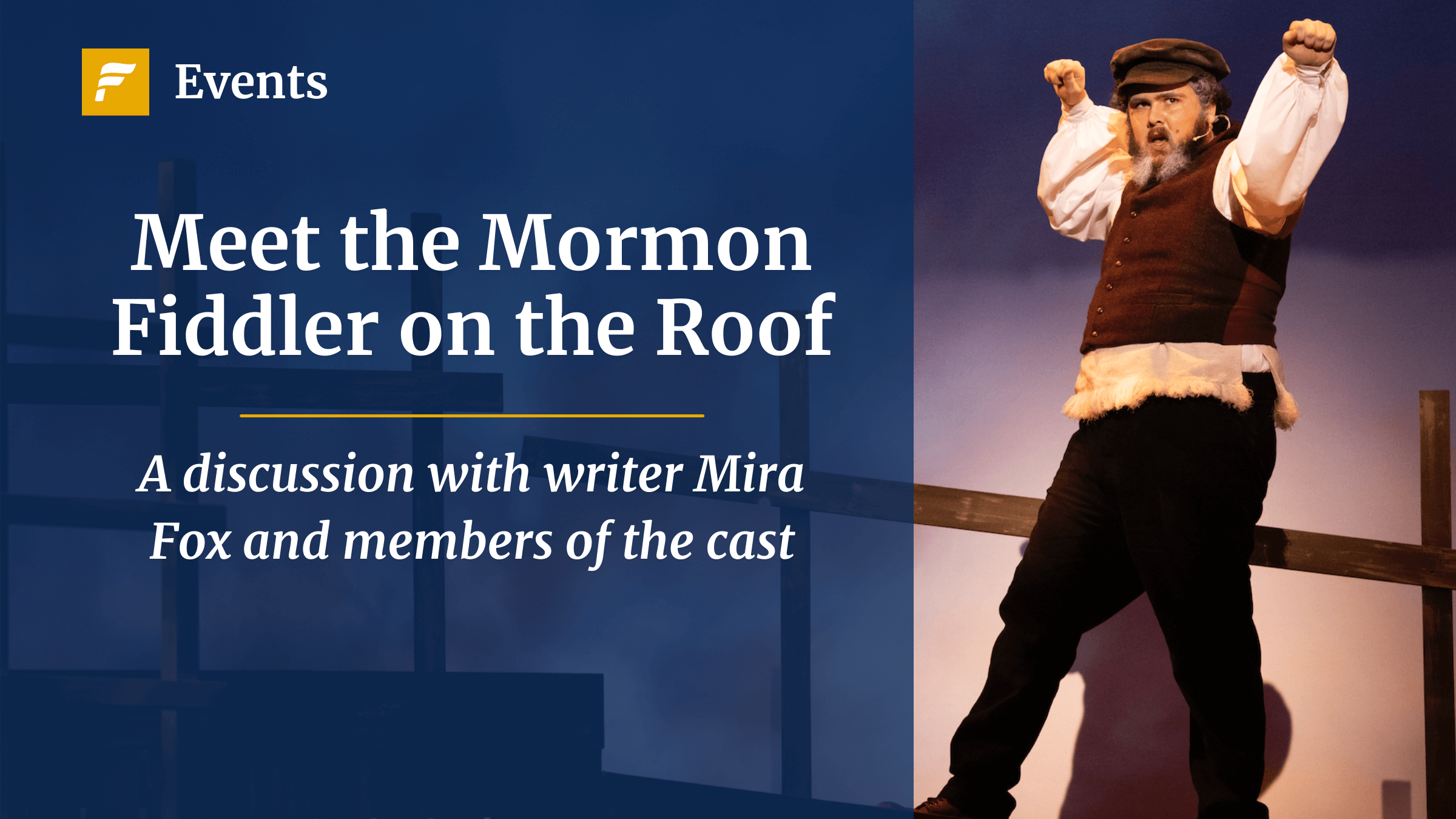 Zoom
Apr 29, 2022
12 pm EST
This event was recorded and is available to subscribers of the Forward.
THIS EVENT HAS ALREADY OCCURRED
When Brigham Young University put on "Fiddler on the Roof," culture writer Mira Fox couldn't hold back her curiosity — a Jewish show being put on by a Mormon university? What followed was months of reporting, flying out to Provo, Utah to speak to the cast, sit in on rehearsals and see the performance. Join Mira and cast members Peter Morgan, Nikole York and Emma Larsen to discuss the play, the article and the relationship between their church and Judaism.
Around a month after the Forward's feature piece on Brigham Young University's production of "Fiddler on the Roof," a few cast members and journalist Mira Fox got together again, on Zoom, to catch up on what's unfolded since the article came out, and take reader questions on the show and Mormon life in general.
Peter Morgan, who starred as Tevye in the show, called in from Boston, where he's living after graduation. Emma Larsen, who played Chava, and Nikole York, who played the mother, Golde, both called in from Utah. (Sage Patchen, who played middle daughter Hodl, and is York's roommate, jumped on York's camera as well.)
The panelists spoke about why "Fiddler" means so much to the Latter-day Saint community. 
"We live in a really interesting cultural community. In a time where, I'd say, most major cities in the United States are very secular, very modern, we're kind of dealing with the opposite," said York. "We have a very large religious population."
The group agreed that the community in Anatevka, the shtetl in which "Fiddler is set," feels similar to the community at BYU because of the strong emphasis on tradition and the fear of change. "The older generations often relate themselves to that," said Morgan, who is openly gay. "I related a lot more to the other side of the tension, to Chava — how often the older generation couldn't open up their traditions a little bit to accept me or listen to me."
"It was very interesting to me to play Chava, because I feel like in my life I've been more on the side of the one who is being left behind, and it was interesting to see that other perspective of being the one who is leaving," said Larsen. "I'm so grateful I got to play Chava to see the other side of this so maybe I can have a bit more empathy for how difficult it is for people."
As the conversation went on, a few new revelations came out — Morgan revealed that, in the  months since he graduated from BYU in the winter, he has left the Church of Jesus Christ of the Latter-day Saints. But, in a touching moment, he also expressed his deep admiration for Larsen, a staunchly faithful member of the Church.
"We've talked about Emma and my relationship and how we almost were flipped," said Morgan of their casting. "But Emma, I've loved working with you this whole time because you, in my mind, represent all of the ideal doctrines that I think about. You're so kind and loving and charitable and always want to bring joy and inspire joy — all of the Mormon tenets that I still try to aspire to."
The students also felt the feature Fox wrote was both fair and challenging, and have generated conversations in the theater department and beyond. "We've discussed the article multiple times in our home," said Patchen. "I thought you saw so many things, and brought to light so many things, that are important for us to read."
"It's not condemning, not congratulatory," said York. "It does raise more questions than it gives us answers, and I think that's really great for us.
As for how the show was received in the LDS community after all of the work and rehearsals, everyone loved it, though the cast members said few people asked deep questions about the show. But there was one complaint: the lack of the iconic bottle dance, which the BYU production omitted. 
"My uncle, he was like, it's tradition! It's tradition to do the bottle dance," said Patchen. "And I was like, 'But is it Jewish tradition? Or is it, like, American Broadway theater tradition?'"
"Well now it's both," Fox pointed out.
Thousands of people all over the world have connected with the Jewish community through our inspiring virtual conversations. We don't charge for our virtual events, but they cost us money to run.
View All Events