News
5 questions for a Kyiv rabbi as the High Holidays approach
'This year people will pray heartily for the horrors of the war to be over,' said Rabbi Joseph Azman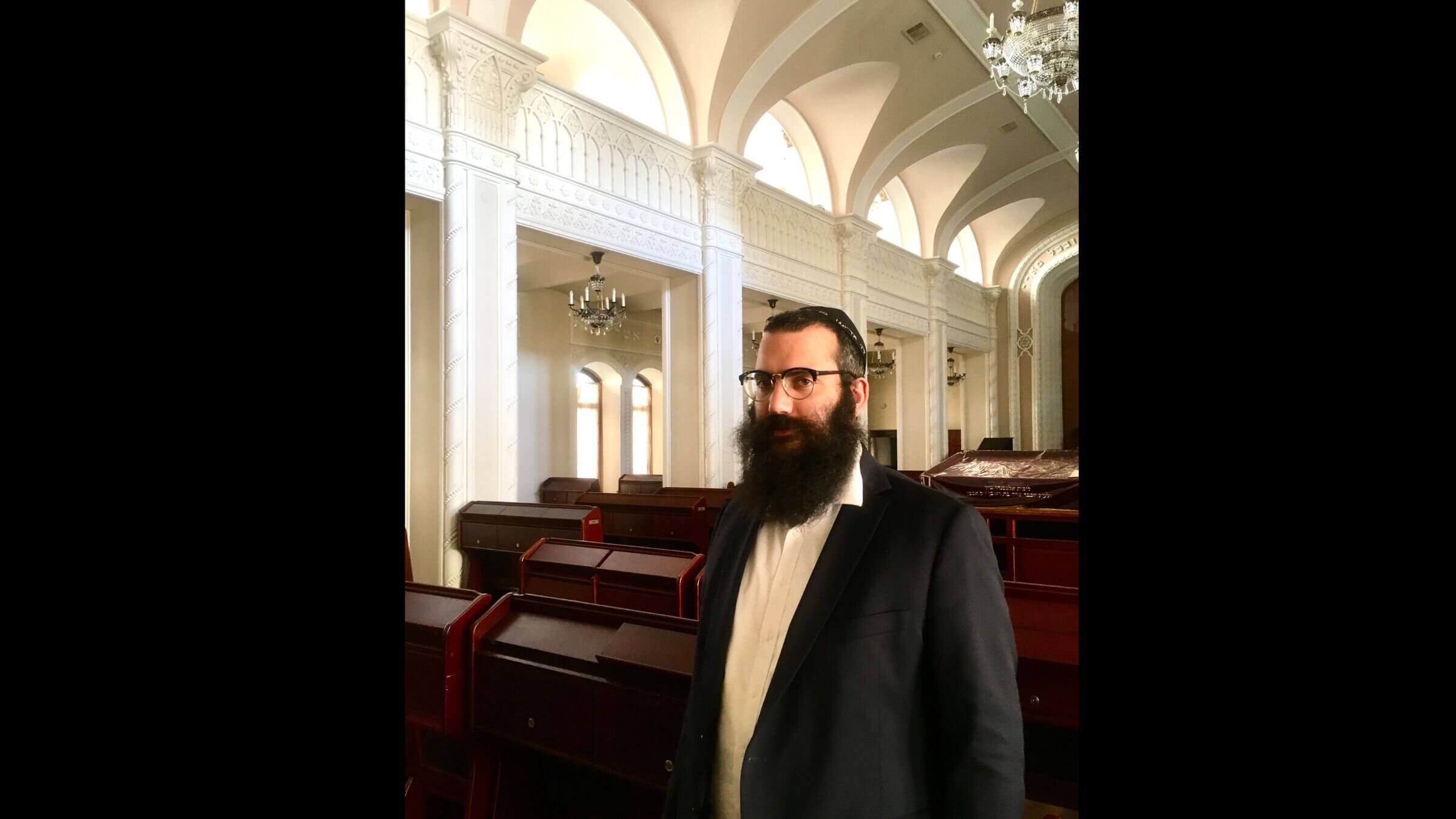 Rabbi Joseph Azman of Kyiv's Brodsky Synagogue is preparing for the first High Holidays in the country since Russia invaded in February. War will both complicate and inspire observances, said Azman, the son of one of two men who call themselves the chief rabbi of Ukraine. 
Much has changed since the Forward's Ukraine correspondent, Helen Chervitz, last visited the synagogue five months ago, during Passover. Ukrainian forces have reclaimed more than 3,000 square miles of territory, raising hopes that the much larger but beleaguered Russian Army will continue to withdraw.
Yet the fighting continues and families are still separated. Chervitz asked Azman about his expectations for Rosh Hashanah and Yom Kippur following a year like no other. This interview has been edited for length and clarity.
How are services going to be different this year?
Before the war we could expect more than 500 people at services. The synagogue was crowded. But so many of our congregants have fled to safety in Western Ukraine, elsewhere in Europe and North America. On the other hand, there are a lot of Jews from other parts of Ukraine who have escaped to Kyiv from cities and towns like Chernihiv, Mykolaiv, Irpin and Kherson, which have come under heavy attack. We've also advertised our services on social media. So hard to know how many people will actually show up.
Because of the war, we're also dealing with a curfew this year. Everyone needs to be home by 11 p.m. In previous years we had people in the synagogue until  2 a.m. or 3 a.m.
And of course this year people will pray heartily for the horrors of the war to be over. I think even those people who have never celebrated the High Holidays will come because at such a time every person understands that one needs to get closer to God.
And how will the High Holidays be the same?
The Jews have always tried to follow as closely as possible the laws of the Torah, no matter their circumstances. With God's help we will mark these holidays not only no worse than before the war but much better. People should understand that the fate of a person is not determined by some  government. It is in the hands of God.
Ukraine has suffered food shortages. How might that affect people's understanding of the Yom Kippur fast — and celebrations to break the fast? Do you have enough apples and honey?
We make the Yom Kippur fast because of an inner call to fast. It isn't imposed by our circumstances. That said, there is no shortage of groceries in Kyiv and we have everything we need for celebrations. Right before the war broke out my father, Rabbi Moshe Reuven Azman, assured that Anatevka, the Jewish village he founded in the eastern part of Ukraine, would have plenty of food. So our community has not experienced any food shortages, even during the first weeks of the war.
We do have a money shortage though. From mostly private donations, the Jewish community is supporting people who stayed in Ukraine and as well as Jewish Ukrainians who fled the country.
Ukrainian men under 60 may not leave Ukraine, and many families are separated for other reasons. What does that mean for holiday observances in your community?
Using the phone or computer to celebrate with family via Zoom is prohibited — it's not an option for us. For those who are scattered across Europe, we are connecting them with synagogues ready to host them. I'm also working with Chabad to direct people to services and celebrations. We want people to be able to hear the shofar, wherever they may be these High Holidays.
At our synagogue in Kyiv, we will be like a family for those who will celebrate apart from their loved ones.
Do you know how Jewish soldiers will be observing the High Holidays at the front?
They will have the opportunity to celebrate. We'll provide traditional meals and deliver them to hot spots as well as to the training camps for the newly drafted, and to volunteers. There are many Jewish soldiers who are fighting for Ukrainian independence and Ukrainians treat all of them with gratitude, respect, and understanding.
We also understand if they can not observe the holidays as they would at home. Judaism values life. One must live by Torah and not die by Torah. Jewish soldiers know that Jewish law can be overridden if life is in danger. When the war broke out, everyone was on the phone trying to help regardless of Shabbat.