Season 2 Of The Jewish Advice Podcast
In 1906, the Forward started A Bintel Brief, Yiddish for "A Bundle of Letters." Now our classic Jewish advice column is a podcast. Our co-hosts, two very different Jewish mothers, dish on the dilemmas of Jewish-American life, identity, culture and politics.
Stream every episode here or on your favorite podcast app!
The Forward thanks Edward Blank, whose generous support makes the podcast possible.
Click here to read the latest Bintel »
Ask Bintel
Send an email to [email protected], leave a voice message at (201) 540-9728 or fill out our form below.


Let us know if you don't want us to play it on the air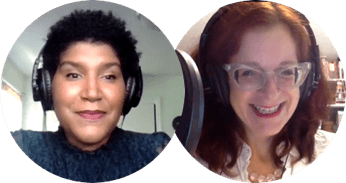 Ginna Green is a strategist-consultant-movement-builder now helping Jewish (and other) organizations change through her new firm, Uprise. She is on the boards of progressive Jewish groups including Bend the Arc and the Jews of Color Initiative, and lives in Columbia, South Carolina, where she went to high school and college. Her interests include cooking, bourbon and annihilating her four children at Scrabble, even on Shabbat.

Lynn Harris is a writer-activist-multihyphenate who uses the power of comedy to drive change. She is founder of GOLD Comedy, co-creator of Breakup Girl, and a former advice columnist for Glamour and other print magazines of blessed memory. She enjoys hot sauce and embarrassing her teen children just by existing and dedicates this gig to her late mother, who gave the best advice in the world.
Get Bintel in your box!
Each week, we'll send you the latest episode, plus behind-the-scenes tidbits from our hosts. And, just for signing up, we'll send you a free eBook collection of recent Bintel columns.