Culture
'The Music Man' was the last great goyish musical
Meredith Willson's 1957 hit isn't even a little bit Jewish. It marks the last time this was true of a popular musical on the American stage.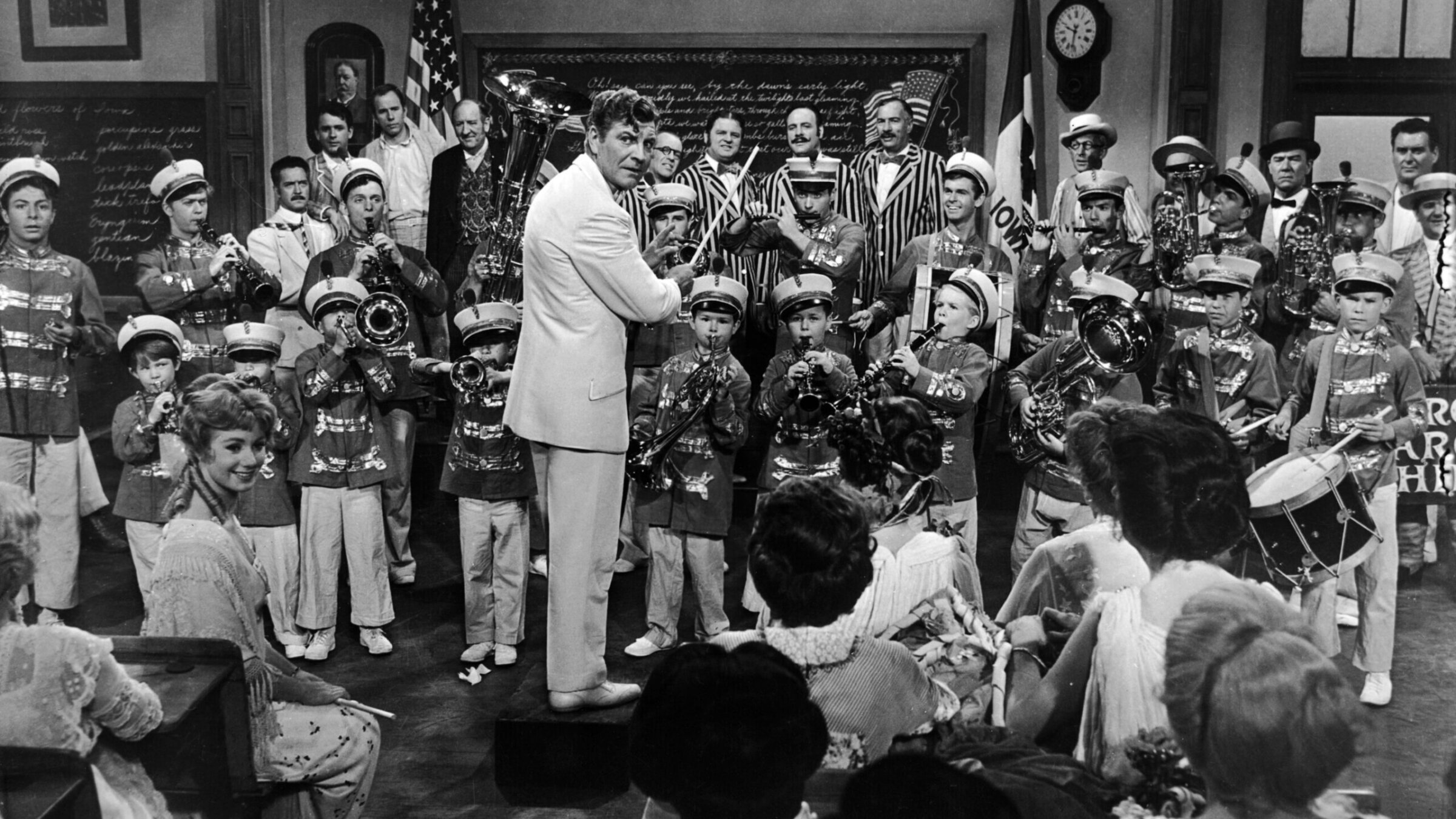 Theater nerds love to trot out the fact that in 1957, when The Music Man opened on Broadway, it won that year's Tony award for Best Musical, and was generally crowned the production of the season by the people who cared and had the power to proclaim it so. This information seems unremarkable enough until you get to the second part of the fun fact, the part calculated to induce gasps, which is that in order to win this award, The Music Man, Meredith Willson's earnest story about a con artist who sells marching bands, had to beat out West Side Story, one of the most indelible products of American musical theater.
This feat can be explained away with a relatively simple understanding of theater history: Formally, West Side Story signified the introduction of a new kind of musical. Shows of the future would look more like West Side Story, in which choreography contributes to the story as much as text and song do, and less like The Music Man, in which the narrative pauses for visually delightful dance breaks. West Side Story may have seemed out of step with the predominating musicals of the time to audiences who could not yet see that popular consensus would anoint the sleeker, socially-conscious story of gang violence one of musical theater's greatest hits.
But The Music Man's instant popularity is a testament to its time in another way. The musical embodied the fantasies of an audience moving unsteadily from enthusiastic postwar conformity into an era of social upheaval. The space between The Music Man and West Side Story represented a broader shift in mainstream conception of race and otherness; a shift in which Jews played a vital role.
The Music Man centers around Harold Hill, who arrives in pristine River City, Iowa, with plans to sell the locals on a boys' band and then skip town before they can collect on the music lessons he does not know how to teach. His scam is uncovered, first by Marian, a local piano teacher, who subsequently falls in love with Harold and decides not to expose his secret, and then by a rival salesman, who publicly reveals the reality of Harold's plan. Marian intervenes, pointing out that despite Harold's duplicity, his work with the local children genuinely reignited River City's spirit. Harold gets the girl and wins over the town.
There's a new production of The Music Man on Broadway, which recently received a flurry of Tony nominations, and boasts the considerable appeal of starring Hugh Jackman and Sutton Foster, two extraordinary performers who are just fine in their respective parts. On the whole, this revival, directed by Jerry Zaks, isn't especially good: The production leans too heavily into its rustic, blankly nostalgic aesthetics, and not enough into the musical's deft interrogation of what it means to live in a false reality.
But productions of The Music Man don't have to be great, because the musical's core elements are so unflappably excellent. Despite its reputation as a bland feel-good musical, The Music Man harbors a deceptively complex message. It's about insiders and outsiders, and the difference between illusion and delusion. It tells a story of striving toward the American dream, and how those who reach the finish line seem, on closer inspection, to have only ever cheated to get there. It peers backward, invoking a time and place that never really existed, and in this way, points to the longings of its present for an invented past.
And it addressed these themes without an implicit or explicit acknowledgement of Jews, of ethnicity, of race, or of any immutable categories of otherness. It was the last musical of its kind: really goyish, really great.
*
Here is a story that isn't real, and isn't even fiction: A young Jew — named, I don't know, let's call him Herzl Herskowitz — is born in the late 1870s in the Pale of Settlement. The Czar's antisemitic policies exacerbate his family's financial precarity; facing indigence, they scrape together money to send Herzl to America.
Herzl arrives in New York, but finds the city overwhelming, the available jobs degrading and the people surrounding him suffocatingly familiar. He moved here to become someone else, not the same self in a new country. So he gets on a train and heads west.
He settles briefly in Gary, Indiana, where he arrives with no money, but quickly figures out how to make some. He becomes a ragpicker, shining bits of garbage and selling them back to people as new. Soon, it dawns on him that he can make a higher profit by offering to do something in the future than by delivering a good or service in the present, so he begins to feign expertise in subjects he knows nothing about. He pretends to know how to fix broken appliances and invents newfangled machines he can sell on spec to bored housewives, always collecting in advance.
He is a refugee in a terrifying new country with few transferable skills and a dread of returning home, which manifests as a terrible need to succeed. So he works and he works and he works, clawing his way from poverty toward dubious success. He travels around the Midwest, trying new ploys, honing his craft. Those who come to know him identify him as a scam artist, whispering that his next swindle will fail, because, in the milquetoast center of the country, Herzl doesn't know the territory. But he executes his plans fastidiously, and he succeeds every time. Eventually, he lands on the perfect scam: Selling an entire town on a prospective boys' band.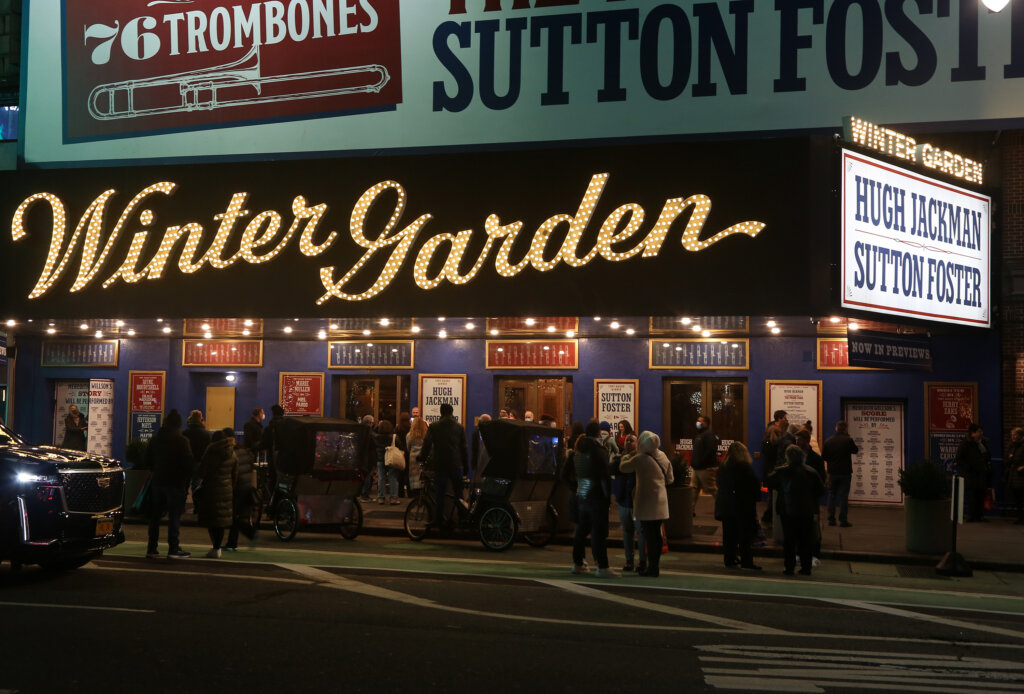 By the time he arrives somewhere called River City, Iowa, Herzl has perfected every element of that con. The people of River City don't like outsiders, and they aren't too friendly to Herzl, but he knows how to win them over. He tells them about the trouble with a capital T creeping through the town, warns that social change and frightening ideas have begun to despoil the local children. His band, he promises, will distract the boys, teach them to resist sin and corruption, maintaining their — and therefore the town's — pure-white innocence.
In River City, racial difference does not exist. This fact is fine by Herzl, who now introduces himself as Professor Harold Hill. The closest the town has to a minority group is its small Irish population, but in this place of pale coexistence, being Irish is merely a personality trait, not a racial category.
There's also a boy from the wrong side of the town named Tommy, who becomes the object of the mayor's ire. He's Latvian, someone mentions once in an aside. Tommy, from certain angles, during momentary lapses in cognition when Harold is Herzl, looks a bit like home. So Harold anoints Tommy the band's leader and helps him woo the mayor's daughter. And when he meets a little boy with a lisp, Harold recalls the hours he spent trying to form words unmarred by the old-country shapes his mouth was accustomed to making. He understands the boy's humiliation, and takes a genuine interest in his self-confidence.
Harold's scam is working. The town forks over fistfuls of cash for music lessons that will never manifest. But when Harold is alone, he feels a twinge of melancholy. Harold wants to be the person he pretends to be. He doesn't want to be a scammer. He dreams of success. He always believes there is a band.
Harold's perfectly-conceived scheme almost falls apart in River City when a savvy woman catches on. He seduces her — possibly because he wants to, possibly because he is at his core still Herzl Herskowitz, terrified of failure, ambition so keen it feels like a knife in his stomach. Either way, his interest reads to her as genuine, and she decides not to expose him, going so far as to vouch for him when someone else reveals his con.
The town embraces Harold, fraud and all. Herzl Herskowitz becomes a River City man. He leads the band in a triumphant reprise of "Seventy Six Trombones."
*
These things do happen. Jews land in the Middle West, immigrants obscure roots, outsiders try to sneak in by whatever means possible. A Jewish Harold Hill is certainly plausible (as my own ancestors, who migrated to the Midwest at the turn of the century and found early careers peddling wares, can attest).
But this, as I say, isn't a real story, even in a fictional sense. Harold Hill didn't exist, and the version that does on the page and stage is not, and cannot credibly be read to be, coded as Jewish, or as a racial outsider of any kind. Nor is the rest of the cast. In The Music Man as it was originally conceived, every character is a native-born white American.
With its toothy child actors, Fourth of July-themed numbers and twee Americana, The Music Man evokes a midcentury fantasy of an erstwhile American heartland; an America unbothered by social tumult, naive to the trauma of two brutal world wars. This is a vision of the world in which there is no racial unrest and no racism because there is no race. There is no oppression because there is no group to oppress. Structural power in this town comes from proximity to the center of the community, not from traits inherent to a person's background. Outsiderness is literal: Spend enough time as a local and you become one.
This would not be the case on the American stage for long. In the kind of musical that would soon dominate the American stage, a Harold Hill character would be explicitly depicted or implicitly coded as an immigrant, a Jew, a person of color, or someone otherwise marginalized.  Audiences would come to understand outsiderness as a metaphor, a universal stand-in for a specific experience of exclusion. The Music Man's fundamental goyishness lies here, in the fact that Harold Hill was genuinely not created with this messaging in mind.
The Music Man is a story about a man who isn't who he says he is, who is running from something toward something else. It is a fundamentally Jewish midcentury story, and the musicals that would follow this one would be interested in presenting it as such. In The Music Man, that exploration is conspicuously absent. The musical doesn't bother to explain Harold's history; it isn't interested in who he was before he walked onstage. Of course Harold Hill isn't Jewish. He's a goy in a goyish musical. His background simply isn't a concern of The Music Man.
In the next few decades, Broadway would produce Hello, Dolly!; Funny Girl, Fiddler on the Roof, and Cabaret, to name a few, shows increasingly focused on Jewish themes and characters. That's not to mention a slew of musicals featuring characters that read as obviously Jewish: neurotics worrying about money in cities, overbearing mothers with thick accents, nebbishy sidekicks.
This shift reflected a growing interest in and tolerance of non-white narratives by the white mainstream. It also evinced a changing racial reality. By this point in American history, Eastern European Jews were beginning to assimilate — arguably as the last group of immigrants to successfully cross the threshold into conditional whiteness. In the latter half of the 20th century, as postwar optimism and economic opportunity began to stagnate, and as the ranks of upward mobility closed, racial otherness was becoming a category that no longer allowed an exit path. Ironically, The Music Man, despite all its goyishness, in a way reflects the optimism inherent in such potential for assimilation: just as many Jews actually managed to become white, Harold Hill successfully insinuated himself as the leader of River City's band.
Now consider West Side Story, The Music Man's foil. West Side Story knows The Music Man's vision of a raceless America does not exist, and sketches instead a harsher reality, insisting that clannishness and bias persist in contemporary American society. It dreams we might all someday live in multicultural harmony, but it does not seem to believe, as The Music Man does, that such a utopia can ever elide our varied backgrounds. In West Side Story's version of the ideal America, we might someday cease to hate, but even the foolish youngsters who believe that love can overcome their differences understand it will not erase them.
*
Make no mistake: the last great goyish musical is a great musical. The songs are catchy; the characters are well-drawn, especially the surprisingly complex ingenue; the orchestrations are clever; and its commentary on the American con artist is trenchant. The show is greatest in the uncanny surrealness of the 1962 movie version with the divine Robert Preston seducing Shirley Jones, but it remains great enough when an action movie hero and a contemporary Broadway legend perform it for us.
The current revival, if lackluster in some regards, seems to intuit that fact, making few attempts to intervene on the original. The major innovation of this production is its race-blind casting, in which the diverse ensemble does not seem to register racial difference. The original offensive instances of redface have been cut, and even references to Tommy Djilas' Latvian background have disappeared. This is a production meant to pacify: As in the original all-white production, racism cannot exist because no one acknowledges race. In this way, the current revival, though cast with a diverse array of actors, mimics the original's raceless intent.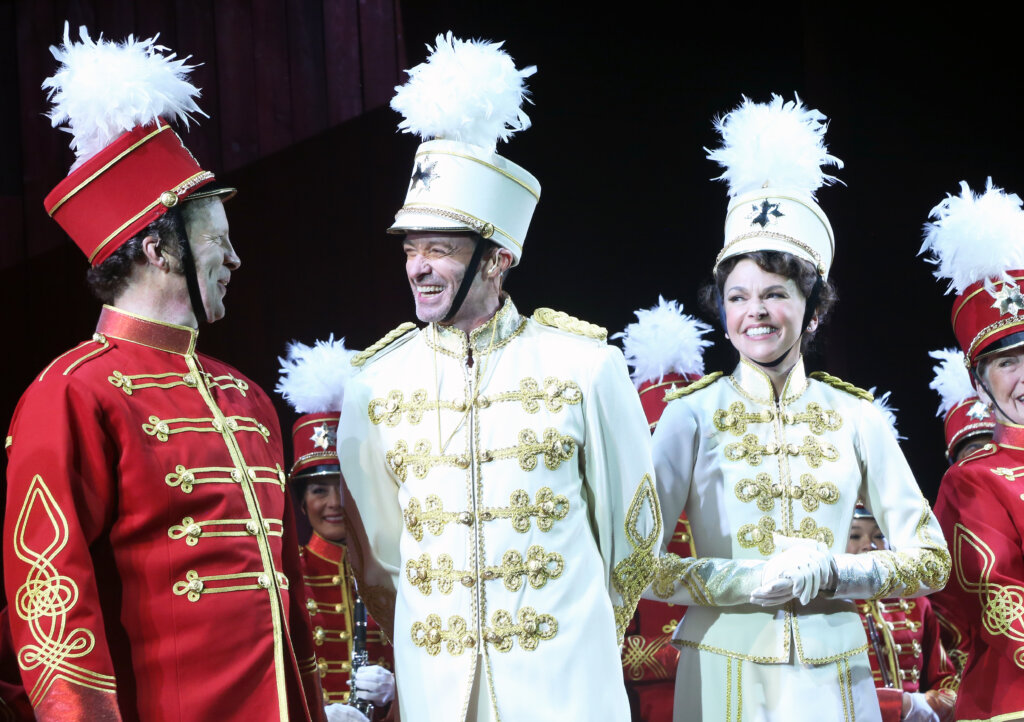 This choice can be a bit awkward at times when it ignores the obvious potential racism that might ensue in an integrated River City. (I saw a Black Harold Hill at the Stratford Festival in Canada a few years ago, in a production that seemed eager to explore the town's racist hostility toward its Harold.) But the musical is always going to comment awkwardly on the subject of race because, at its core, it does not care to interrogate it.
The Music Man, and especially this revival, attempts to reassert a fading vision of American values, insisting that there was once, and therefore might be again, a wholesome place in the Middle West where the whole town joins together to welcome the package delivery man with a song, where everyone who proves their attachment to the community is welcome in it, where puerile misbehavior might be corrected simply by playing together in a band, and where the motivations behind criminal deception have nothing to do with desperation or structural disadvantage but emanate from a puckish deception that eventually transforms into a sincere desire to bring joy to little children.
There's something else innately American about this musical, too. The townspeople accept Harold, even though he admits to his scam. He lied to everyone's faces, and they don't ultimately care. His con made the children happy. The deception is part of — inherent to — the success. In this story, lying is American, and it is beautiful.
In The Music Man, the boundaries that separate the outside from the inside are mutable. Harold is accepted, in the final scene, into the community. He joins the children and the rest of the town as they march happily down River City streets, indistinguishable in their matching outfits.