Culture
What's the funniest Jewish tweet? This Orthodox comedy troupe aims to find out.
The Va'ad HaBadchanim want to elevate Jewish humor on Twitter beyond stereotype and cliche — and frequently into the obscure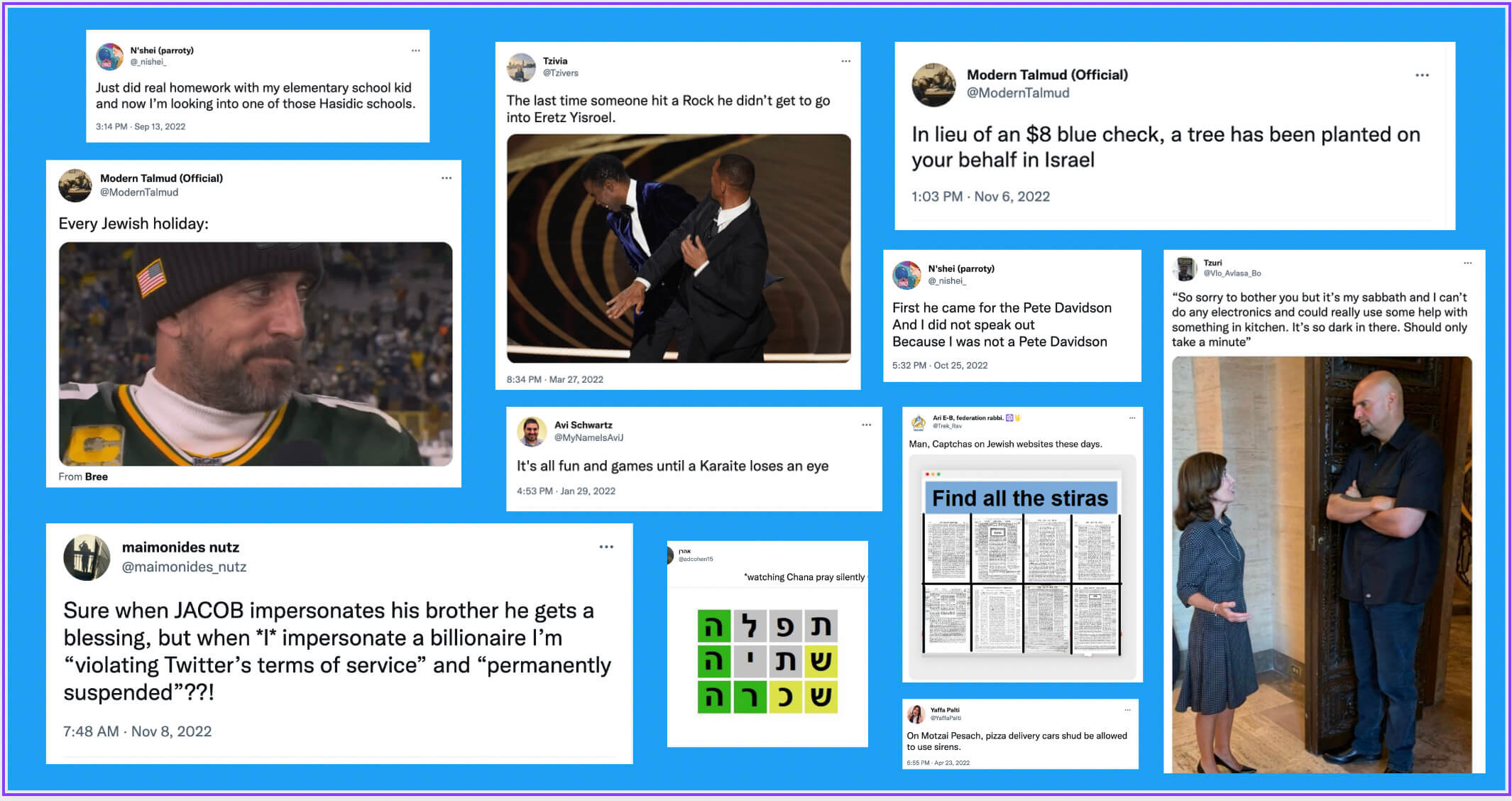 Despite twelve years of Jewish education, a gap year in Israel and membership at two Orthodox synagogues, there are a few jokes in the "Frum Tweet of the Year" bracket that I don't get.
But for the Va'ad HaBadchanim, an Orthodox comedy troupe that organizes the March Madness-style bracket as a celebration of insider Jewish humor, that's part of the charm.
In European Jewish tradition, the badchan was like a wedding singer who warmed up the crowd; a va'ad is a council — usually of rabbis. This Council of Jesters, so to speak, makes its mission elevating Jewish humor on Twitter beyond stereotype and cliche — and frequently into the arcane.
"There's a lot of Jewish comedy that's just, you know, 'Bagels, right?'" Eli Lebowicz, a Va'ad co-founder, said in a group interview with Avi Schwartz and Joshua Savitt, two other charter members. "We're like, come on — get a little deeper. We're past bagels and Manischewitz, here."
Now in its third year, the bracket highlights 52 of the funniest Jewish-themed tweets of 2022, which the Va'ad account will put to a vote to select a champion. (The grand prize: 12 months of bragging rights.)
#FTOTY2022 First Round Matchup
Yiddishkeit Conference

8) @ModernTalmud vs.
https://t.co/usvv2ftkI9

— Vaad HaBadchanim (not parody) (@VaadHaBadchanim) January 9, 2023
This trio of 30-somethings — Schwartz and Lebowicz met at Yeshiva University and befriended Savitt on Twitter — created the Va'ad account in the early days of the pandemic as a kind of clearinghouse of humor for what's known as Frum Twitter, the community of Twitter users who practice Orthodox Judaism or engage with Orthodox culture. (Frum is the Yiddish word for "religious.") Today, about a minyan's worth of Orthodox men contribute.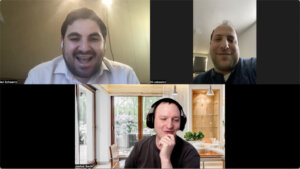 The idea for a bracket came toward the end of 2020, after one of their compatriots tweeted a question: What was the best frum tweet of the year? In the WhatsApp group they use to workshop jokes for the account, the Va'ad sensed an opportunity.
A few weeks later, a loving crack at Chabad won the first annual "FTOTY" bracket. In the tweet, a photo of pop artist Kacey Musgraves — dressed modestly and wearing a hat — appears alongside Oscar the Grouch, accompanied by the caption, "Lubavitch couples be like…"
One wouldn't have to be Orthodox to understand all of the tweets in the FTOTY bracket — anyone who's spent some time around a college Chabad might chuckle at that one. This quip about the Dead Sea Scrolls is even more accessible:
did they ever find out who killed those sea scrolls

— אהרן (@adcohen15) July 1, 2022
Nor does one have to be male to join the fun; in an undeniably male-dominated space, roughly a dozen of the nominated tweets this year were posted by women.
Still, more than a few — like this one referencing gap-year yeshiva culture or this one riffing on an obscure Jewish law about prayer timing — would generate more confusion than amusement from the majority of Jewish people and maybe even most Orthodox Jews, who in total represent less than 10% of the American Jewish population, according the most recent Pew study.
The Va'ad members I spoke to emphasized that their contest was the frum tweet of the year, not the Jewish tweet of the year. In Savitt's words, that doesn't mean it necessarily comes from an Orthodox Jew — only that it engages with Judaism "in a way that evinces some insider knowledge."
The most successful frum tweets tie in those shibboleths to secular online discourse or employ trending joke formats. One of Lebovicz's most popular tweets last year repurposed the claim that Jews killed Jesus to be about Kanye West. Another bracket qualifier connected the biblical story of Jacob impersonating Esau to Elon Musk's ban on fake accounts with his name.
Sure when JACOB impersonates his brother he gets a blessing, but when *I* impersonate a billionaire I'm "violating Twitter's terms of service" and "permanently suspended"??!

— maimonides nutz (@maimonides_nutz) November 8, 2022
And while the Va'ad would tell you that the deeper cuts are often the funnier jokes, they also relish the opportunity to explain them. Schwartz, a rabbi who works with Rutgers University students, started a Frum Tweet Explainer account to help the uninitiated.
"It's a vehicle for people to learn stuff," said Savitt, a corporate lawyer by trade. "Because it's led to people wanting to get in on the joke and learn about the joke, I think we have a lot more people contributing to this wider conversation on Frum Twitter. It becomes a subculture on the internet you can get into. And that's what makes it so much fun."