Fast Forward
Document reveals Santos boasted of being 'proud American Jew' during campaign
Congressman-elect George Santos did not hedge on his religion in a position paper on Israel.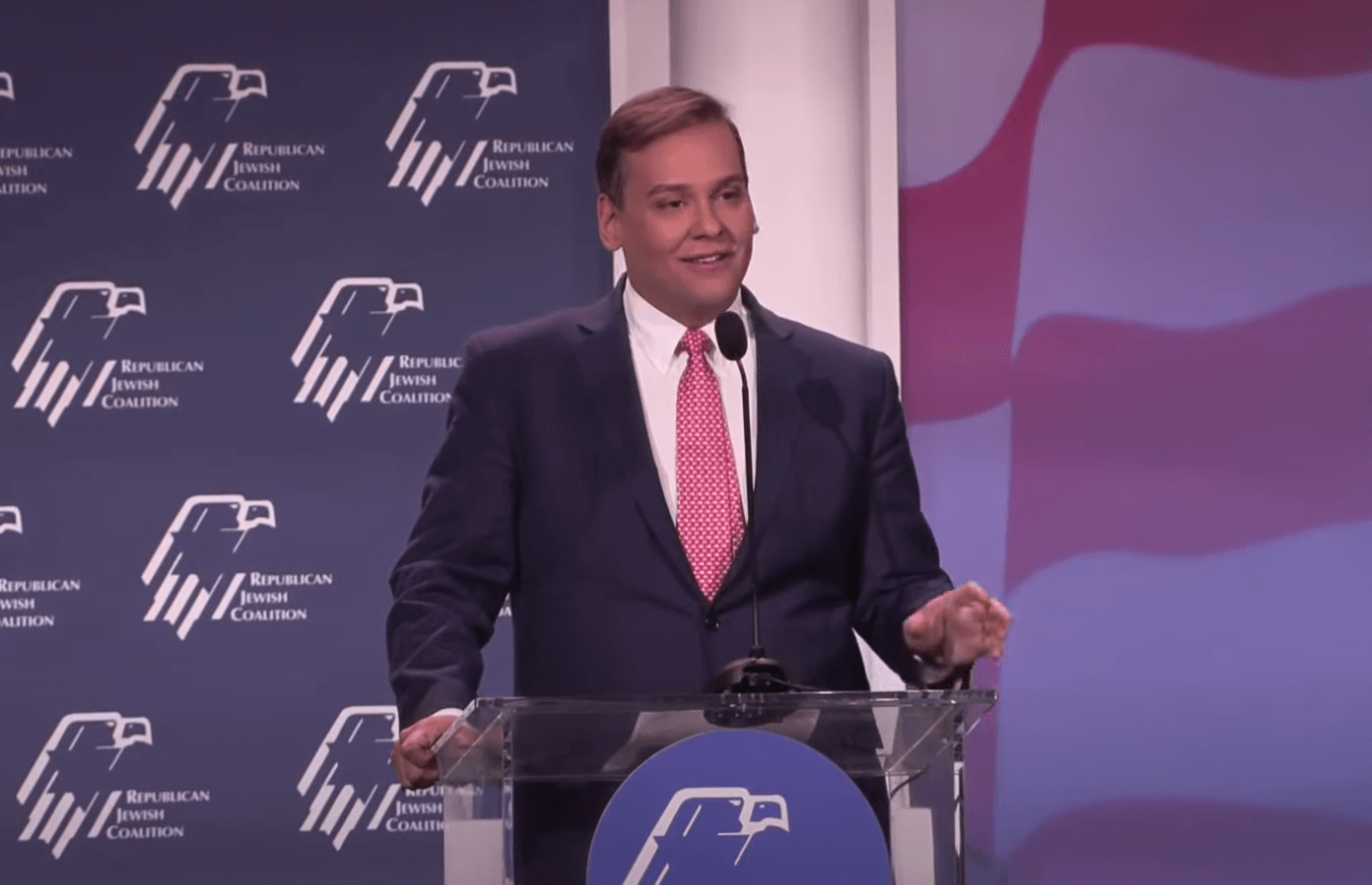 Congressman-elect George Santos, a Republican from New York who reportedly lied about his Jewish heritage and has admitted he fabricated key details of his resume, said in an interview Monday evening that he never claimed to be Jewish. "I said I was 'Jew-ish,'" Santos told The New York Post. 
However, in a position paper shared with Jewish and pro-Israel leaders during the campaign and obtained by the Forward, Santos called himself "a proud American Jew." 
In the two-page document that the Santos campaign shared earlier this year with pro-Israel groups, including the American Israel Public Affairs Committee (AIPAC), Santos also claimed to "have been to Israel numerous times from educational, business, and leisurely trips." A brief search of his social media accounts found no images or documentation of his alleged trips to Israel.
According to genealogy websites reviewed by the Forward and reported last week, Santos falsely claimed to have Jewish grandparents who fled anti-Jewish persecution in Ukraine and then Belgium during World War II. The website MyHeritage.com lists Santos' maternal grandparents as having both been born in Brazil before the Nazis rose to power. Santos' mother, Fatima Alzira Caruso Horta Devolder, who died in 2016, regularly shared posts with Catholic themes and images of Jesus on her Facebook page. 
In several interviews published Monday, Santos admitted he forged his professional biography and lied about his education and work experience. But the Long Island politician offered contradictory statements about his claimed Jewish heritage. In an interview with The New York Post, Santos said that he "never claimed to be Jewish" and that because his maternal family had a Jewish background, he said he was 'Jew-ish.' In a Zoom interview with City & State, a New York-based media website, Santos repeated that he always jokes he is "also Jew-ish – as in 'ish.'" Later in the interview, Santos complained that "people are rushing to disinherit me from being Jewish or even allowing to care for Israel and Judaism in a time and era where antisemitism is at an all-time rise."
In a radio interview co-hosted by former Congressman Anthony Weiner, who resigned in 2011 after lying about a sexting scandal, Santos questioned the reporting that showed his grandparents had been born in Brazil. "I want to know where they're getting these reports from," he said. "Because all I see is a picture of somebody who they're alleging is either my great grandfather or my great, great grandfather." Asked directly whether they were born in Latin America, Santos said that "to the best of my knowledge, to the best of my understanding, no they were not." 
Santos, who spoke at the Republican Jewish Coalition's conference in Las Vegas shortly after winning his election in November, was also a featured guest at the group's menorah-lighting party on the first night of Hanukkah.
May this Festival of Lights bring peace, good health, and prosperity to all.

Wishing you a Happy Hanukkah from Sands Point, NY — w/ Rep. @leezeldin, @NassauExec Bruce Blakeman, Mayor Peter Forman, & NY @RJC members. pic.twitter.com/eWUdKr4Dmr

— George Santos (@Santos4Congress) December 19, 2022
Matt Brooks, the RJC's chief executive, said in a statement Tuesday that the group is "very disappointed" in Santos for deceiving them about his heritage. "In public comments and to us personally he previously claimed to be Jewish. He has begun his tenure in Congress on a very wrong note," Brooks said, adding that Santos won't be welcome at any future RJC events.
Tulsi Gabbard, a former congresswoman from Hawaii, berated Santos Tuesday in a live, seven-minute takedown on the Fox News show Tucker Carlson Tonight. "If I were one of those in New York's 3rd District right now that the election is over," Gabbard said, "and I'm finding out all of these lies you've told — not just one little lie or one little embellishment, these are blatant lies — my question is: Do you have no shame?"
WATCH 📺: @TulsiGabbard, standing in for Tucker Carlson, to Santos: "One of the questions that really, probably hits home to a lot of people is: are you Jewish? … You said there in that letter that you are 'a proud American Jew.' How do you explain that?"

1/2 pic.twitter.com/nYO82GLkXR

— Jacob Kornbluh (@jacobkornbluh) December 28, 2022
When Santos responded by accusing President Joe Biden of "lying to people for 40 years," Gabbard countered: "This is not about the Democratic Party. This is about your relationship with the people who've entrusted you to go and fight for them. One of the questions that really hits home to a lot of people is, are you Jewish?" Citing a letter from his campaign sent out earlier this year in which he described himself as a "proud American Jew" who'd been to Israel "numerous times," Gabbard then asked, "You said you were a proud American Jew. How do you explain that?"
"My heritage is Jewish," Santos replied. "I've always identified as Jewish." He added that he was "raised a practicing Catholic" and "always joked" with friends that "I'm Jew-ish."
"You don't really seem to be taking this seriously," Gabbard observed, adding: "You said you've made mistakes, but you've outright lied." She ended the interview by asking how voters "could possibly trust your explanations when you're not really even willing to admit the depths of your deception."
The Santos campaign didn't immediately return a request for comment. 
This post has been updated.