Fast Forward
Biden administration to reverse Betsy DeVos-era rule on campus religious clubs
The free inquiry rule was touted as a defense of religious freedom but critics said it promoted discrimination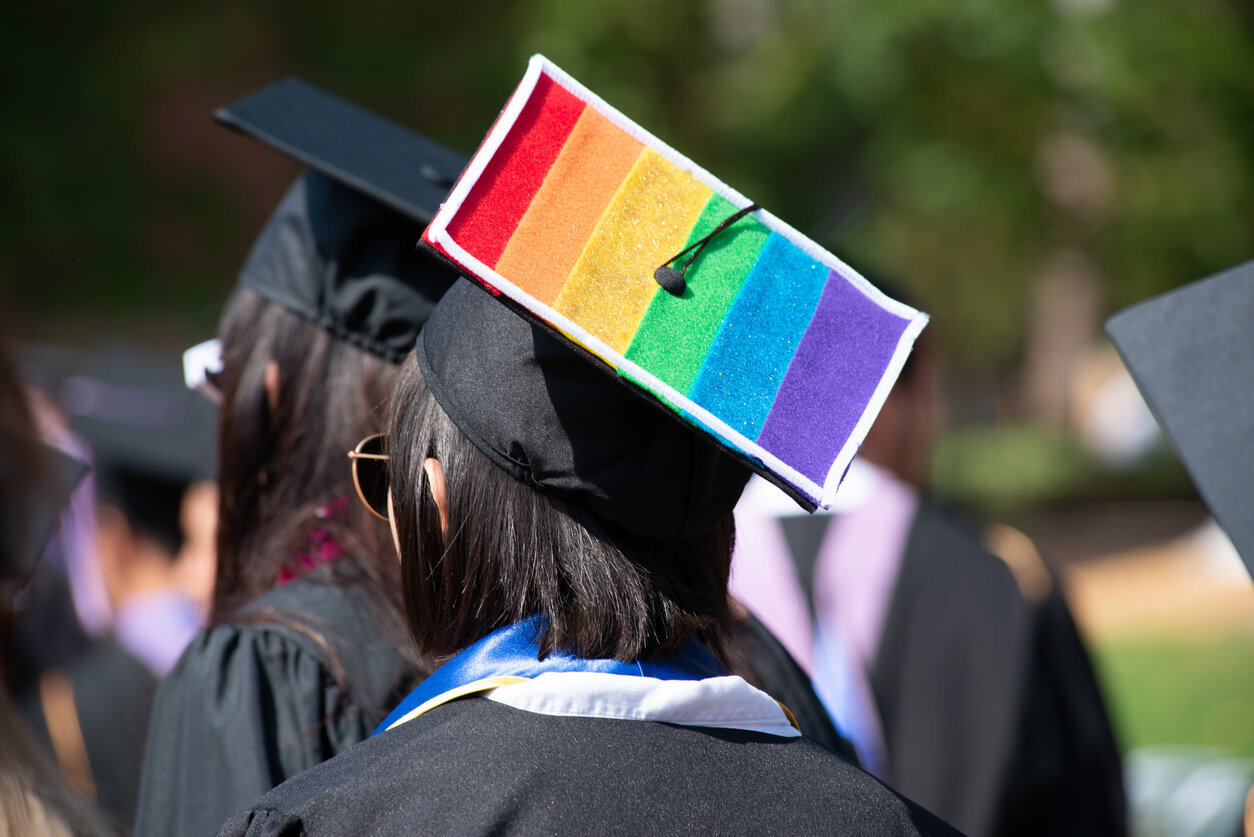 LGBTQ advocacy groups are applauding the Biden administration for rolling back a Trump-era rule that they say encouraged discrimination on college campuses. 
In January 2020, the U.S. Department of Education, at the time led by then-President Trump's education secretary, Betsy DeVos, issued a notice of new rules stating that institutions of higher learning receiving federal research or educational grants could be punished for violating religious freedom rights. The rule explicitly said that these colleges and universities could not take any action against student religious groups or clubs due to their beliefs, practices, policies or membership standards.
Critics said the rule could be used to discriminate against LGBTQ students, as religion-based clubs would be able to use their faith as a defense. On Feb. 22, the Department of Education announced its intention to rescind the rule. The Biden administration did not mention the concerns of LGBTQ students in its announcement, saying only that the rule was not needed to protect First Amendment rights. 
Interested parties have until March 24 to submit comments on the proposed change.
Campus Pride executive director Shane Windmeyer said that while the free inquiry rule was one of many actions undertaken by the Trump administration to reverse inclusivity efforts enacted under former President Barack Obama, it was unclear if the rule was actually put into action. While Windmeyer was unaware of any court cases over the rule, he said that didn't mean a religious club had not denied membership or otherwise discriminated against a gay or trans student while it was in effect.
"We believe that every student, every individual on a college campus has the ability and should have the freedom to practice their own religion," he said. "However, when that comes to discriminatory behavior at a public institution, then that's not just a right."
It does not appear the rule will impact universities that have what is known as a Title IX religious exemption, which applies to private schools controlled by religious organizations. Windmeyer said that of the complaints he has received, most have been about such schools, and of those, the vast majority have been tied to Christianity.
He added that the only Jewish school for which Campus Pride has received complaints is Yeshiva University, a private school which has not applied for a Title IX religious exemption. YU has been the center of a controversy surrounding its refusal to recognize an LGBTQ club, citing religious beliefs.
Civil liberties advocates were quick to applaud the announced change. Daniel Mach, director of the American Civil Liberties Union Program on Freedom of Religion, told the Forward in an email that the repeal is a "welcome development" and that "rescinding the Trump rules will help colleges and universities enforce important non-discrimination policies and protect the rights of all students."
Americans United for Separation of Church and State President Rachel Laser, in a statement, called the rule "harmful" and a violation of church-state separation. Laser said doing away with it "means students won't be forced to subsidize clubs that discriminate against them. It also means colleges won't be forced to choose between protecting students and losing federal funding, or allowing discrimination against students in order to keep federal financial assistance."
Hillel International, the largest Jewish campus organization, did not reply to a request for comment on whether the rule change would impact their clubs.