Fast Forward
'Biggest in Israeli history': Organizers claim half a million protesters against Netanyahu's constitutional coup
As a record 50,000 Israelis rallied in Haifa, and hundreds of thousands more across Israel, opposition leader Yair Lapid slams the Netanyahu government's sole focus on 'crushing Israeli democracy'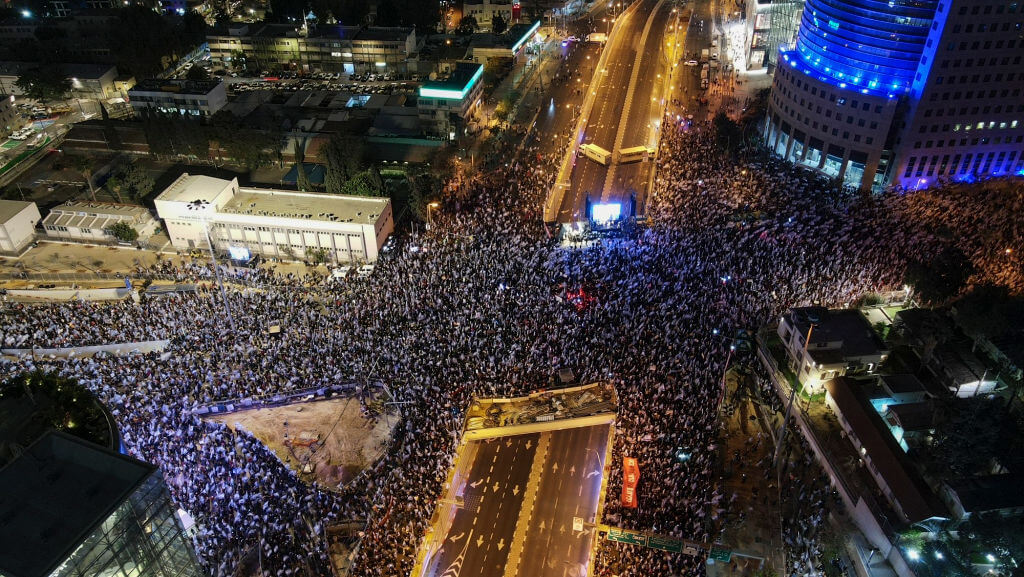 This article originally appeared on Haaretz, and was reprinted here with permission. Sign up here to get Haaretz's free Daily Brief newsletter delivered to your inbox.
Israelis took to the streets for the tenth week straight in the largest demonstration in the country's history on Saturday, with organizers claiming as many as 500,000 pro-democracy protesters in attendence nationwide.
A record 50,000 Israelis rallied in Haifa – according to police estimates –while at least 8,000 demonstrated in the southern city of Be'er Sheva, which is considered a Likud stronghold. Opposition leader Yair Lapid told the crowd there that Israel "is facing the greatest crisis in its history.
"A wave of terrorism is hitting us, our economy is crashing, money is escaping the country. Iran just signed yesterday a new agreement with Saudi Arabia. But the only thing this government cares about is crushing Israeli democracy," he said.
In the central city of Netanya, hundreds of red-clad 'handmaids' held a silent vigil as large crowds gathered. Leading the city's protesters in chants of "We are all Ami Eshed," former Labor leader Amram Mitzna voiced solidarity with the dismissed Tel Aviv district commander, who was ousted from his post on Thursday by Police Commissioner Kobi Shabtai under pressure from National Security Minister Itamar Ben-Gvir over his lenient policy toward protesters.
Moshe Karadi, Israel's former police chief, warned against Ben-Gvir's hold on Israel's law enforcement agency while speaking at the main Tel Aviv demonstration.
"Israel is facing a danger it has not faced since the 1948 War of Independence," he said, adding that Ben-Gvir, "a convicted felon, is enacting a hostile takeover of the police and trying to turn it into a private militia to serve his political purposes."
In a dramatic live address on Saturday night, Shabtai said he "made a mistake" by dismissing Eshed, adding that he regretted the "judgement, timing and manner" of his decision. He said that he would "accept" Attorney General Gali Baharav-Miara's decision to freeze the decision. Eshed, meanwhile, was met with constant cheers of "Ami, Ami" as he walked through crowds of Tel Aviv protesters on Saturday night.
Protesters in Tel Aviv's central demonstration were ultimately able to circumvent police barricades to block the city's busiest highway from both directions, though crowds were notably thinner than in previous battles for control over the symbolic Ayalon Highway.
'I'm glad my children live in the U.S.'
High-tech worker Uri Stern, who was dressed as Moses holding the Ten Commandments, said he joined the Tel Aviv protest "hoping we can make a change."
Another high-tech employee present at the main Tel Aviv demonstration, 36-year-old Naama, echoed his sentiment. "I'm not going anywhere," she explained, holding a sign which read "This is my home" in Hebrew. "I'm not interested in foreign passports. I'm here to be part of the struggle."
Shlomo Perets, a draft refuser also demonstrating at the main Tel Aviv protest, weighed in on the impact of the widespread protest movement. He said that the current political situation could additionally lead to more Israelis rejecting their mandatory military service.
"I feel that with Ben-Gvir and Smotrich, more people will refuse to serve," Perets explained. "For me it was not easy to do, but I never regretted it. Need to remember military prison for soldiers is nothing compared to where Palestinians are sent."
Farther north, in the central city of Netanya, 64-year-old protester Lili Tenneshe said she was participating in her first demonstration "to show people I care that we are losing our country."
"It was hard for me to come in a wheelchair but some friends agreed to bring me," she said. "What's happening here is awful. I don't want to live in a dictatorship. My two kids live in the U.S. This is the first time I've been glad that they do."
Police detain Haaretz journalist over 'threats'
Police on Saturday detained Haaretz journalist Uri Misgav outside his home as he left for the protest in Tel Aviv, asking him whether he intended to act violently against Prime Minister Benjamin Netanyahu.
Officers told him they had received complaints about a tweet by him suggesting that Netanyahu cancel his upcoming trip to Berlin. He was released after several minutes.
The main organizers behind the massive demonstrations across Israel's major cities announced another day of action on Thursday, meant to "escalate the resistance" to the government's judicial coup. For the previous two weeks, the protest movement held a "day of resisting dictatorship" and a "day of disruption," where protesters blocked major roads and clashed with police.