Forverts in English
Paintings of Torah study that are true works of art
In all the author's art history graduate courses, the word 'Jewish' was never mentioned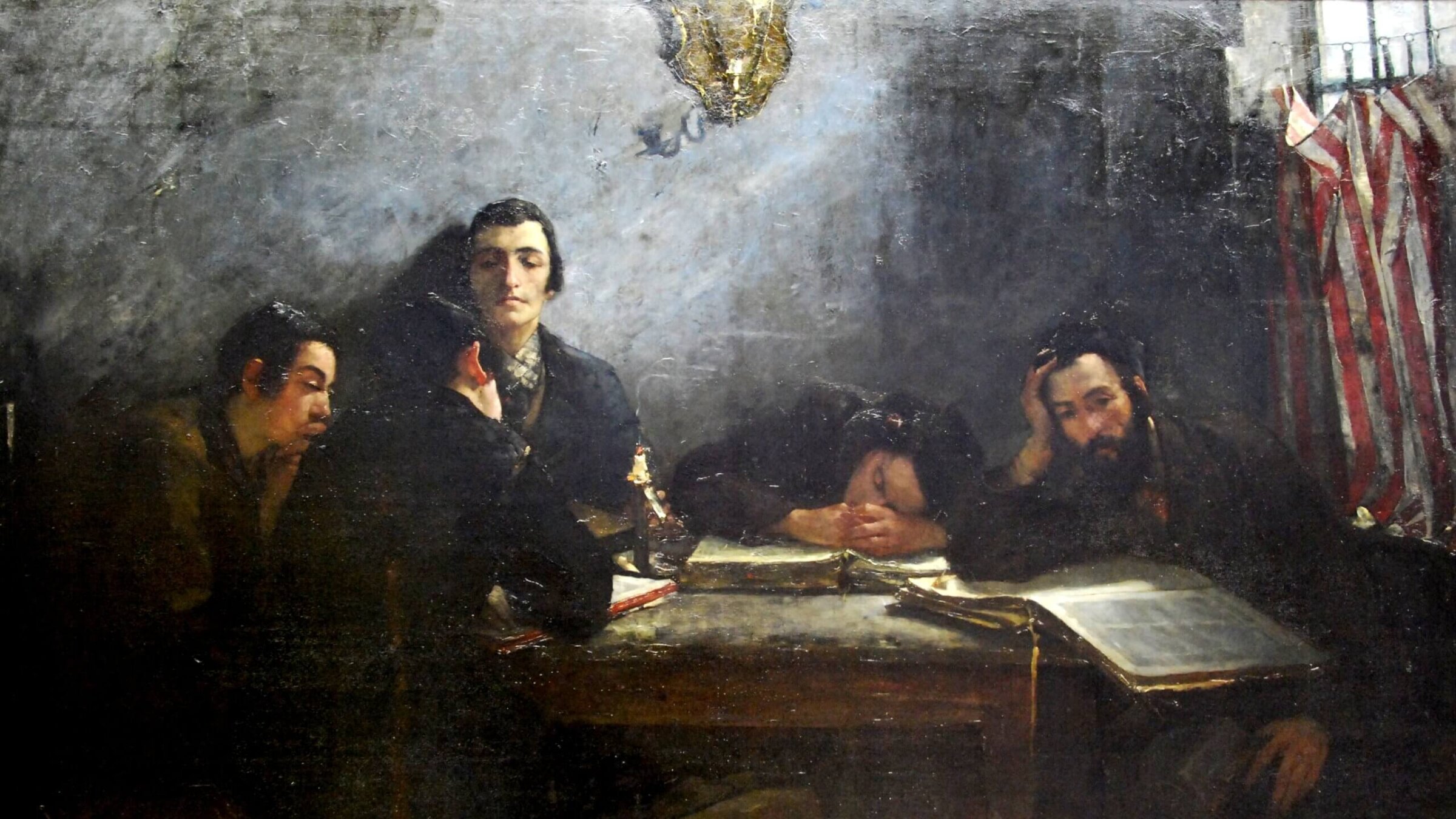 As a high school senior in 1986-87, I was lucky enough to take a survey class on Western art history. Very few high schools offer a class like this, and in order to sign up, the students needed to be "interviewed" by the teacher – a rather formidable woman who turned out to be an inspiring mentor. I still remember the sense of constant revelation as we moved from the art of ancient Greece and Rome, through to the modern world: I was smitten, and knew I had found a lifelong passion.
Looking back now, I realize that although we learned about artists like Amedeo Modigliani, Louise Nevelson and Mark Rothko, the word "Jewish" was never mentioned. I believe the teacher was Jewish, and I would guess about half the students in the class were Jews (this was in a city in Massachusetts with a substantial Jewish population). Maybe some of my peers did notice that Jewish artists weren't discussed as Jews, and that we never looked at any art with Jewish subject matter — but I didn't. Jewishness meant almost nothing to me at that age.
I went on to study art history in college without ever really wondering about the Jewish relationship to art. As an undergraduate I became vaguely aware that many important 20th-century artists — particularly in the United States — had been Jews; but apart from a Chagall or two, I never saw a depiction of an identifiably Jewish subject in any class.
In graduate school I became deeply interested in European Medieval and Renaissance art and learned quite a bit about Christian beliefs and practices. I was startled when one of my professors, who wasn't Jewish, expressed surprise that I was studying altarpieces and Madonnas, since he didn't think Jews were receptive to "that kind of art" (a strange idea from someone who had himself published research on the great Jewish historian of Renaissance painting, Erwin Panofsky). I had never discussed being Jewish with this professor, and the experience was disconcerting. But it was more of a blip than a wake-up call, and my commitment to "that kind of art" didn't waver.
But time and life experiences have their effect, and I gradually did become much more aware of my Jewish identity. In autumn 2018, I began studying Yiddish at Brandeis University, where I work in the art history department — and a kind of Jewish cultural explosion began to reshape my life. Every day brought new revelations about the depth and beauty of Yiddish literature: I had never heard of any of it except for the Tevye stories, and I was both dazzled and moved by the new vistas being opened to me. But still, my art history self and my Yiddish self remained separate, even after discovering some wonderful illustrations in Yiddish books created by El Lissitzky and other Jewish artists. I needed a stronger jolt to bring my two halves together.
As I wrote previously in the Forverts, that jolt came with the image of a wooden synagogue painted by Issachar Ber Ryback. As I hunted for more of Ryback's work online, an entire world of modern Jewish art, created by Jewish artists and often depicting Jewish subjects, opened up for me. Finding out more became an urgent priority for me.
Of course, "learning more about modern Jewish art" is a daunting undertaking, and I realized that I needed a single theme to unify my research. As I pored over more works, various ideas suggested themselves: images of music-making, weddings, synagogue rituals, life in the home, crafts and professions. All of these had potential, but I was especially struck by depictions of Torah study and learning.
Paintings of Jewish men and boys — and sometimes women and girls — studying religious texts were everywhere I looked. Some of the artists were apparently not Jewish, especially those painting in the late 19th century. But gradually more young Jewish men (and occasionally women) were able to become professional artists. They used cutting-edge styles and techniques, and their subject matter was often unabashedly Jewish. I was astonished by the high quality of many of their works. Why were they never mentioned in classes or textbooks? Apart from Chagall, none of the other names I encountered — except maybe Emmanuel Mané-Katz — sounded even vaguely familiar.
Who was Joseph Budko, with his darkly moody and atmospheric woodcuts? Or Arthur Markowicz, with his intimate and delicately evocative pastels? Or Mojżesz Rynecki, with his closely-cropped scenes that made me wish I could peek around their edges? Or Maurycy Minkowski, who mainly painted quietly contemplative women? Or Solomon Yudovin, with his stark, almost harsh, contrasts of light and dark? What were their life stories?
What was their relationship, during their formative years and as adults, to the traditional Jewish world that they depicted? How did they become artists? What other subjects did they portray? What, if anything, could I conclude about why some of them returned to scenes of pious learning over and over throughout their careers?
I spent the next several weeks studying these paintings. My approach was essentially taxonomic: gathering the images of Jewish study and learning, labeling them and trying to make some sense of what I saw. Through extensive Google searching, I collected more than 400 such images, allowing me to spot some specific styles and to learn the names of many more artists. Soon I'll move beyond the internet to printed sources in both English and Yiddish. One friend has already given me a copy of "Perl fun Gan-Eydn" (Pearls from Paradise, 1987) — a book on art written in Yiddish by the Polish-born Israeli journalist Yitzhak Luden — which includes a 75-page section on 20th-century Jewish art. In his book I'm thrilled to see many of the names I recently discovered, and I look forward to reading and translating that portion of his book.
Questions still abound. Research in Yiddish is mostly terra incognita for me, and I feel like a swimmer contemplating a dive into water that's probably deeper than it looks. I didn't intend to begin my exploration of Jewish art with images of study and learning but these paintings of Jews wrestling with kashes — challenging, thorny questions — seem remarkably appropriate.