Looking Forward
Why this Zionist rabbi has stopped saying the Prayer for the State of Israel
"I hope that this government falls and is replaced by something better," Rabbi Jeremy Kalmanofsky explained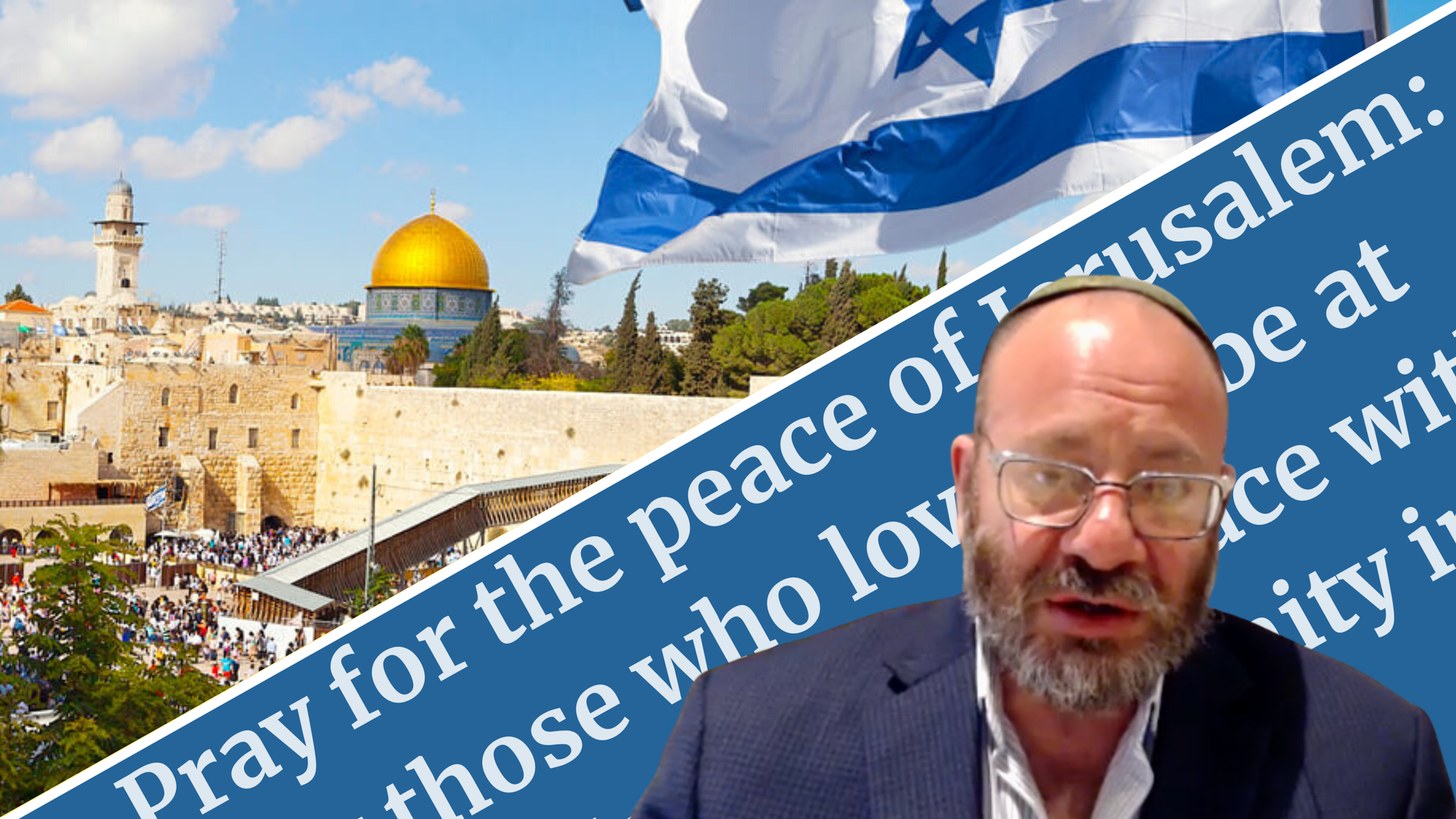 This is our editor-in-chief's weekly newsletter. Click here to get it delivered to your inbox on Friday afternoons.
When Ansche Chesed, a Conservative synagogue in the liberal bastion of Manhattan's Upper West Side, convenes for Shabbat services these days, three familiar words are no longer recited from the bimah: raishit smichat gi'ulateinu.
Hebrew for "the initial sprouting of our redemption," it's the signature line from the Prayer for the State of Israel that Jews worldwide have been saying each week since shortly after the modern state was founded almost 75 years ago. But Rabbi Jeremy Kalmanofsky, Ansche Chesed's longtime leader, feels he can no longer honestly and full-throatedly pray for the success of Israel's leaders, ministers and advisers, as this liturgy calls for, since its new government includes right-wing extremists he considers akin to the Ku Klux Klan.
"I don't hope that this government succeeds; I hope that this government falls and is replaced by something better," he explained in an interview. "I just could not imagine us saying this prayer that their efforts be successful. I think their efforts are dastardly."
Rabbi Kalmanofsky is a staunch, lifelong Zionist — a liberal Zionist, as most American Jews would describe themselves, but also a religious Zionist, in the sense of seeing a Jewish homeland in the holy land as a fulfillment of a fundamental tenet of our faith, which makes the radicalization of Israel's Religious Zionist party feel particularly personal for him. This is a guy who, in 2013, made a little news in our pages by blocking a discussion of Israeli democracy that included a supporter of the boycott movement from taking place at his shul.
He is not a rabble-rouser on social media, and does not consider himself an "activist" rabbi, though he has been arrested twice for civil disobedience. First, at a protest in Albany about school funding, and then in 2017, along with 18 other rabbis affiliated with the human-rights group T'ruah, for blocking access to New York City's Trump Hotel in response to the former president's refugee policy. He is 56 and wore a large green yarmulke as he sipped soup from a takeout container backed by a bookshelf of Jewish texts when we spoke Wednesday evening (until he had to go make a shiva call). He is a serious, sober thinker who runs a 650-family congregation founded in 1829.
Rabbi Kalmanofsky did not think it was enough to join hundreds of his colleagues in signing a letter last month vowing not to let the Religious Zionist party's leaders speak at their synagogues. Like many of those rabbis, he gave a sermon — or as he described it, an "impassioned screed" — decrying the results of the latest Israeli election, but felt the situation demanded a more sustained response.
At first he thought he'd write something to replace the prayer for Israel pasted into Ansche Chesed's prayer books, but "that just proved a little harder than I thought," the rabbi said. "It may yet come." He looked at some alternative — "lefty" was the word he used — prayers and poems that have circulated over the years but found them too "ambivalent about Zionism" or otherwise lacking, concluding that they would not "work for me as a Jewish prayer in a Jewish setting."
So for the last few weeks the congregation has been reciting Psalm 122 to, as their handout frames it, "pray for the peace of Jerusalem and all who live under her authority."
"Is it a permanent change or a temporary change? I confess I don't really have an answer," he told me. "Pray for the peace of Jerusalem, who could be against this? It's got a breadth of vision, which is nice. It's also got some shortcomings."
No one has quit the board or the shul or stormed out of services in protest, though some challenging questions have come up, which Rabbi Kalmanofsky addressed in a lengthy blog post on the synagogue's website. Like: "Isn't democracy a process not an outcome?" as he put it. "Isn't this just cherry-picking the democratic outcomes that you like?" How come you didn't stop saying the prayer for the U.S. during the Trump administration — or when the Supreme Court overturned Roe v. Wade? Would you stop if Trump were elected in 2024? What about Ron DeSantis?
And, perhaps most pointed: Doesn't this Israeli government need our prayers more than any before?
"The claim that I'm making is that in the avatars of Ben-Gvir and Smotrich, we have moved beyond the healthy disagreement of public life," Rabbi Kalmanofsky said, referring to the new ministers of national security and finance. "In the avatars of these two people and what they represent, and the viciousness and the violence that they themselves have been associated with, it's just way beyond the pale of what anybody should tolerate."
"The fair question here, the apposite question is not Ron DeSantis, Kevin McCarthy or Ted Cruz or blah blah blah blah blah, but more like David Duke," he added. "Possibly Marjorie Taylor Greene. I just consider these guys the Klan."
"I don't hope that this government succeeds; I hope that this government falls and is replaced by something better. I just could not imagine us saying this prayer that their efforts be successful. I think their efforts are dastardly."
– Rabbi Jeremy Kalamanofsky
The traditional Prayer for the State of Israel was written by Israel's first pair of chief rabbis, Isaac Halevi Herzog and Ben-Zion Meir Hai Uziel, edited by the legendary Hebrew novelist Shai (S.Y.) Agnon, and first published in Israeli newspapers in September, 1948. It has been a mainstay of prayer books used around the world ever since, though a number of rabbis have authored alternative prayers for Israel that have come in and out of fashion.
It is somewhat messianic, which does not work for Haredi Jews who believe redemption will only come from the study of Torah and adherence to halacha. And it is certainly very strongly Zionist, asking God to "grant victory" to "those who defend" the holy land, i.e. the Israeli military, and suggesting that Jews alone should "possess" it.
I grew up mumbling along with this prayer every Saturday morning, and remember keenly the pride of pronouncing raishit smichat gi'ulateinu loudly and clearly while in Israel for the very first time, as a 17-year-old Jewish youth group leader who just spent a week visiting the death camps of Poland. During the years I served as Jerusalem bureau chief of The New York Times and a while after, when I happened to be in shul, I would stand for the prayer but not join in; it felt too much like taking sides in a conflict I was committed to covering with complete fairness.
The Reform synagogue I belong to now does not use the traditional prayer, but instead uses this English version with what our rabbi described as "a great universal message." It's shorter and simpler, describes the modern state as "the dawning of hope for all who seek peace" — which is probably not something any Palestinian would agree with — and mimics the original in mentioning the government's leaders and advisers, the main thing Kalmanofsky could not abide.
It is far too early to tell what will happen to Israel under its new stewardship. Itamar Ben-Gvir's senseless, audacious pilgrimage this week to the Temple Mount/Dome of the Rock compound, the site holy to both Muslims and Jews and flashpoint of so much tension and violence, certainly is a haunting harbinger. I am deeply worried about the independence of Israel's judiciary, about the new government's threats to LGBTQ people and plans to redefine who is considered Jewish under Israeli law, and of course about the ongoing, escalating violence against Palestinians.
What is there for us American Jews to do about it? I don't think boycott is the answer. Rather, I think this moment calls for more engagement with Israel. We should go and explore for ourselves what is changing on the ground. We should support the advocacy groups and politicians who are standing up to the extremists, who represent whatever our individual visions are for its seemingly hopeless future. We should cultivate ahavat Yisrael, our love of Israel — its people, food, music, society, the idea of it — even as we challenge or criticize its policies.
And perhaps, for awhile, I'll take a page from Rabbi Kalmanofsky and pray for the peace of Jerusalem and its people rather than the success of the politicians in charge.
Thanks to Matthew Litman for contributing to this newsletter and Adam Langer for editing it.
Shabbat Shalom! Questions/feedback: [email protected]
YOUR WEEKEND READS
A FREE, PRINTABLE MAGAZINE OF STORIES TO SAVOR OVER SHABBAT AND SUNDAY
| | |
| --- | --- |
| | Dispatches from Paris, Ukraine, Munich, Los Angeles and the Blue Ridge Mountains. Plus: Our culture team's "totally accurate and sane" Jewish predictions and trend assessments for 2023. With the news from Capitol Hill on a continuous loop — if you've noticed that CSPAN's shots seem more interesting, it's because control of its cameras is one more thing Congress can't take until it has a speaker — you might as well counter-program this weekend with some great Jewish journalism. |
Perhaps no Jewish leader needs publicity less than Rabbi Angela Buchdahl of Central Synagogue in Manhattan, who I've known since our mutual days as undergraduates at Yale and who is now a member of our Forward governing association. And yet…when I got this video this morning as part of a daily email blast from Malcolm Thomson, an 84-year-old rabbi, financial adviser and Jewish organizational leader, it made me happy. If you're not going to shul tonight — if you never go to shul — click here for Shabbat vibes in less than four minutes.  
This newsletter is now also available on our website. Click the yellow button below to share it on social media or to a list of friends and colleagues. And if you're not reading it in your inbox, click the blue button to sign up for delivery.