News
Meet the Israeli-born developer who wants to create an urban kibbutz for homeless people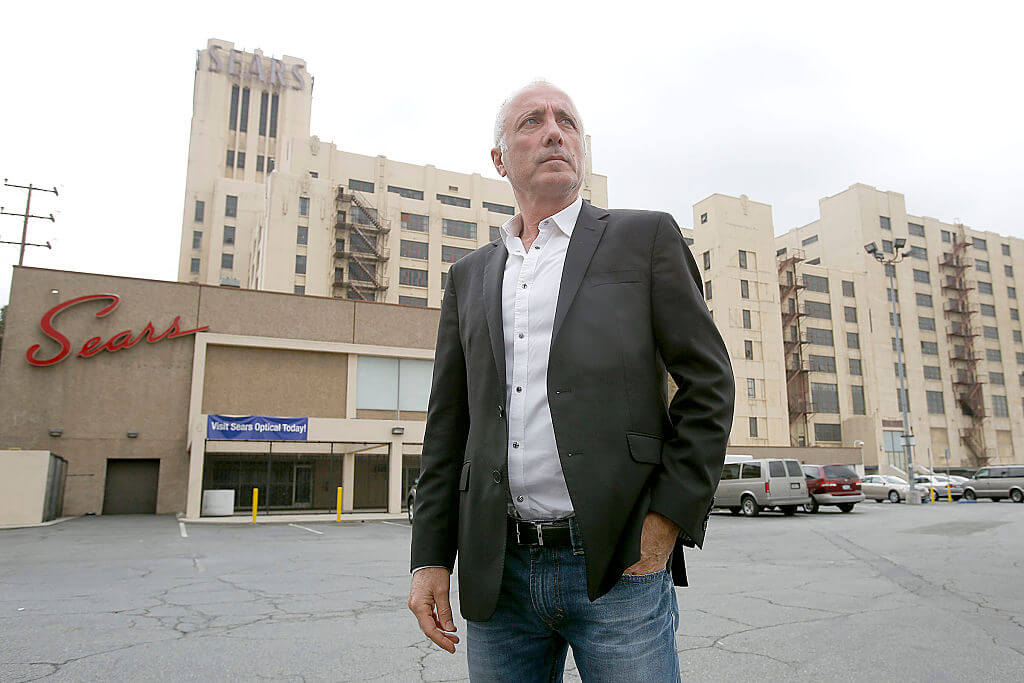 When Izek Shomof looks at the massive, abandoned Sears building he owns in a crowded urban neighborhood east of downtown Los Angeles, he sees a kibbutz.A kibbutz for homeless people.
When the Israeli-born Shomof, 62, purchased the Boyle Heights property in 2013, he planned to develop it into a high-end, live-work complex taking advantage of the rapidly gentrifying population. Either that, or he would create a multistory car museum to house his collection of over 100 classic cars and motorcycles.
But after coming across a newspaper article about a successful Orange County developer who devotes himself to housing the unhoused, Shomof changed his plans.
"Now they are everywhere," said Shomof, who said when he arrived in L.A. from Israel five decades ago, the homeless population was mostly limited to downtown's skid row.
Anyone who lives in Los Angeles or has ever visited the city knows how serious the problem is. In 2020, Los Angeles County had 66,433 people experiencing homelessness. Homeless shelters provide a total of 14,854 beds for this population. Parks, beaches, underpasses and medians have become tent villages. An average of three homeless people die each day on L.A.'s streets. At least 67% of homeless people struggle with mental illness or substance abuse, according to a 2020 Los Angeles Times study.
"The answer is not only to give them shelter," said Shomof, "but to rehabilitate them and give them an opportunity to rebuild their lives."
Shomof is planning to use the 1.6 million-square-foot property to provide numerous services for homeless people under one roof: a medical center, offices, job training rooms, barber shop, performance spaces and music studios — even a dog kennel. Floors 3-10 would provide 5,900 beds in dormlike rooms.
"We are going to make it comfortable for people to be there and provide them with all the amenities they need," he said. "It will be a place where they will be able to cure themselves and move on."
Shomof is planning to invest $200 for the initial build-out of the estimated $400 million project. He plans to lease his building to the city for at least 20 years at $23.3 million annually.
"I'll get 6% on the money. Enough to cover my costs," said Shomof.
Entrepreneurial roots
Shomof could take less, he said, because he has done well.
Born in Tel Aviv, he moved to Los Angeles with his family to L.A. in 1973. After attending high school in Van Nuys for two years, he dropped out to open a restaurant downtown. He was 16. By the time Shomof had turned 18, he had opened and sold three restaurants and purchased an auto body shop. "The owner of the body shop told me, 'Son, I'll give you the best advice ever: If you can, always buy, don't lease,'" Shomof said.
The advice paid off. Shomof invested in downtown L.A. just as its revitalization began in the early '90s. He bought historic but derelict buildings, restored them and drew new, upscale tenants.
Since then, downtown has become one of the most popular areas in L.A., and apartment and office prices skyrocketed.
He met his wife Aline, a Jewish immigrant from France, when she came to fix her car. The couple has five children and 10 grandchildren. The big family gathers every Friday night for Shabbat dinners, either at the family home in Beverly Hills or at their Italian-style villa in Agoura Hills.
A kindred spirit
The idea for the Sears building first came to Shomof in 2019 when he read an article in the Daily Pilot about Bill Taormina, a 71-year-old Anaheim business owner and philanthropist who supported homelessness causes and funded shelters himself.
The kindred spirits met at Shomof's Sears building, and the idea of the Life Rebuilding Center was born.
He said city officials have been supportive, though the bureaucracy moves slowly.
"And in the meantime, people are dying on the streets," he said.
Council Member Kevin de León, whose district includes Boyle Heights, said he welcomes Shomof's plan.
"This is a gargantuan problem that requires all hands on deck to solve, so I am open to all solutions," Leon said in a statement about the project.
In the meantime, Shomof offered the city the land surrounding the Sears building to house between 1000-1500 homeless in tiny homes until the project is completed.
He said he is willing to forgo the greater profit he'd make if he used the land or the building differently.
"I could have made 20% return on my investment if I developed another project there," he said. However, I am not doing it for the money. It's time to give back to the community and make a change."
---
Get the Forward's "Letter from California" delivered to your inbox. Sign up here to receive our lively and provocative insights, news, opinion and inspiration from the state at the leading edge of the Jewish future.
---