News
'They had panic and terror on their faces': Klezmer band member relives scene of July 4 shooting
Tuba player recalls a frenzied scene at Highland Park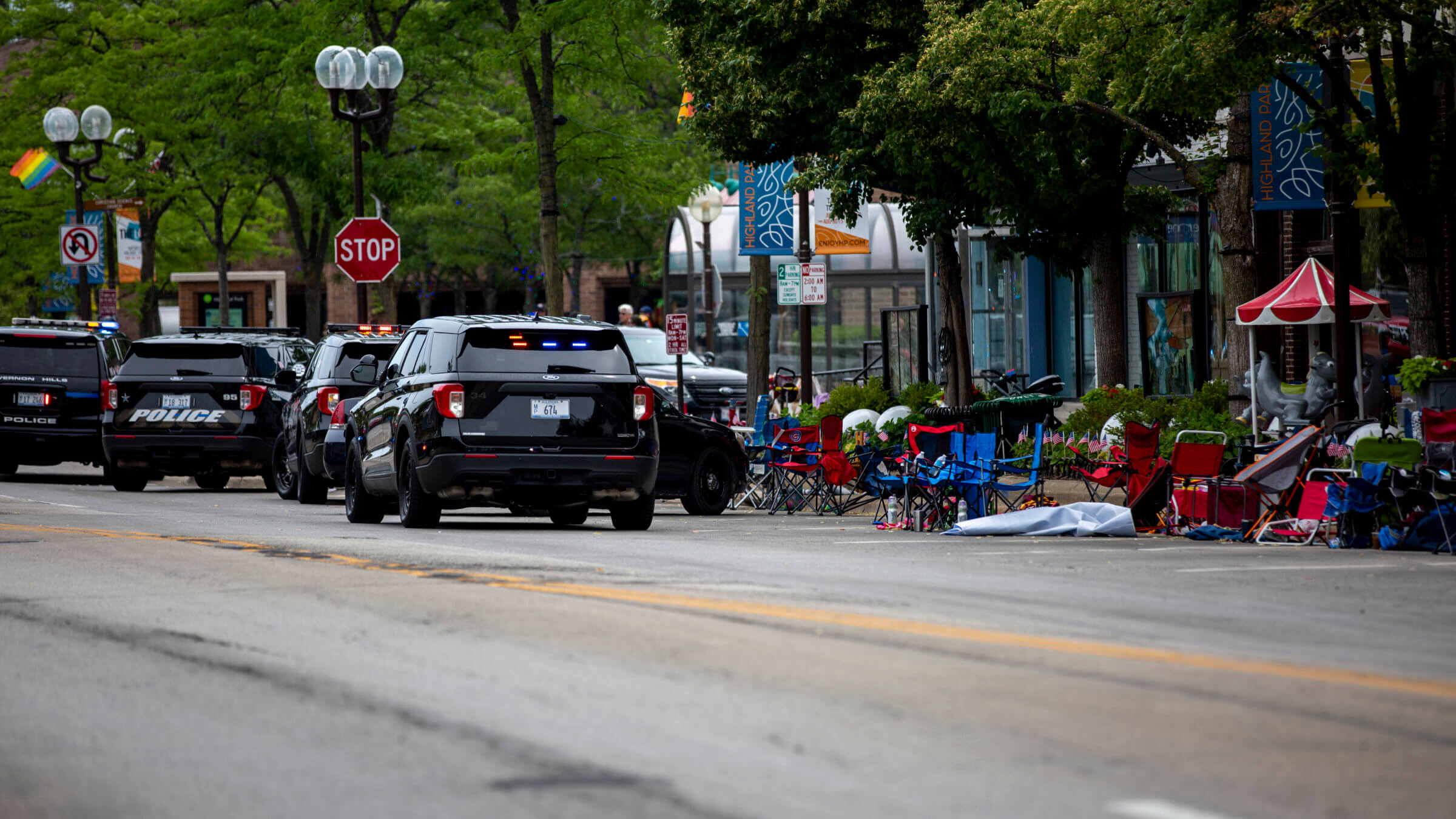 This story has been updated to reflect new information about the number of casualties and the suspected shooter's age.
One of the first eyewitness videos to emerge from the shooting at the Fourth of July parade in Highland Park, Illinois, was of a klezmer band. 
Perched on the deck of a pickup truck with red, white and blue bunting, the Maxwell Street Klezmer Band had just struck up the joyous wedding song "Freylekhs fun der khupe" as they entered the same parade route they'd been playing for the past decade. The band's tuba player, Howard Prager, knows the street well. He is a Jewish scout leader, and some of his scouts live along it. He hasn't heard of any of the scouts being present at the parade. 
Prager, who lives in nearby Vernon Hills, Illinois, described the suburb of Highland Park as a "very close community" that is "well-to-do." It has a large Jewish population that makes it a natural fit for the Maxwell Street Band, for which he has played for over five years. 
"We always get people smiling and dancing and such when we play, and it started that way," Prager said. "There was a lot of anticipation after not having a parade for a few years."
My video.. I was at #Highland Park parade.. Terrified people fleeing July 4th parade when shooting started. pic.twitter.com/DSe0NJOuem

— Lynn Sweet (@lynnsweet) July 4, 2022
But at around 10:14 a.m., shortly after the band began to play, Prager said the group's piano player saw a group of people running and sensed that something wasn't right. Prager at first thought it must have been a celebrity in the crowd that people were flocking toward, but soon realized something else was going on. 
"It turned into a lot of people running and they had panic and terror on their faces," Prager said. "As soon as more people started running in our direction, we stopped playing, and that's when I heard the 'pop pops' of the gun."
Saw the suspect flee
The truck with the klezmer band in the back was able to escape through a gap in the crowd, but before that happened, Prager said he saw a car driving rapidly away and believed the person at the wheel was a woman. Prager later put it together that this might have been the person of interest, 21-year-old Robert E. Crimo III, who police are now saying disguised himself in women's clothing during the attack. Prager spoke to someone on a tip line, but he didn't have a photo to give them.
"Once I saw the photo of him and his car, I realized that was him," Prager said.
Prager, who spoke to the Forward Tuesday on his way to revisit the scene of the shooting, on Central Avenue and Second Street, said he is still "numb" and doesn't think he has fully processed what had happened. Asked if he thought in the moment if the shooter might have been motivated by antisemitism, he said the possibility didn't occur to him until later.
"I think I heard it more from other people than I myself wanted to admit that it was antisemitically driven," Prager said. "Certainly, until we know what this terrorist's motive was, it's hard to say. But that's certainly a plausible reason."
Prager lamented that such a tragedy, which killed at least seven people and injured dozens more, would happen on Independence Day.
"On a holiday that should bring all Americans together, for this to happen is such a travesty, such a tragedy and such a pox to life, liberty and the pursuit of happiness," Prager said. "It's just anathema to it."
Prager said he doesn't know how everyone else in the band is faring in the aftermath. But he does know how one member reacted.
"I know that our clarinet player says he will no longer play parades," Prager said.