News
'He sounds like a child': What Trump really thought of Kushner, and more highlights from Maggie Haberman's new book
Former President Donald Trump often diminished and mocked Jared Kushner despite giving him an outsized role in the White House, the tell-all book claims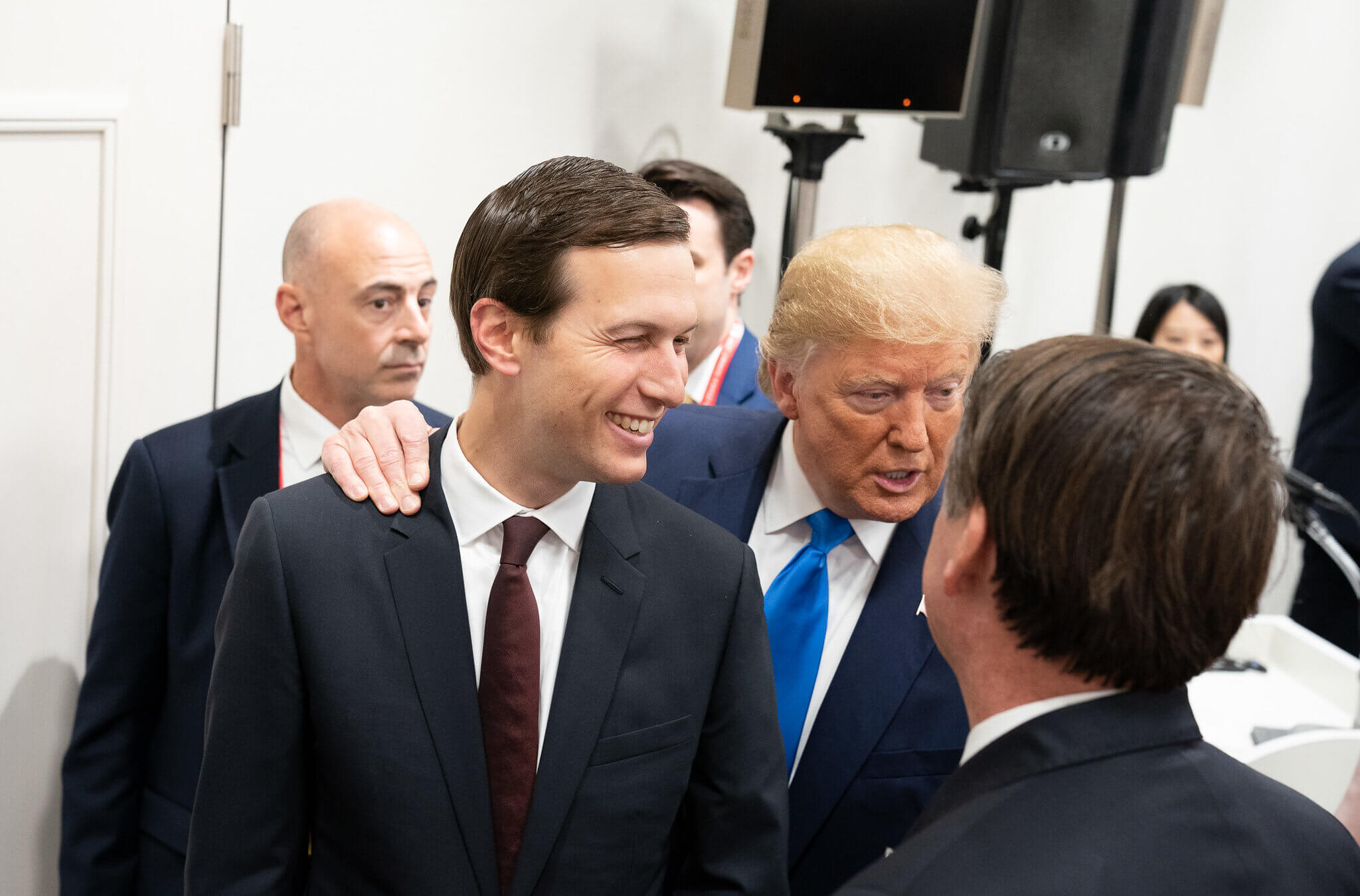 Former President Donald Trump gave his son-in-law Jared Kushner an outsized role in the White House, but he often diminished and mocked him in private conversations. "He sounds like a child," Trump told his aides while "his face contorted in disgust," after watching Kushner address the media on TV following Kushner's congressional testimony about Russian collusion in the 2016 election, veteran reporter Maggie Haberman writes in a new 500-page book, "Confidence Man: The Making of Donald Trump and the Breaking of America." The Forward obtained an advance copy of the book, which is set to publish on Tuesday.
"Can you imagine Jared and his skinny ass camping?" Trump mocked Kushner in the summer of 2020 after his daughter, Ivanka Trump, mentioned the possibility of renting an RV as air travel plans were grounded by the coronavirus pandemic. "It'd be like something out of 'Deliverance,'" Trump added, mimicking the banjo theme song of the 1972 survival film about four businessmen vacationing in rural Georgia which included a scene in which one of the men was sodomized.
Trump "frequently" told his chief of staff, retired Gen. John Kelly, that he was eager to see Kushner and Ivanka give up their roles in the White House, Haberman writes. At one point, Kelly had to talk Trump out of firing them via a tweet. "In private, Trump often diminished Kushner, mocking him as effete, and seemed to delight in needling in front of others," she writes.
Here are some more highlights from the book, set to be published on Tuesday.
Trump's gatekeeper
The book offers, among other exclusive revelations, a behind-the-scenes look at Trump's presidency. And it details how Kushner sought to control the areas he was responsible for as a gatekeeper for Trump, not allowing outside advisors to influence the president on those matters. "Kusher had become hooked on the influence he had," Haberman writes. 
According to Haberman, Kushner canceled a planned meeting between Trump and Ronald Lauder, president of the World Jewish Congress, who had pitched a Middle East peace plan built on the two-state solution that Trump was "enthusiastic" about. "You cannot tell the president things like you told him without going through me first, particularly when it deals with the Israelis and Palestinians," Kushner reportedly told Lauder.
A year later, Kushner insisted on being present for Trump's discussions with Lauder regarding Middle East peace, telling associates that Lauder "was making assurances of delivering Palestinian cooperation that he couldn't carry off."
Prison reform
Kushner also managed to bypass the Department of Justice pardon attorney in directly lobbying for the commutation of Sholom Rubashkin, a kosher meat executive who was found guilty in 2009 of 86 counts of bank fraud and sentenced to 27 years in prison. Freeing Rubashkin had become a cause célèbre in some parts of the Orthodox community. Rubashkin was released in December 2017.
The Jerusalem model
Haberman writes that the move of the U.S. embassy from Tel Aviv to Jerusalem in May 2018, which defied dire predictions of an outbreak of violence, was a "turning point" for Trump who had taken from it a lesson that the experts and intelligence officials did not necessarily know any better than he did. 
Sheldon Adelson, who was the largest single donor for Trump in the presidential election, had demanded that Trump announce the relocation of the embassy when he was elected president and assured Trump in several meetings that the nightmare scenarios were "overblown."
Taunting political rivals
The book details a dinner Trump hosted for a group of moderate House Democrats in June 2017, in which he made fun of Sen. Bernie Sanders, who was not present and who was mounting an election challenge. "Is he going to run in a wheelchair?" Trump asked about Sanders, who was 76 at the time, "pretending with hand motions to wheel himself around." (Trump would be 78 if he runs for president in 2024.)
Trump was also overheard taunting Rep. Josh Gottheimer, a Jewish Democrat from New Jersey who was seated next to him. Trump told Gottheimer that if he'd be defeated in the 2018 midterms, Gottheimer would lose his title, while "I get to keep my title for life."
A personal question
Haberman describes a 2017 Oval Office meeting with Paul Singer, a hedge fund billionaire and Jewish philanthropist, to discuss economic policy after Singer publicly opposed Trump during the 2016 primary. But the conversation shifted as Singer touted his own advocacy for gay rights.
"Are you gay?" Trump asked Singer, who responded in the negative, but said his son was.
Trump then turned to Vice President Mike Pence, a devout Christian, who was seated with other aides preparing for a press conference. "You are not like those guys, that kind of conservative?" Trump asked Pence. He then added, "The gays, they love me."
Physical mockery
In 2012, Haberman writes, Trump fired his attorney Avi Schick, an Orthodox Jew who represented him in negotiations with the New York attorney general in a civil suit against Trump University, because he was overweight and didn't move fast enough to close a deal. Trump "made clear" that Schick's physical appearance "repelled him."
Deliberately provocative?
The book also confirms previous reporting that Trump praised Nazi leader Adolf Hitler during a conversation with Kelly while on a 2018 visit to Europe to commemorate the 100th anniversary of the end of World War I. "Hitler did a lot of good things," Trump said, days after the Republicans lost control of the House in the midterm elections. Some aides who were told of the remark in real time suspected "and perhaps hoped" that it was intended to purely provoke Kelly.