News
George Santos' latest doozy: Records show his mom wasn't in NYC on 9/11
The embattled congressman's claim that his mother worked in the World Trade Center is contradicted by newly discovered documents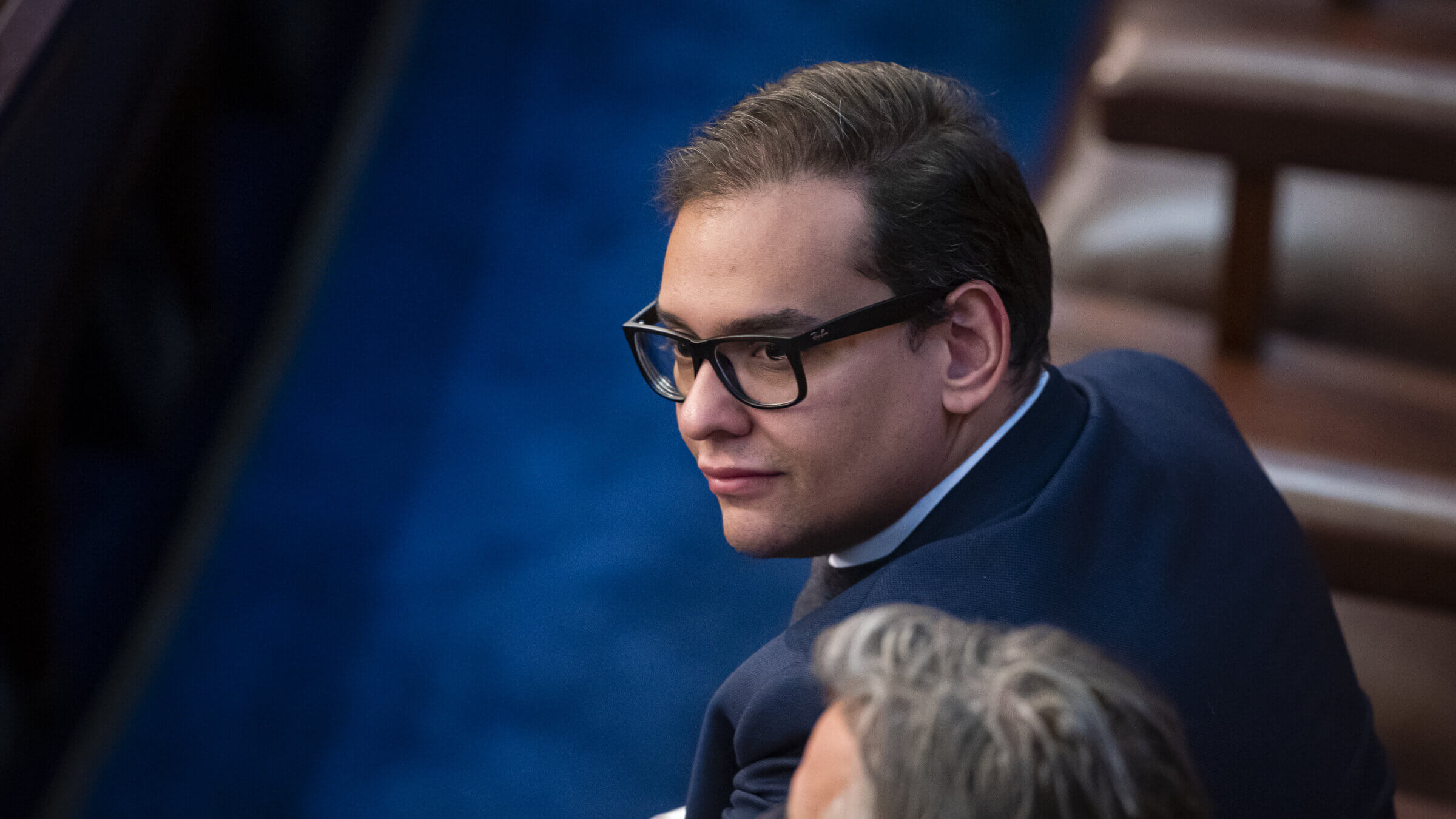 Newly obtained documents from the U.S. Citizen and Immigration Services show that U.S. Rep. George Santos' mother, Fatima A.C.H. Devolder, was not in the World Trade Center during the terrorist attacks on 9/11, as he has claimed.
The Forward reviewed more than 90 pages of Santos' mother's immigration paperwork, from 1988 to 2012. The records confirm previous news reports that the congressman lied about key aspects of his family history, and reveal new details about his story. The idea that his mother survived the 9/11 attacks is one of several instances in which Santos has falsely claimed connections to tragic events.
Santos' troubles began in December, when The New York Times revealed that the newly elected congressman fabricated large swaths of his resume. Shortly after, the Forward broke the story that those lies included the prominent claim on his campaign website that his grandparents had fled anti-Jewish persecution in Belgium and then Ukraine before World War II. In fact, his grandparents were born in Brazil in 1927 and 1918.
Since then, stories of deceit and criminality have become daily media fodder. Allegations include campaign finance law violations to stealing a former roommate's scarf. Prosecutors in Queens and Long Island are investigating whether any of the lies violated the law, and local Republicans are among those who have called for his immediate resignation. But House Republican leaders have resisted those calls, and on Tuesday announced he would serve on two House committees: Small Business and Science, Space and Technology.
While Santos has admitted to embellishing his resume and not being Jewish, he still maintains many outright falsehoods, including that his mother was in the World Trade Center on 9/11 and that the "ash cloud" caused her death 15 years later, in 2016.
"George's mother was in her office in the South Tower on September 11, 2001, when the horrific events of that day unfolded," his campaign website states. "She survived the tragic events on September 11th, but she passed away a few years later when she lost her battle to cancer." Previously, the site's "About George" section had also described George's mother, Fatima A.C.H. Devolder, as a financial executive.

 But immigration records dating back to the 1980s paint a different picture. Devolder came to the United States in 1985 at the age of 21, they show. Two decades later, she wrote on a form that she spoke "little English."
The records show that she wasn't a bean counter, but a bean picker. As a young woman with a ninth grade education, she came to the United States on a Seasonal Agricultural Workers visa and worked on a South Florida bean and squash farm for $2.50 an hour. Later, she moved to New York and worked as a home aide and housekeeper.
The documents were released to a researcher named Alex Calzareth who requested them under the Freedom of Information Act, and shared with the Forward. They also place Devolder in the Rio de Janeiro suburb of Niterói on Sept. 11, 2001.
Three months before the attacks, Devolder filed a request with the U.S. Consulate in Rio for a replacement green card, saying hers had been stolen after she returned to Brazil in June 1999. The situation was apparently not resolved, and another application was filed in early 2003. At that point, she stated that she had not been in the United States since 1999.
The 2003 application, filled out by hand by Devolder, lists her father, Paulo Devolder Horta, as having been born in Rio in 1918, and her mother, Rosalina Horta Devolder, as having been  born in Rio in 1927. This echoes genealogical records unearthed by the Forward in December, and directly contradicts what Santos himself continues to claim — that his grandparents fled the Nazis for Brazil in 1940.
The files also show that Santo is not lying about some aspects of his background. He speaks often of having grown up in a basement apartment in Jackson Heights, Queens, and a medical form dated November, 1988, indeed lists Devolder's address as a Jackson Heights basement on 85th Street, down the block from the elevated subway tracks. Santos had been born four months before.
But Devolder's residency application suggests she soon moved to a second-floor apartment in another Queens neighborhood, Rego Park. Over the next 14 years, she would claim several modest addresses in western Queens, belying the rags-to-riches story Santos sold to voters.
The only luxurious address that appears is an apartment in the Beresford, the iconic co-op overlooking Central Park West. It's where Devolder worked as a housekeeper.
The U.S. Citizenship and Immigration Services is an agency of the U.S. Department of Homeland Security.