I ran for my life from the Highland Park shooting. It will haunt me forever.
The first July 4 parade since 2019 promised a return to normalcy. Instead, it began a surreal, traumatizing ordeal.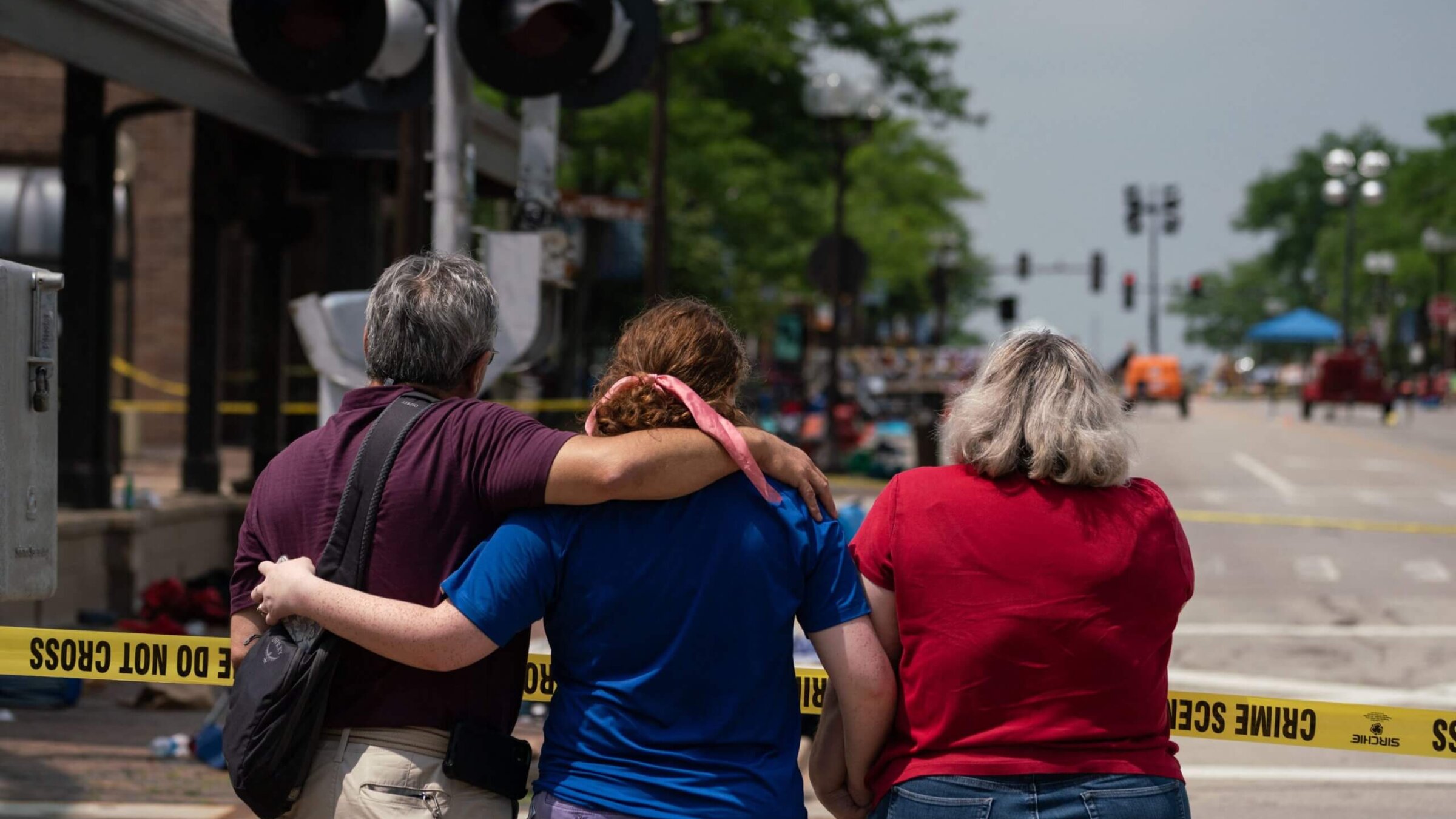 Rapid-fire popping noises — a loud burst, then a brief pause, then another sustained staccato, somehow even louder — echoed down Central Street. It had been three years since the last Highland Park, Illinois, Fourth of July parade — a treasured small-town ritual. On a beautiful, clear summer day, the atmosphere was relaxed and festive. Everyone was grateful for the return to normalcy.
In the first 15 minutes of the parade, my wife, Susan, and I waved to the mayor and the folks riding in the vintage fire engine, saluted the military honor guard and cheered the Highland Park High School marching band. Then came that loud popping sound, from a little over a block to our left, farther down the parade route, where the teens in the band were just arriving.
At the first burst, I wondered what idiot would set off firecrackers in the middle of a parade.
At the second, in the pit of my stomach I knew.
Two weeks ago, I had been one of a group of Shabbat morning regulars asked by my shul to attend active shooter training — a security measure decided on after the January hostage crisis at a Texas synagogue. A beefy Homeland Security Department adviser repeated the same simple advice, reinforced by videos and PowerPoints:
Run if you can. Hide if you can't. Fight if you must.
So my wife and I ran.
As a mass of panicked paradegoers surged toward us, we ran east. My wife couldn't find a red shirt that morning, so it was easy to keep her in sight in her orange one. We ran a block or so, crossed over to the intersecting street where we'd parked, and stopped. A man on a cellphone breathlessly confirmed that there was a shooter. A young couple with a toddler in a stroller rushed up and said the same.
I realized later that a high-caliber rifle bullet could have easily killed us where we had stopped. Other paradegoers, smarter, fled further east to Lake Michigan, or ran into a store. We were lucky. Lucky to escape relatively easily and lucky to make it quickly around the corner to where our car was parked facing in the right direction, toward home.
What did we feel? Fear, yes — even though the shooting had (for the moment?) stopped. My wife told me later that she was terrified. But I confess, I lacked the imagination to conceive how dangerous the situation remained.
I figured it was some crazy person with an automatic pistol who had immediately been overpowered by the police who were all over the route on bicycle and foot. That someone with a high-powered rifle would lie atop the roof of a low building and fire into the nearby crowd was inconceivable to me.
But along with the fear and a sense of stupefied disbelief that this was really happening to us and our community came feelings of anger, disgust and deep sadness. For my wife and me, this parade has special emotional resonance. We live in a corner of town that's historically been mixed — ethnically, religiously, economically and pretty much every other way. There's the factory owner with a National Rifle Association sticker on his fence, the quiet gay couple, the Jewish lawyer and his Sunday-school-teacher wife with the pro-union sign, the nice Mexican families with unclear immigration status in the rental place, the struggling single mom, and others.
All that diversity is reflected each year in Highland Park's Fourth of July parade. It is a secular version of the sacred — a celebration of a nation conceived in liberty and dedicated, however imperfectly, to the idea that all of us are created equal. This attack desecrated that sacred space and time.
When we moved to Highland Park in 1987, we were a family with an infant in a stroller. Now, we're empty nesters with two 30-somethings living elsewhere, but we still cherish memories of marching or riding in the parade or just watching it.
To simply call Highland Park one of Chicago's North Shore suburbs is only part of the story. Yes, these suburbs grew up alongside roads and a commuter rail line leading into Chicago. But at heart, they're more like 19th-century towns, each with individual identities.
In Highland Park, about a third of the 30,000 residents are Jewish. When last year the city did not hold its parade, my wife and I drove to the one jointly hosted by Lake Bluff and Lake Forest, the two towns immediately to our north. We saw no one else among the spectators or participants who looked remotely Jewish.
At the Highland Park parade, by contrast, the Maxwell Street Klezmer Band delivers a regular performance, a local shul has often had a float, and many of the city officials and leaders of local volunteer groups are connected to the Jewish community. It is, implicitly, a public embrace of the complete compatibility of the commitment to both Jewish and American values.
As we walked to our parade perch on a low concrete ledge before the festivities began, we greeted another member of our shul who was sitting across the street from us. For whatever reason, after the shots stopped he ran west toward where they had come from. In a later email to myself and a few others, he described people lying on the ground, injured and bleeding. He saw two bodies that had been covered over. He saw paramedics performing CPR on an old man and an old woman, both drenched in blood.
When my wife and I got home, we closed the door of our detached garage and locked all the other doors. The city's "lockdown" order was, again, surreal. On TV, a reporter stood not far from where we'd been sitting. We could see the abandoned strollers, lawn chairs, water bottles and blankets that had been used by the people right in front of us.
Texting with the 30-something Jewish couple next door, I discovered that they and their three very young children had fled to a store on the periphery of where the shots had been fired, there to be rescued by a friend driving up a back alley. The husband summed up the experience in a single word: "traumatizing." For those not fortunate enough to be quickly rescued, groups of police with rifles at the ready methodically searched for the shooter after the parade, carefully escorting shellshocked parade attendees out of the stores where they'd been hiding — sometimes for hours.
Before the suspect was identified, we Jews wondered if there could have been an antisemitic element to the attack. On the evening after the attack, at a minyan my shul held on Zoom, the hazzan led Mincha with mournful tunes, and our senior rabbi led us in a prayer for our country and for peace. He said he knew of no one in our congregation who had been killed or seriously injured. Monday night, the TV news identified two of the seven dead — a Mexican man, visiting relatives, and a Highland Park woman, Jacki Sundheim, who was a longtime member and staffer at a local Reform temple.
Online, Israeli newspapers reported two Jews had been killed — they didn't share their names — citing the Foreign Ministry of Israel. I was taken aback. How could it be that the government of Israel, interested in the well-being of Jews everywhere, knew more about the Jews in my small Midwest town than I did?
Later, I found out that the Israeli consul general for the Midwest lives in Highland Park. Still, Israelis expressing condolences about the terrorist attack my neighbors and I experienced in the U.S. only added to the feeling of surrealism.
The suspect was identified — he lived less than a mile away from my home. We learned about his attempt to enter the Chabad shul on Pesach — an attempt the shul's security director described as "sizing up" the synagogue. It sent chills through us all.
Still, on the news Tuesday morning, the police carefully characterized the attack as "random."
At the minyan Tuesday morning, held in person with the kind of security that has become all too routine, our deep sadness for the families of those killed and injured, and for everyone hurt physically or psychologically, was almost all-consuming. Yet it was not just the prayers for healing that resonated. What felt most powerful to me was a prayer near the beginning of Shacharit, a portion of which the Siddur Sim Shalom translates this way: "May it be Your Will, Lord my God … to protect me this day and every day from … vicious people [and] from evil neighbors."
We are grateful to be alive, but we are haunted forever by what we saw and what we heard.