Communications
Forward awarded Stern Grant at IAJGS Jewish Genealogy Conference
The grant will support translation and online access to genealogical records in the Forward's archive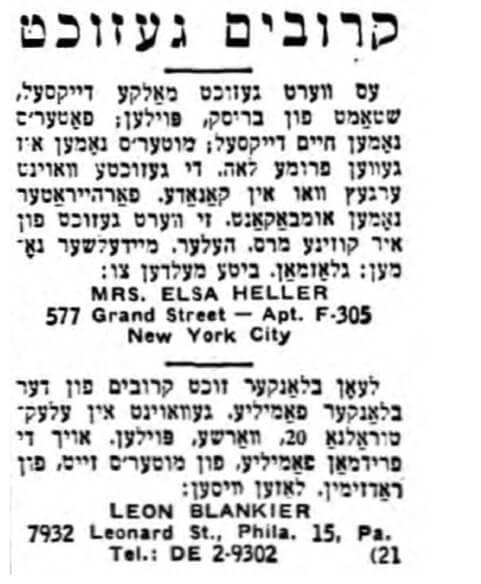 This post is a news release from the Forward's communications department
The Forward has been awarded the Rabbi Malcolm H. Stern Grant at the 42nd Annual IAJGS (International Association of Jewish Genealogical Societies) International Conference on Jewish Genealogy, held virtually Aug. 21-25.
With grant funding from IAJGS, the Forward will partner with JewishGen to find, translate and publish genealogical records from the Forward's "Seeking Relatives" advertisements, published between 1920 and 1960. These listings helped Eastern European Jews get in touch with family members in the United States, and assisted Holocaust survivors in their efforts to reconnect with missing relatives.
The project's goal will be to publish the names of individuals mentioned in those advertisements, along with the sparse but valuable data that accompanied their names, in a free, searchable database on JewishGen.org.
Forward archivist Chana Pollack will lead the project. 
The Stern Grant honors the late Rabbi Malcolm H. Stern, widely considered to be the dean of American Jewish genealogy, and his efforts to increase the availability of resources for Jewish genealogical research.
The IAJGS is an umbrella organization of more than 90 Jewish genealogical societies worldwide. The IAJGS's vision is of a worldwide network of Jewish genealogical research organizations and partners working together as one coherent, effective and respected community, enabling people to succeed in researching Jewish ancestry and heritage. Find the IAJGS at: www.iajgs.org and on Facebook at http://www.facebook.com/iajgsjewishgenealogy.