Culture
The Way Barbra Streisand Was — and How She Got That Way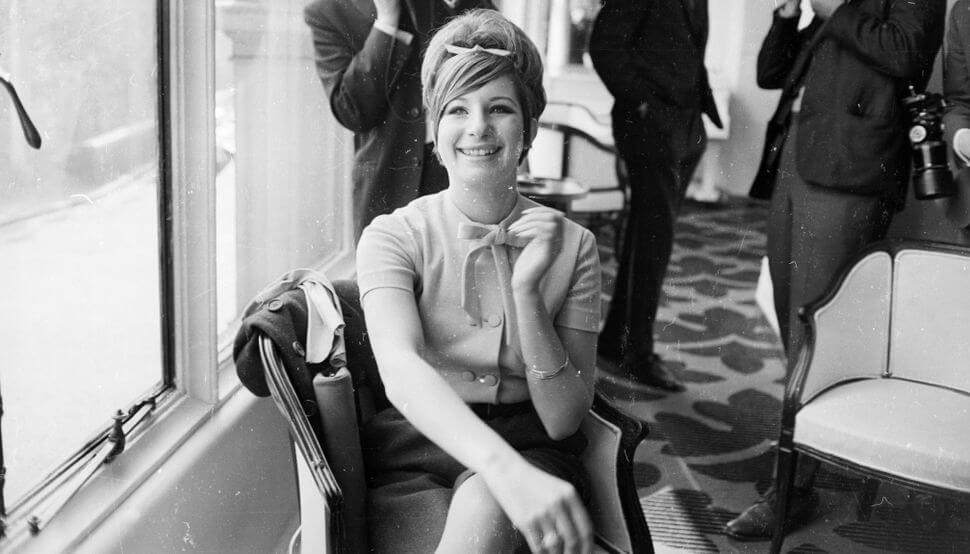 Barbra Streisand: Redefining Beauty, Femininity, and Power
By Neal Gabler
Yale University Press, 296 pages, $25
Barbra Streisand was born poor in Brooklyn. Her father died when she was a toddler; her mother was terrible to her, and her stepfather was worse. She was gawky, unpopular and unattractive. But she was determined, and she had an incomparably gorgeous voice, and by the time she was 22 she was a Broadway star. At 26 she was a movie star. She is still determined, and she is a perfectionist. She is political; she is outspoken. She is extravagantly wealthy. She is beloved, she is detested, she is an icon. She is Jewish.
If you have any interest in Barbra Streisand — and if you're reading a biography of her, you have an interest — you know all this.
In "Barbra Streisand: Redefining Beauty, Femininity, and Power," just published in Yale's Jewish Lives series, cultural historian Neal Gabler's challenge is to find something original to say about this woman we know so well. And while the book is exhaustively researched, it contains no new information. Gabler makes excellent use of existing sources — it is hard to image that there has been any review published of any Streisand album, performance or film that he has not read and cited — but in service of a well-told story. Where his work is best, and when the book is most interesting, is when he isn't telling us about Streisand but instead telling us about our relationship to her. The book is an adequate biography; it is an intriguing psychoanalysis of fandom.
Gabler, an accomplished author best known for his 1988 book "An Empire of Their Own: How the Jews Invented Hollywood," realizes this. "This book doesn't purport to be a biography of Barbra Streisand," he writes, a bit disingenuously, in its introduction. "Instead, it is a book-length biographical essay that explores who Streisand is and how she became what she became, and examines her position in our cultural cosmos." He goes on: "Streisand is so much more than Streisand. The aim of this book is to understand how and why that happened, how and why she changed our world."
He is clearly a fan, finding genius in each of her performances and projects, even the film "Meet the Fockers." Triumphantly describing her 2012 "Back to Brooklyn" tour, when she opened at the new Barclays Center, he writes that "she may be a better singer in her maturity than in her youth — a singer who not only acts her songs but clearly lived them fully." (I was there, for a ridiculous ticket price. The voice was indeed changed, but lovely; her enthusiasm felt more than a little perfunctory.) He sees the genius, but he also consistently sees the flaws — the imperiousness, the sanctimony — as necessary defenses. In a more traditional biography, this rooting interest would be troubling. For this "book-length biographical essay," however, it proves a boon: Because Gabler is so willing to give Streisand the benefit of every doubt, he is well positioned to understand why her fans do, too, to explain the phenomenon around her.
(Although, in a coincidence of timing, this Streisand book comes out as Gabler has a cover story in the current issue of The Atlantic: "The Secret Shame of Middle-Class Americans." In it, he details the financial struggles of the seemingly comfortable — and reveals that despite his apparent success he has no savings, no time off, no extravagances. One might, when slogging through some of the book's less compelling moments, wonder to what degree this effort for the Yale series, funded by the private-equity billionaire Leon Black, is also a pay-the-bills gig.)
The most interesting factual takeaways: The legend of Streisand's miserable childhood seems to be essentially true. (Among other things, her mother referred to her sister, Rosalind, as "beauty" and to Barbra as "the beast.") So is the suggestion of her brilliance; she graduated fourth in her class from the prestigious Erasmus Hall High School. And while she worked hard on her acting skills, she never had any training as a singer.
But more interesting are Gabler's interpretative insights.
We know, sure, that Streisand's unhappy childhood and her general sense of ostracism are integral not just to her persona, but also to her work. "I've kept my nose to spite my face," she sings in the version of "I'm Still Here" (from the Broadway musical "Follies) that Stephen Sondheim revised for her, but Gabler convincingly argues that her success isn't despite her Jewish outsiderness but precisely because of it. Her Hollywood success, he astutely points out, came as the Civil Rights era had led to a shift from a purely melting-pot view of America to the start of a gorgeous-mosaic one, in which success didn't require blending into a bland, Middle American idea. Just as the movies found space for recognizably ethic stars — Streisand; her erstwhile husband, Elliott Gould; her fellow acting student, Dustin Hoffman — she completed the feedback loop by showcasing a version of stardom that was explicitly ethnic.
As a singer, her phrasings and melismas are uniquely Jewish; as an actress, she has succeeded most by playing versions of herself, from Fanny Brice to Katie Morosky to Susan Lowenstein: all of them women who are tough, smart, outsiders and romantically unsuccessful.
In fact, that ongoing duality in both Streisand and her characters — on one hand, un-pretty and unloved, and on the other, supremely competent and in command — prompts Gabler's freshest insight, that she's actually a sort of Superwoman with an attendant Clark Kent side. We admire her because she's strong; we also admire her because she's weak. She is us (at least to her fans), and she is also the aspirational version of us. And, in Gabler's telling, everything that happened in her life ensured that she couldn't be any other way. Barbra had to be Barbra.
And yet.
Five years ago, as a revival of "Follies" was opening on Broadway, I watched, surprised and a little awestruck, as Streisand and James Brolin darted into the audience down the house-right aisle of the Marquis Theatre just as the orchestra hit its first notes. I watched them make a similarly quick exit as the first act ended, and I felt bad for Streisand. There is no anonymity, no privacy, no quiet, I couldn't help but think. She can't just go and see a Broadway show. (The challenge of being Streisand was, to a large degree, the point of "Buyer & Cellar," Jonathan Tolins's fantastic off-Broadway comedy about an out-of-work actor working in her basement.)
A few years later, I saw Madonna at "Holler If Ya Hear Me." She sat in her seat through intermission, talking to her friends. Same for Paul McCartney, a few rows behind me, orchestra dead-center, at "Fish in the Dark." Maybe Barbra had to be Barbra. But she's also Barbra because she wants to be Barbra.
Jesse Oxfeld has written about theater for the New York Observer and New York Magazine. Twitter, @joxfeld