Culture
'What I felt at the time, I still do not understand': A 17-year-old's interview with a survivor
94-year-old Theresienstadt survivor Ruth Hass Meissner tells her story to her grand-nephew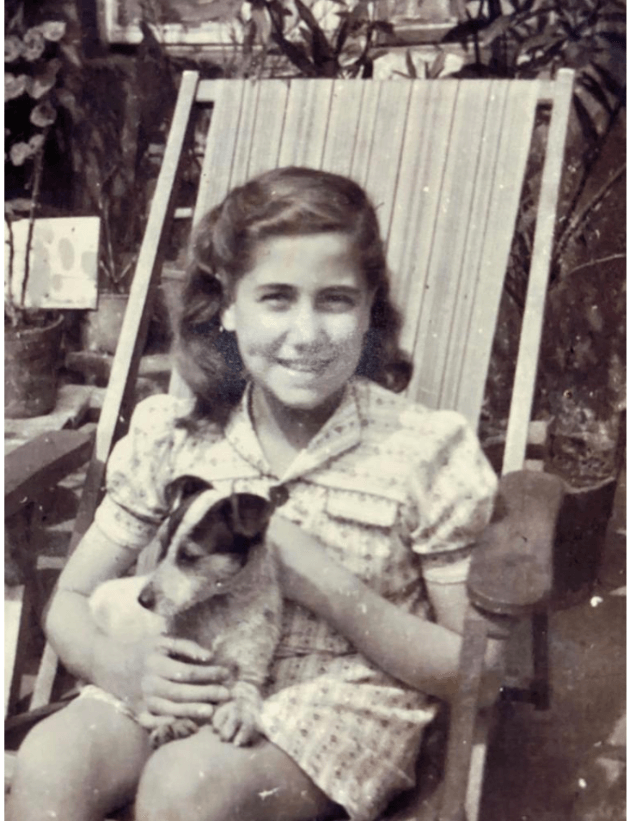 Ruth Hass Meissner is my uncle's mother. She is 94 and lives in Kiryat Tiv'on, a town near Haifa in the north of Israel. She is a Holocaust survivor – she spent three years in the Theresienstadt Ghetto, a concentration camp where some 33,000 Jews died and many more worked as slaves before being sent on to extermination elsewhere. She eventually became a nurse and moved to Israel.
Throughout my life – I am only 17 – I have been fascinated by the bits of Ruth's story that she shared with me and my siblings during our summers visiting relatives in Israel. But with the number of Holocaust survivors like Ruth dwindling every day, I wanted to hear the full story, record it and write it down, and share it with as many people as possible.
Ruth's diary has previously been published in Hebrew, and she has given interviews in Czech. But this is the first time her story will be documented in English. (I translated my interview from Hebrew, which is my first language – my mother is Israeli and my father was born in Israel to survivors of Nazi Germany.)
We spoke at Ruth's home, for about 100 minutes. The interview has been edited for length and clarity.
How would you describe your life prior to the Holocaust?
I had a normal life. Well actually my childhood was not that normal, as my mother passed away when I was 8 years old. I was born in Czechoslovakia. When I was 10 years old, we already had to leave home to run away from the Germans.
I came from a very rich family and we had a very nice home. My mother was very beautiful. She was red-headed and won a beauty contest when she was 18.
How did being Jewish impact your life at the time?
I grew up with two languages. At home, I spoke German because my mother didn't speak Czech and at school, I spoke Czech. The region I lived in was very mixed, as there were people who spoke German and people who spoke Czech. It's like here in Israel, you have people who speak Hebrew and people who speak Arabic.
But I asked my father once, are we Czech or are we German, and he told me that we are neither and that we are Jews. He told me to never forget that.
How did your home and school life really begin to change when the Nazis conquered Czechoslovakia?
We had to leave home. We got a yellow star to put on our clothes. They shut down our school and Jewish kids were no longer allowed to attend any school.
I was only 10. I was still a child. We lived as refugees. At this age, I still didn't understand.
I had a problem with wearing the yellow star, because I was blonde and had blue eyes, so everyone on the street would always stare at me. I did not look like a Jewish girl. I looked German, like the German girls in the Nazi posters. You know, the picture of the hideous ugly Jew that people had in their minds, I didn't fit that picture, so people would always stare at me.
When I was 13, one day, my father did not return home, and that was it. I didn't see him again. On Yom Kippur, they simply took him on the street….This was very very hard for me because he was the only person I had to take care of me, since my mother had already died, and my grandmother was very old and didn't really understand things anymore. She was only 80 years old, but at that time, that was like being 120 years old today.
Did you understand what had happened to your father?
I understood and did not understand. I understood what a child could understand at that time. It was clear that he wasn't there anymore. And it wasn't that much time anyway before they took us to the concentration camp. Around half a year after they took my father, they took me, my sister, and my grandmother to the Theresienstadt Ghetto.
Can you describe your experience being brought to the concentration camp?
I had no idea where I was going. We went because we had to go. People always ask why did we just go along when they told us to, but you have to understand that at this time we had nowhere else to go.
In this era, at every corner they asked for your papers. At every corner. This was a strong dictatorship. We were not free people. It's hard to explain this to people who grew up in the ways you grew up. And we had to go everywhere with the yellow Star of David.
Also, the culture was to obey. If you were told to do something, you would do it. It's not like today. You don't always accept everything you are told, right? We were not taught that way. And I raised my children very differently from the way I was raised.
Anyway, we were gathered inside this large area that was surrounded by these massive walls and a few bridges. No one could leave. There were huge military buildings and they put us where the horses used to be kept. They separated the men and women. For half a year, I was in this, what was like a prison.
I met this one girl, who currently lives in the U.S., her name is Lexi. I was 13 at the time, she was 15. We became good friends.
Can you describe your daily life there?
So we were in this crowded area with bunk beds. It was very very cold. There was no heating and we each had one blanket. We didn't have proper clothes and when our shoes became too small for us, we had to cut off the front.
This is very difficult to explain because what I felt at the time, I still do not understand. I always say that people should not have to go through everything they are physically capable of going through. Because it is practically unlimited what people can go through in order to survive.
The conditions were really horrible. We had to work long hours outside, in the cold and in the snow. We worked really hard from the morning to the evening. Every day in the morning, the SS with their dogs, took us to the fields and we grew food for the German army. This is what I did for three years.
We barely got any food. For three days, we got three slices of bread, a piece of margarine, and sometimes a little bit of jam, but this was only sometimes. In the morning, we got what they said was coffee, but it was really just black water. But it was hot, so it was good. For lunch, we got soup. We always looked at it and thought about what was in it. If we were lucky, we would find vegetable peels inside. But ultimately, we were so hungry that we ate whatever they gave us.
You really can't explain what it is like to be really hungry. For dinner, it was, again, what they called coffee and a piece of bread. The truth is we were hungry all the time. They gave us just enough calories for us not to die. Just enough to keep us alive. This is how it was for three years.
We grew vegetables, so we tried to take some when we could. There was very tight patrol around us at all times with the SS soldiers and their dogs, but we always succeeded, because when you are really hungry, you can succeed. We were very creative with how we would steal and how we would hide it.
It's funny, my son used to come home from school and say he was hungry, and when I would offer him something, he would say he doesn't feel like it. So I said, so you are not really hungry, because when you are hungry, you will eat anything.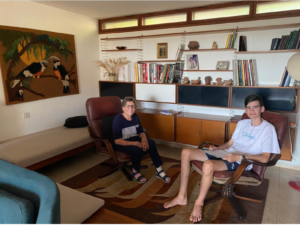 What are your darkest memories from the Holocaust?
The fear. We didn't understand what was happening. We were in this place that people were brought in and out of, and we had no phones or radios or any communications with the outside. The fear was because people constantly disappeared and people who tried to escape were hung. It is really a horrible thing. They would hang them and we would all have to watch.
The first time, I stood there and closed my eyes. I was so young, I was 14. So we were always scared.
The soldiers never had any problem. They would walk around with their dogs and rifles and if they didn't like someone, they would just shoot them without thinking twice. They knew how to put fear in us. And also they would always take people away and we didn't know where, but we knew it wasn't somewhere good.
I was also very sick there many times. Many people died, not because they were shot, but because of how sick they were. There were no medicines or anything. I remember also on the same carts that they would take all the dead people every day, they would bring in the bread. So I guess a normal person would not eat this bread, but we were so hungry.
There was also this one time when the Swedish Red Cross wanted to come to Theresienstadt to check on the Danish Jews that were brought there, so the Germans had to change things to make it look nicer for the visit from the Swedish Red Cross. So they cleaned up certain parts of the concentration camp and built a pool and showers. It was all a show.
They made us put on these nice clothes and put on a show for this one day to show the Red Cross how good it is for Jews here. I remember they took me and other girls that were pretty and made us undress in the pool next to the soldiers and act as though we were enjoying ourselves. As soon as the Red Cross left, the pool and everything were all gone. Everything returned to what it was like before.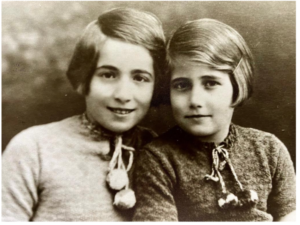 Where did you go after the war ended?
My older sister, who was four years older than me, came to me one morning and said to take everything I have, and that we are leaving. I didn't understand, really, but the Germans had been defeated and the war was over. The Russian army arrived at Theresienstadt and the gates were open. So I left with my sister and the only belonging I had, which was the diary I wrote.
We didn't have any money or any papers or anything. We were dressed in rags. The Russian soldiers took us on a truck and brought us to Prague. My sister remembered that we had an aunt in Prague. Apparently, we had a non-Jewish aunt who married my mother's brother and was German. So we found her and knocked on her door.
She was a small woman, and I never really liked her that much. She always gave us bread when we visited her and I used to think, you should give candies to kids, not bread. Anyway, we stood there and she didn't even recognize us at first because of how horrible we looked. She hadn't seen us for seven years. She brought us inside and told us to take showers. She burned our clothes in the oven and gave us new clothes to wear. She gave us food as well and beds to sleep on.
That night, I got in bed and it felt so weird because I was used to sleeping on hard wood for all these years. It was weird, because all of a sudden I was 17 years old and I had no idea what normal life was like.
The other thing that was really hard for me was that my sister reunited with her boyfriend, who was sent to Auschwitz and survived, and she completely forgot about me and left with him. So I was left alone in this big city, and I had to decide what I was going to do.
I wanted to be a doctor, but I knew this would be too difficult because I had barely spent any years in school. So I went to a university in Prague and told them I wanted to be a nurse. They gave me some kind of a test and somehow I answered correctly on everything and they accepted me. And this way, I started to learn. And when I finished learning, I went to Israel.
How did your experience in the Holocaust influence your faith in God and devotion to Judaism?
I lost my faith in God on the evening of Yom Kippur when they took my father. I didn't stop being Jewish, I will always be Jewish, but that was it for my belief in God.
Do you feel safer and more at ease living in Israel, a Jewish country?
I don't know that I feel safer, but I feel that I am at home. I feel that I belong. No other place in the world, and I have lived in many places, felt like home. I have always felt like an outsider. Only in Israel, do I feel like I am at home.
Nathaniel Schmidt lives in New York and is a senior at the Clinton School, where  he is a member of the Jewish Student Union and co-president of the Sports Philosophy and Analysis Club. He is planning to attend American University in Washington, D.C., this fall.