Culture
Why this Jewish playwright wants you to sympathize with the teens of the Third Reich
A new play from Michelle Kholos Brooks follows the German girls forced to taste Hitler's food for poison.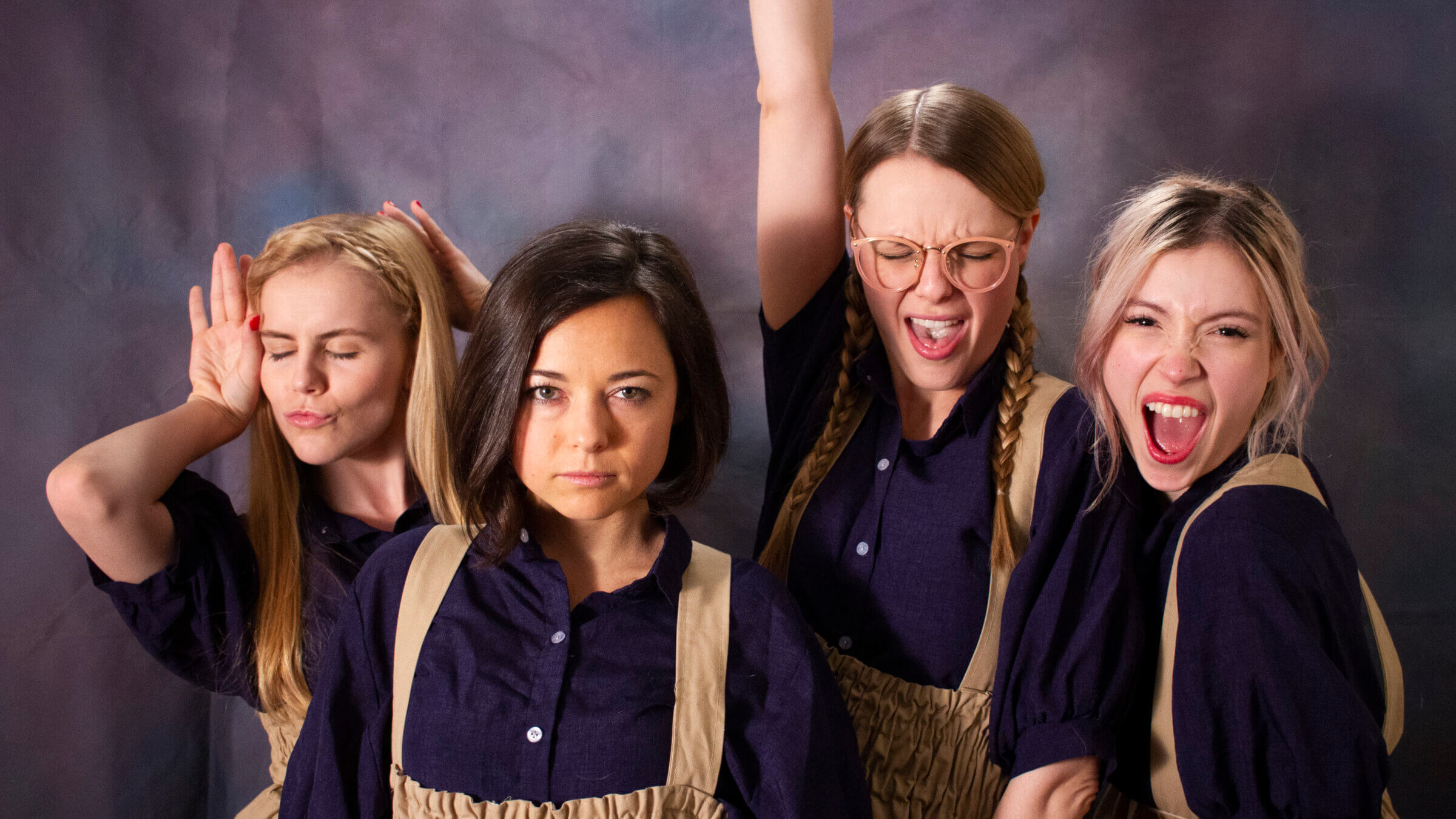 Sitting idly at the table and waiting to see if they've been poisoned, the three girls try to convince themselves that their job — tasting each of Adolf Hitler's meals for poison — is not a punishment but a privilege.
"The Führer said he wanted girls of good German stock, and of all the girls that are left, he chose us!" says Hilda, the most fervent patriot in "H*tler's Tasters," a play currently running at Theatre Row. "Think about it. We could all get pretty medals!"
But no matter how Hilda (MaryKathryn Kopp) tries to spin it, the girls' circumstances are pretty grim. At the Wolf's Lair, Hitler's military headquarters, the girls are consigned to a small cell and treated more or less like prisoners. The SS guards they lust after manhandle and mistreat them. And though they risk their lives three times a day, they're not even getting any meat — the Führer is a vegetarian.
A product of the New Light Theater Project, "H*tler's Tasters" is loosely inspired by the revelations of real-life taster Margot Wölk. Playwright Michelle Kholos Brooks uses Wölk's story as a springboard for a dark comedy that thrives on the queasy contrast between the girls' quotidian, even silly concerns and the murderous regime in which they're participating.
Over and over, the show confronts its audience with jokes we feel guilty for enjoying: when Hilda taunts another taster by saying she looks like a Jew, a deliberately slapstick catfight and reconciliation ensues, eliciting guffaws in the theater. (Laughter at this kind of humor may be, as some have noted, the easiest way of discerning the audience is full of Jews.) Midway through the play, a new taster named Margot (Hannah Mae Sturges) mesmerizes the other girls with a sumptuous red coat that her father "found" in the woods. When she twirls to display it, the audience can see the grubby six-pointed outline of a "Juden" badge that was obviously torn off. (More laughs.)
At times, the show overplays its hand, especially with its numerous comparisons between Hitler and today's authoritarian leaders. At one point, Hilda brags that Hitler will "make Germany great again." Later, in a line that comments on Russia's invasion of Ukraine, Margot imagines that Hitler might come to visit the tasters "on a beautiful horse" and without his shirt. Intended to highlight the Holocaust's modern relevance, these lines end up flattening the very tangible differences between the Third Reich and the threats we face today.
Ultimately, "H*tler's Tasters" is most interesting when it asks how much these indoctrinated, frightened teenagers are responsible for their actions and beliefs. I initially interpreted their blithe bigotry as a critique of their complicity. But Kholos Brooks, a former radio journalist who has been staging plays since 2004, told me she saw the tasters as victims. "It doesn't matter how privileged you are," she said. "If you align yourself with a tyrant, eventually, he's going to turn on you."
I spoke by phone with Kholos Brooks about the stories that inspire her, historical anachronisms and — unexpectedly — the 1989 cult movie "Heathers." The following conversation has been edited for length and clarity.
You've written plays on a lot of different subjects, from the Iranian hostage crisis to modern dating. What kinds of stories speak to you as a playwright?
I seem to be moved towards stories about ordinary people having to survive enormous geopolitical events — especially women who are thrown into a world that's so much bigger than them. I get to make sense of it, and I get to do it through individuals. It's harder for me to look at a big event, like war, and make sense of it. But if I can connect to an individual, then I can. And I get a little nerdy about research, so it's fun for me to go down the rabbit hole and see what I connect to.
What kind of research did you do for "H*tler's Tasters?"
In 2012 a woman named Margot Wölk, at 95 years old, came out with the story that she had been one of Hitler's tasters. There were a number of articles that interviewed her, but there wasn't a whole lot else. So I certainly had lots of reference books about WWII. And my husband was super excited I wanted to watch WWII movies. And, actually, you know what I did? I went back and watched "Heathers."
That's funny, because I felt a strong "Heathers" vibe when I saw the play.
It's been a few years since I was that age, so I wanted to go back and revisit all the "fun" of being that age. This is the fun thing about being a playwright — I can find a story that really hits me, in a deep emotional place, and then use my imagination and filter it through my own heart.
What did you see in "Heathers" that spoke to you?
The movie is a wonderful dark comedy. And I understood that this play was also going to be a dark comedy. How could it not? You put young women in a room together, in a pressurized situation. And they have nothing but each other to distract them. So it's bound to get a little ugly. I also had to think about the things that girls do to distract themselves when they're bored — and on top of being bored, they're trying to forget that they could die after every meal. It just seemed inherently right for comedy and drama.
Embedded in this play are jokes comparing Hitler to Donald Trump and Vladimir Putin. What did you want to accomplish with these modern allusions?
We have so little opportunity to do anything when we see things that are appalling to us. Me, as an individual, there's not much I can do about Putin — you know, I can post stuff on Facebook. But as an artist, sometimes you can just yell about something and make a point. For me and for the entire team, it was an opportunity to show solidarity with the people we cared for.
One historical liberty you took in imagining these girls' lives is giving them cell phones — there's a lot of selfie-taking in this play. How did you make that decision?
I didn't imagine it right away. But then I was somewhere in public, and there was a group of young women in search of the perfect selfie. They were all posing together, they were all in bathing suits, they never seemed satisfied. And I thought, they're all so beautiful. What are they not finding? I was thinking about the way that young women scrutinize themselves, and then it just hit me, that these are the same girls that would have been taken by this job.
I didn't want these girls to feel like sepia people in history. I wanted them to feel resonant and relatable. I wanted us to be able to see our daughters, our sisters, our nieces, our kids in these girls — especially young people, for whom WWII and the Holocaust are in the rear view. 
You're talking about the girls as victims of this system, which they are. Yet they're also loyal devotees of the Third Reich; they're saying really ugly stuff throughout the play. How much do you want us to identify with them, and how much do you want us to see them as complicit?
At the risk of sounding glib, I feel like it's up to you. As a playwright, I don't write any character unless I feel some compassion for them. And I don't mean that I forgive, I don't forget, but you have to understand how people get to where they are.
These women were indoctrinated. They saw Hitler as a father figure. And if this is what they're raised on, this is what their parents are raising them on, I don't think they can make that separation. What's happening in the play is they're starting to question some things. There are some cracks in the bedrock of their childhood.
People often tell me they want the girls to be OK. They don't want them to die from poison. And I love that, because in the world right now things are so polarized, and everything is so black and white. The girls live in a gray space. It can be an uncomfortable place to be, but if you're game I think it can spark a lot of interesting conversation.