Culture
Admired by Bellow, indebted to Faulkner, a giant of Jewish literature dies at 85
A.B. Yehoshua was as gifted as he was uncompromising and undiplomatic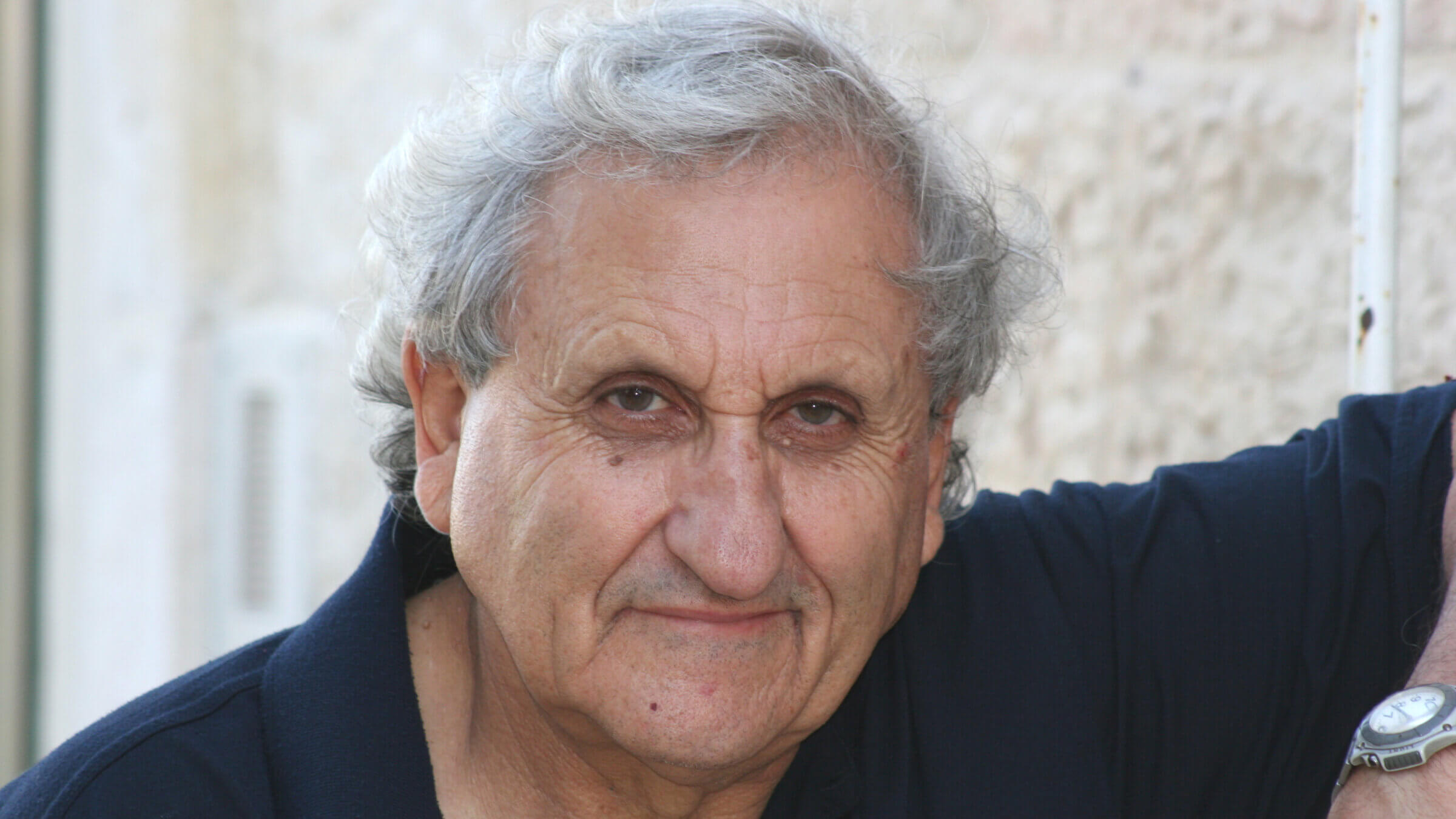 The highly accomplished Israeli novelist Abraham Gabriel Yehoshua, who died June 14 at age 85, made a career-long habit of confounding the Jewish custom of talking tachlis with mere tactlessness.
Author of such major works as "The Lover," "A Late Divorce," "Five Seasons" and "Mr. Mani," which he signed with the pen name A.B. Yehoshua, the author was fiercely proud of his Sephardic roots. His family originated from Salonika on his father's side, and from Morocco on his mother's. Yehoshua's ancestors had moved to Palestine in the mid-1800s, well before the Ashkenazi author Theodor Herzl could advise them to do so.
This sense of precedence was a point of pride for Yehoshua, whose novels sometimes wryly reflected other messages of Sephardic superiority, as in "Mr. Mani" and especially "A Journey to the End of the Millennium." The latter book, set in the year 999, tells of a prosperous Jewish businessman from Morocco who travels to Paris on a merchant ship and tries to convince a recalcitrant Ashkenazi niece by marriage that polygamy is acceptable according to Jewish law. On occasion in Yehoshua's fictional world, Sephardim are civilized, but Ashkenazi Jews relatively uncultivated.
In a 2013 essay, critic Vivian Gornick discerned in Yehoshua's writings a division between his tales, in which "ordinary lives" become metaphors for "soul-destroying weariness" and his vehemently stated opinions, in which Gornick diagnosed a degree of "bullying."
Yet even Yehoshua's early literary efforts were undiplomatic, like his story "The Death of the Old Man from the First Floor" about a geriatric case who won't die. This seemed to Israeli readers of six decades ago to be a clear allusion to Prime Minister David Ben-Gurion, popularly known as the "old man."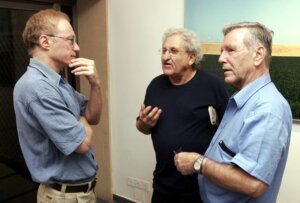 Yehoshua wrote in a prose style that he himself termed Faulknerian, while also referring to influences from Kafka, Beckett and Agnon. Yet Yehoshua added a personal dream-like pageantry to the proceedings, often using devices such as multiple narrators or indirect descriptions of action.
In "A Late Divorce," to end his marriage, an intellectual named Yehuda Kaminka visits a psychiatric hospital where his wife is interned. In Hillel Halkin's dynamic translation, a procession of rabbis are pitilessly described by Mrs. Kaminka as they arrive to preside over the divorce:
"One of the men, an old Yemenite with a slight limp and a plastic carrying case, rushed spryly ahead, jabbing his cane in the ground and bending now and then to sniff some flower or pluck the leaf of some plant and crush it between his fingers. After him came round, jolly Rabbi Mashash, who had been to see me several times before, carefully guiding a thin old man in black clothes and dark sunglasses, while slowly bringing up the rear was an odd-looking person in a long, tawny army greatcoat and a visored cap. . . . The oldest was Rabbi Avraham Avraham; next came the Yemenite scribe, Rabbi Korach and last was Rabbi Subotnik, a new immigrant from Russia, a scholarly prodigy straight from a forced-labor camp."
This cornucopia of imagery was typical of Yehoshua's sometimes overstuffed prose style, compelling, if ponderous. As Vivian Gornick noted, he could be overbearing in nonfictional pronouncements as well, especially when deriding diaspora Jews as inauthentic and inferior to Israelis.
Such reiterated comments, although hurtful to many admirers of his writing, acquired a quaint aura for some, since worse than undiplomatic, they were clearly counterproductive. What good could result from insulting Jews who do not happen to live in Israel? It would never persuade them to immediately make Aliyah.
Perhaps for American observers, the combination was especially jarring of the hamish grizzled facial features of Yehoshua, vaguely reminiscent of Officer Murray Greshler, a character in the TV sitcom "The Odd Couple," with harsh, unendearing scolding.
Yehoshua may have looked like the salt of the earth, but his discourse in later interviews was full of the privileges and honors he enjoyed, including prizes, friendships with powerful politicians and related perks.
His talent was spotted early on by, among others, Saul Bellow, whose "To Jerusalem and Back," about a voyage in 1975, quotes the "brilliant young Israeli writer" Yehoshua: "Perhaps there is something exceptional in all our Jewishness, in all the risk we take upon ourselves, in the fact we live on the brink of an abys and know how to do so. To us, our Jewish nature is clear and we can feel it – but it is hard to say the world can understand it."
Baffled by the task of precisely defining Jewish identity, Bellow cites Yehoshua again later in his book: "When you come right down to it, the phenomenon of the 'Jew' is not an easy one to understand."
Earlier, one of Yehoshua's literary idols was slightly less appreciative of his tyro efforts. His father Yaakov Yehoshua, a noted scholar who gave lessons in Arabic to the wife of S. Y. Agnon, brought along some of his son's stories for the master to evaluate. Agnon suggested that the younger Yehoshua might stick to writing about his own personal experience.
This less than hearty endorsement aside, Yehoshua's work was quickly appreciated by a wide readership. His recurrent attacks on American Jews might have been motivated by the simple fact that he didn't like America very much. Indeed, he chose to relocate to France for a few years to study for a master's degree in literature at the Sorbonne rather than spending formative time in the United States.
Clearly proud of his exposure to Gallic culture, he included in his 2014 novel "The Extra" an orchestral musician who plays Debussy's "La Mer" under the mistaken impression that the French word for sea, when correctly pronounced, sounds exactly like the word for mother, mère.
As if exuding a certain Parisian hauteur, Yehoshua opined to the Jewish Chronicle in 2013, "Israel is too attached to America, too influenced by America. It should be connected to Europe." He backed up this opinion by arguing the debatable view that while Americans were transfixed by myths, Europeans were more imbued with history.
Yet paradoxically, in his later work, like the 2020 novel "The Tunnel," Yehoshua implied that memory, an essential element of history, was overrated and forgetting could be vitally important, at least forgetting a legacy of historical offenses that kept peoples from coexisting peacefully.
Oddly, he advocated this sort of willed amnesia about the Holocaust as well, telling one interviewer that Yom HaShoah in Israel only began in 1953 (in fact it was first commemorated in 1951), supposedly because "survivors of the Holocaust didn't demand we remember it."
Yehoshua was convinced that remembering the Holocaust distracted from living in the present and repairing Israel's societal schisms. As a sort of anti-Santayana, Yehoshua posited that those who cannot remember the past will have lots more time to address present day issues.
While this argument may have novelty in its favor, the many admirers of Yehoshua's fiction might do well to reflect that as early as 1984, Harold Bloom presciently advised, "I doubt that Mr. Yehoshua will be numbered among the prophets of his people, but I prophesy a high place for him among its storytellers."