Culture
In the wake of the Supreme Court abortion decision, will the real gonif please stand up?
According to our columnist, there's a Yiddish word to describe senators like Susan Collins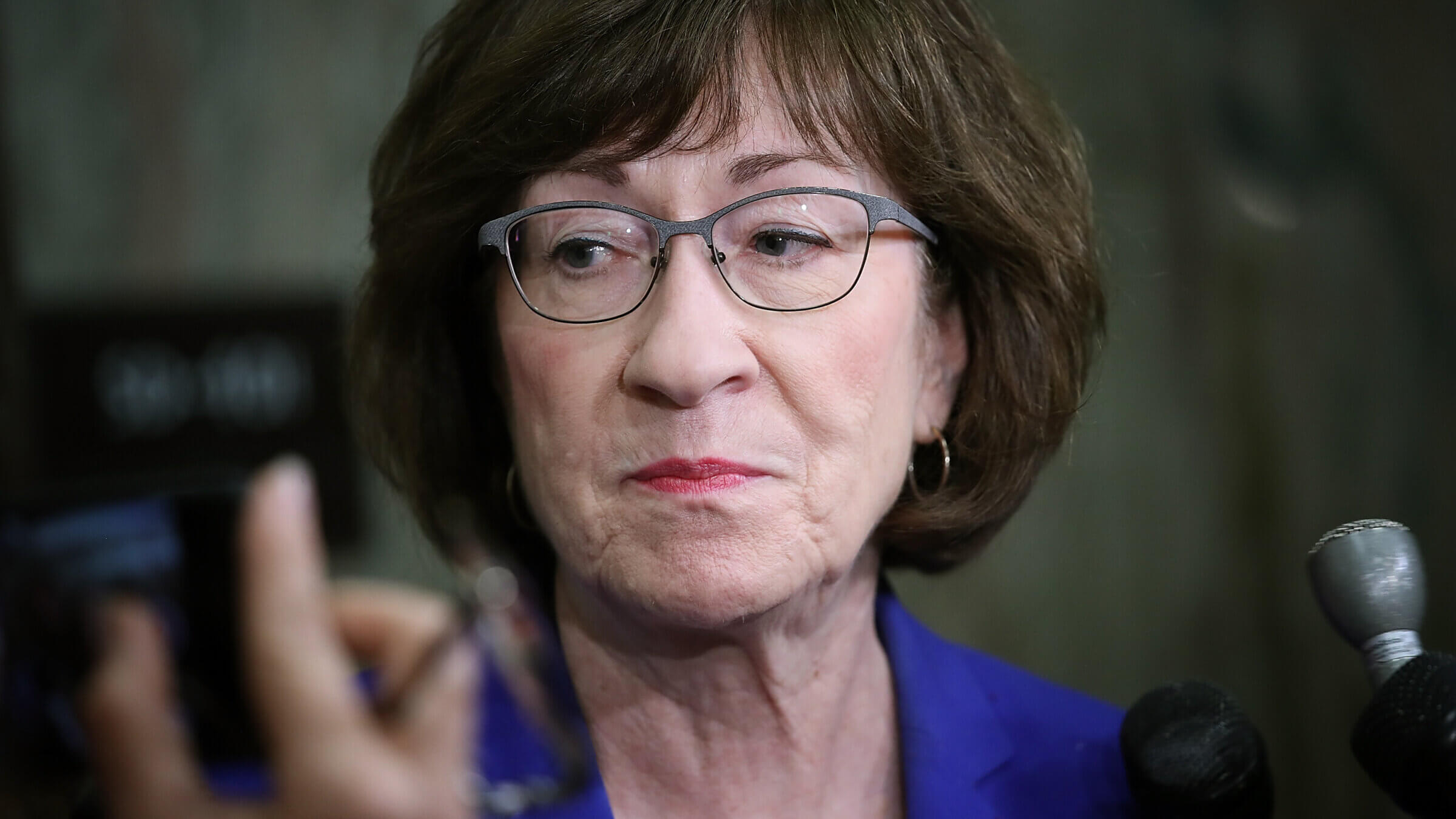 Many questions come to mind in the wake of the Supreme Court's decision in Dobbs v. Jackson Women's Health Organization. How will the poor and disadvantaged in search of an abortion henceforth manage? (Too easy to answer: With even greater difficulty and duress than before.)
What will the political repercussions be? (Too early to answer: It will galvanize the Democratic base, but it will also energize the Republican base.)
Why, when the draft by Justice Samuel Alito was leaked more than a month ago, was the final decision met with such shock? (Too difficult to answer. Perhaps it was a case of magical thinking, hoping that the five robed arsonists sitting on the bench would not set it, and the rest of the country, on fire.)
But a question perhaps more difficult to answer is "Who is the real gonif in this story?"
The story I have in mind involves the senior senator from Maine, Susan Collins. As most of America knows, Senator Collins, though a Republican, has long portrayed herself as a political moderate. One of the keys to that political identity has been her consistent support of a woman's right to choose.
In 2018, when Brett Kavanaugh's nomination to the Supreme Court balanced on a single vote, all eyes were on Senator Collins. Given the charges of sexual assault made against the nominee by Christine Blasey Ford, there was, of course, the question of Kavanaugh's moral qualifications.
But there was also the question of whether Kavanaugh — who like every other prospect considered by Donald Trump, had been recommended by the anti-abortion Federalist Society — would try to overturn the right to abortion guaranteed by Roe v. Wade in 1973 and subsequently upheld in 1992 in Planned Parenthood v. Casey. After meeting for two hours with Kavanaugh, Collins announced that the candidate's "views on honoring precedent would preclude attempts to do so by stealth that which one has committed not to do overtly."
For the record, she made the same argument in the case of Trump's first appointment to the Supreme Court, Neil Gorsuch. When asked in an interview if she worried that Gorsuch would undermine Roe, Collins replied that she had no reason to. During "a very long discussion with Justice Gorsuch," she observed, "he pointed out to me that he is a co-author of a whole book on precedent."
Senator Collins clearly did not read the whole of this whole book on precedent. If she had, she would have known that Gorsuch was one of 13 authors, none of whom is identified with a specific chapter or section, including the all-important one on super-strong statutory precedent. Moreover, as legal scholar Hillel Levin remarks, the text offers a descriptive, not normative account of precedent. In other words, this is what the court does, not what it should do. As an oft-mentioned candidate for the Supreme Court, Gorsuch might have good reason to merely describe and not prescribe.
All of this brings us to the question of who, in this sorry story, is the real gonif. Shortly after the Court's judgment was made public, Collins issued a statement: "This decision is inconsistent with what Justices Gorsuch and Kavanaugh said in their testimony and their meetings with me, where they both were insistent on the importance of supporting long-standing precedents that the country has relied upon."
At first glance, it seems that the real gonifs or shifty characters are Kavanaugh and Gorsuch. Or, for that matter, Amy Coney Barrett, who met with Collins after her nomination by Trump, telling her that she, too, respected precedent. While Collins ultimately voted against Barrett's nomination, it was not because Collins doubted Barrett's word, but ostensibly because Senate majority leader Mitch McConnell, who had infamously stalled Merrick Garland's nomination for nearly a year, had rammed the Barrett nomination through in a month's time.
Yet in this reading of events, Collins is also a gonif.
Not as a conniver, mind you. In his classic "The Joys of Yiddish," Leo Rosten defines gonif in the way most of us use it. She or he is, Rosten declares, a "shady person." But the word has, across time and space, meant so much more. The Yiddish scholar Lillian Feinsilver, author of "The Taste of Yiddish," notes that while the word comes from the Hebrew for "thief," it also came to mean a fool or sucker in the lingo of carnival hucksters. At the same time, it also came to be a term of reluctant respect, as in the phrase "American Gonif."
Remarkably, Feinsilver suggests the word stretches as far back as medieval England. For example, in "The Canterbury Tales," Chaucer refers to a well-to-do bungler as a "rich gnof." This is remarkable, in part, if only because Jews had by then been banished from England. But what is truly rich in our own Capitol Tales is that there are yet other gonifs who are all too happy to buy bridges. While the joke is on Collins, who is left holding meaningless receipts for not one, but three Brooklyn Bridges, the disaster falls squarely on those whose lives will be forever changed by this ruling