Culture
We want to hear your stories about religion in public schools
After a Supreme Court decision allowed a football coach to lead prayers, Jews are telling their stories of growing up in Christian-dominated schools. We want yours.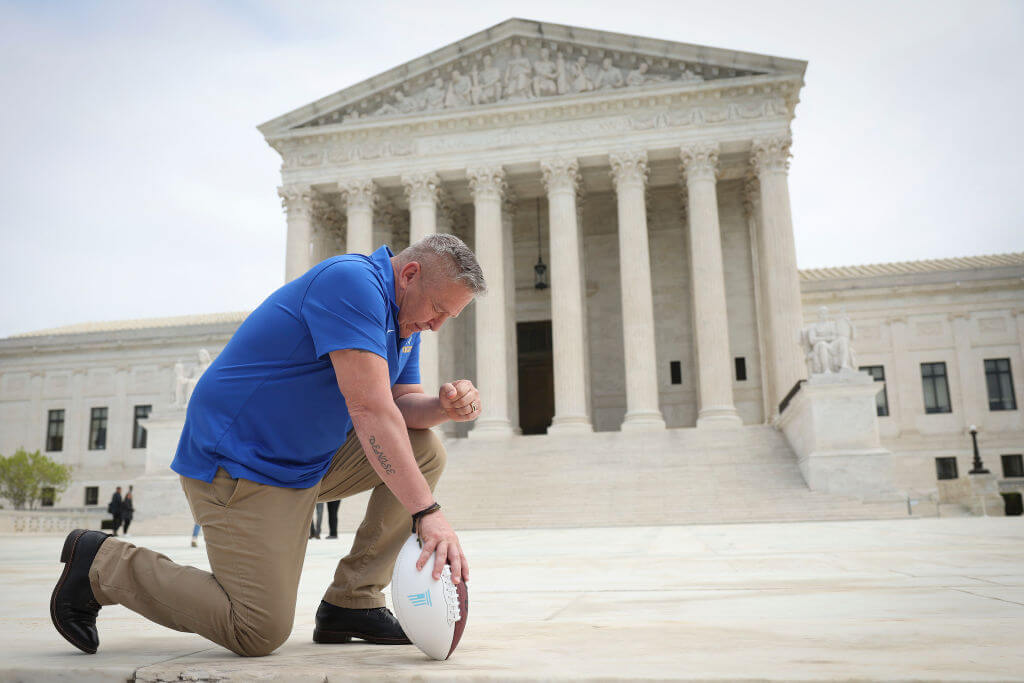 On Monday, the Supreme Court ruled in a 6-3 decision that a public school's football coach, Joseph Kennedy, could lead students in prayer on the field. Forbidding him from doing so, according to a decision authored by Justice Neil Gorsuch, violated his freedom of speech.
The court's three liberal justices, in a dissent written by Justice Sonia Sotomayor, argued that the decision failed to protect the separation of church and state, and effectively allowed a public employee to coerce students into prayer. "Students look up to their teachers and coaches as role models and seek their approval," she wrote. "Players recognize that gaining the coach's approval may pay dividends small and large, from extra playing time to a stronger letter of recommendation to additional support in college athletic recruiting."
The decision caused Jews to take to social media with their own tales of encountering Christian pressure in public schools. Clearly, even before this decision, many Jews felt discriminated against due to religion while attending public school. A frequent theme was being forced to sing Christmas carols in choir, or having to walk away during classroom recitations of the Lord's Prayer — a choice that often resulted in harsh criticism from teachers, coaches or administrators.
In order to participate in choir I was required every year to perform in a concert of Christmas carols or receive a non-passing grade for the semester.

And no, not just "secular" ones, if such a thing could be said to exist. https://t.co/o8UtqLgmY4

— machine age knife magician 🖤 (@sweetpavement) June 27, 2022
When I was a little kid, they made us recite the Lord's Prayer in school every morning along with the Pledge of Allegiance. It was a clear message to a little Jewish kid that he was an outsider, made me super uncomfortable every single day.

— David Rothkopf (@djrothkopf) June 27, 2022
I remember routinely standing outside this circle either by myself or with one other kid. I can't prove that the coach's -purpose- was to make sure everybody knew who the one non-religious guy and the one jewish guy were. But I always strongly suspected. https://t.co/1jbKYMF7Tu

— Will Moore (@WillMooreSD) June 27, 2022
Exactly how coercive such moments are was key to the decision — but Gorsuch and Sotomayor disagreed on how to characterize Kennedy's prayers. Gorsuch's decision said Kennedy conducted prayers quietly without creating undue social pressure on students. Sotomayor included photos of the entire team gathered around the coach on the field to prove that the prayers were not offered "quietly while his students were otherwise occupied," as Gorsuch wrote, but instead were public in such a way that students felt forced to participate.
If you have a story about you, your child or a family member attending public school as a Jewish kid and encountering religious pressures, prayer or other practices, whether Easter bunny art units or teachers asking students who believes in Jesus, we want to hear it — please fill out the form below. Click next to move onto the next question. Thank you!