Culture
Do I have to attend a wedding with my half-brother from my father's affair?
"A Bintel Brief" advises a listener navigating a complex situation with a lost sibling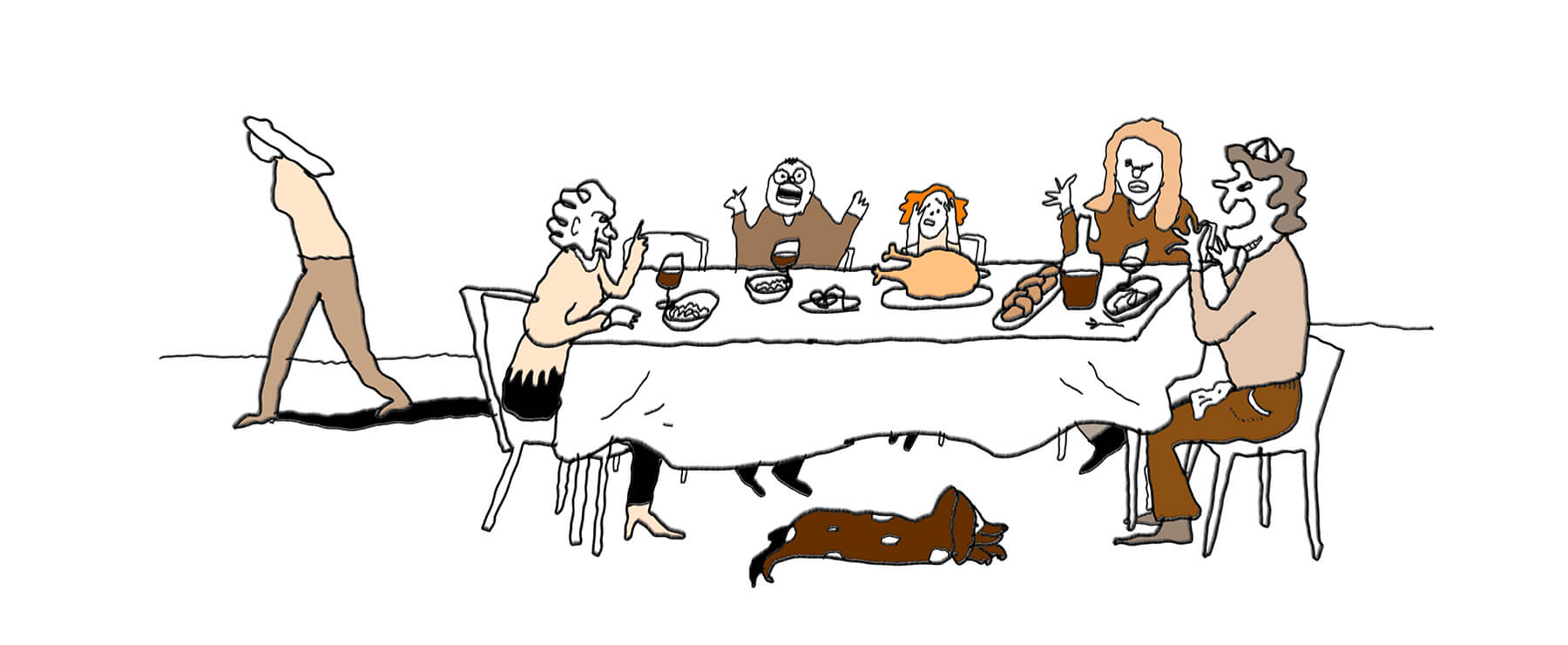 This is an adaptation of our podcast, "A Bintel Brief." Listen to the episode here (or wherever you get your podcasts), and click here to sign up for a weekly newsletter with backstories from our hosts, Ginna Green and Lynn Harris. Need advice? Email bintel@forward.com, or leave a voicemail at (201) 540-9728.
Dear Bintel,
I'm one of six siblings in a family presided over by a chaotic dad. After lots of drama, he and my mom divorced years ago this summer. At 76, he's getting remarried for the fourth time. I'm fine with the marriage, and I like his new wife, but I don't want to attend the wedding. My dad had a few affairs when he was married to my mom, all of which we've known about for some time, but a few years ago, we learned a new piece of information. One of those affairs resulted in a son who is now in his 30s, like my siblings and me. My dad has informed us that he invited our new brother to the wedding, whom he seems very excited for us all to meet. All of my other siblings are planning to attend, but I have no interest in meeting this long-lost brother. It would stick out if I was the only one who didn't go, but do I have to?
Signed,
Unbrotherly Love
---
Dear Unbrotherly Love,
One of us is an only child, and she's thinking how mind-blowing it would be to find out after all these years that we had a sibling. We're also thinking about those who lost siblings in the Holocaust, and what it might have been like for them to discover they had a new one.
And we have questions: How long has your dad known about this other son? Just the last few years, or since the child was born? That makes a lot of difference as to how this new person shows up in the family and how the family should react to this new person. All those are  pieces of this pie.
We're also thinking about your new half-brother, that long-lost son — how do they feel about the prospect of showing up to this shindig with 200 people they've never met but share blood relation to? That seems like a not-fun position to be in.
The big question that you are really asking is: What do you owe your dad in a situation like this? Is this one of those times when you need to take care of yourself first, in enlightened self interest, or is it one of those times when the noble thing to do is actually suck it up and do it for dad?
Then there are the concepts of chesed and rachmanis, loving-kindness and compassion. Can you say: I need to do this for my dad because he's my dad, and this is a compassionate thing to do at a very important time in his life. Do you have it in you to act with chesed to your dad and give this to him on the occasion of his fourth wedding?
We can make a case for both. We can say on the one hand in Judaism, it's a simcha, you go. On the other hand is self-care, self-chesed. If you just can't handle this, don't go; that's fine, too.
But before you decide, let's dig a little bit into exploring what would it mean to go — what's the opportunity? If you were able to develop a relationship with this new sibling, you'd have one more player on the team to deal with an aging and ailing parent. He might be awesome. Even if he isn't, he's still blood.
Going could be the beginning of a relationship that you don't know right now that you want, but might be one that you need.
The first thing you definitely need to do is talk to your dad. Why does he think that it's so important to have this new person at this wedding? Because it might be a lot easier on everybody if he just had you all over for Shabbat dinner or a barbecue, something much more low-key to introduce this brand-new family member. So go to your dad first, get a sense of why he needs this, and that will help you weigh the chesed versus the self-chesed.
Also, you and your other siblings need to get on the sibling WhatsApp and talk this out together in hopes of finding a united front.
You might not all be on the same page. Some people might be excited to go, others curious to go, others less-than-thrilled to go but still going at the end of the day. You can be responsible only for your own well-being, but maybe knowing what your siblings are thinking would inform your own decision.
You don't have to meet this sibling on your dad's terms. But at some point…you kind of have to meet the sibling. And again, have a conversation with your dad. It feels almost like inviting the brother to the wedding is a replacement for a conversation you all need to have.
Samuel Breslow contributed to this adaptation. To hear more of our advice to Unbrotherly Love, download the latest episode of "A Bintel Brief: The Jewish advice podcast" here or on any podcast platform. Send your dilemmas about Jewish-American life, identity, culture, politics or your personal hopes and dreams to bintel@forward.com, or leave a voicemail at (201) 540-9728.