Culture
Your stories of religion in public schools
Tales of being forced to sing Christmas carols and recite the Lord's Prayer abound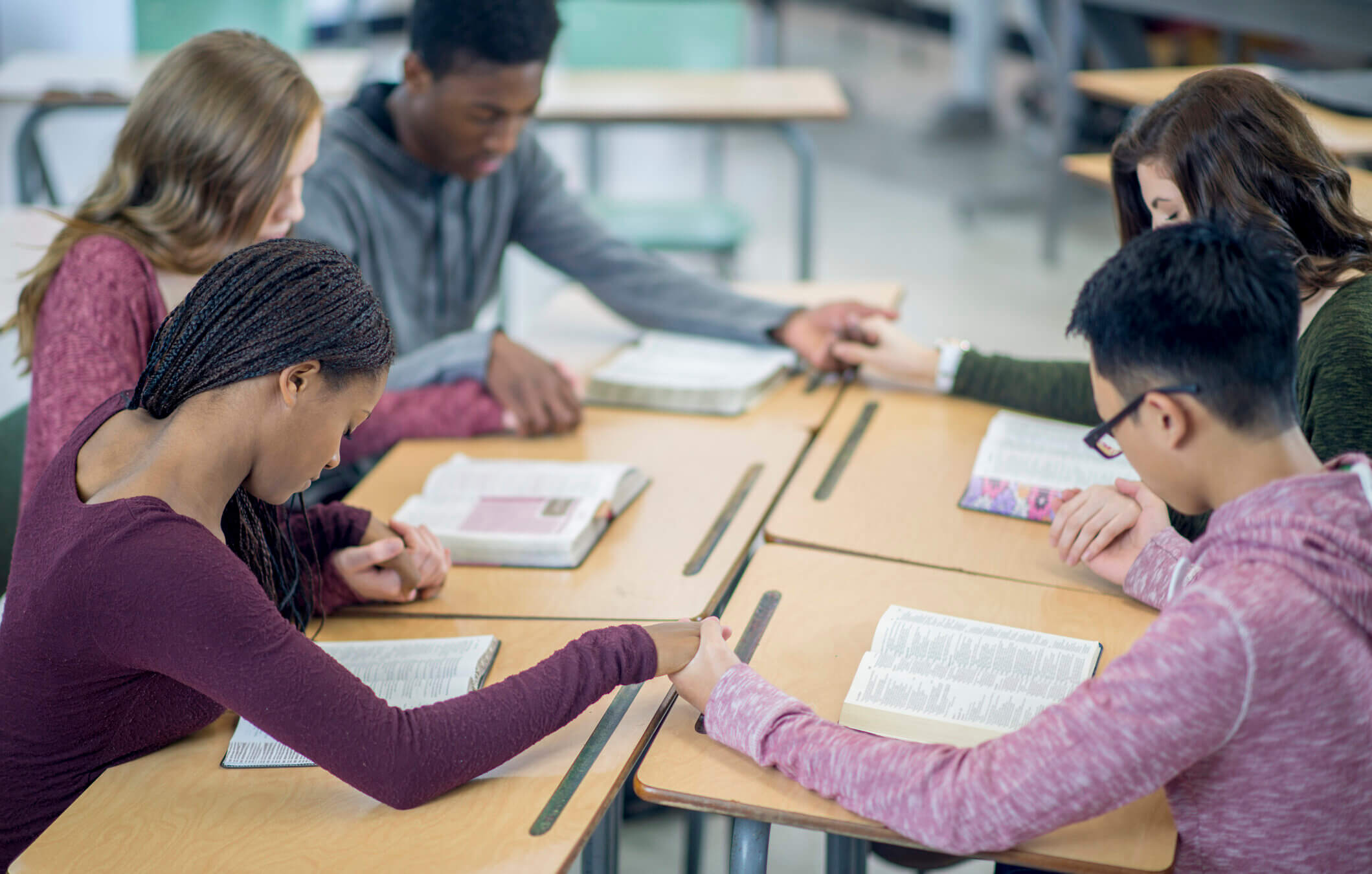 Growing up, my grandfather refused to sing Christmas carols in his Denver public school. But he also hated having to sit out — to be marked as an outsider, different, some kind of spoilsport. Until he died at age 90 in 2020, he talked about it as something that made him resent his Judaism.
His was hardly a unique experience. In the wake of the Supreme Court decision ruling this week that a football coach at a public high school can lead prayers on the field, stories have poured out about the various ways that religion has interacted with public education. 
We asked for yours — and more than 100 responses flooded in.
Many readers wrote that they silently mouthed the word "Jesus" during prayers or choir songs. Others had teachers threaten them with failing grades for not participating fully in Christmas pageants or concerts.
Some went to school in the days before the Supreme Court's landmark 1962 ruling that outlawed the recitation of official school prayers in public schools. But even those who had been in classrooms in recent years shared stories of Christianity's continued infiltration. 
People shared memories of antisemitic teasing or harassment — often from classmates, but also from teachers. Several wrote of school requirements to read Bible passages aloud each morning, being unable to participate in extracurriculars like marching band because of Shabbat observance, or school districts that refused to excuse absences on Jewish holidays.
Sometimes, there was retaliation for just asking about accommodations. When Beth Silverstein's children attended school in Ohio, Jewish parents were uncomfortable with some of the songs and asked the music teacher for a list of the Christmas concert songs ahead of time; they were refused.
They went to the principal to find a solution and, Silverstein said, "The principal canceled the concert and blamed 'the Jewish students' parents.'"
Here are a dozen of your stories of going to public school while Jewish, edited for clarity and length:
Church classes on the school's time
In the late 1950s and early 1960s, wrote Joel Zakem, elementary schools in Newport, Kentucky, allowed Bible study. 
"Once a week, my entire class would walk the three blocks from the school to St. John's United Church of Christ, where (I suppose) someone from the church would provide lessons taken from the Bible," he wrote. "Since, however, I was the only person in my class who opted out, I was made to sit alone in the classroom while others were being taught at a church. By law, I was not even allowed to go to the school library, lest I gain some unfair academic advantage over my absent classmates."
The Jewish music teacher
Then there was Ellen Levitt, who went to junior high school in Brooklyn in the 1970s. She and her Jewish classmates protested singing "the Jesus type of songs" for a Christmas concert — they asked to stick to more general winter songs like "Frosty the Snowman." 
The music teacher, whom Levitt recalled as "a mostly cranky older Jewish man," named Jonah Binder, responded to their request by playing "Silent Night" on the piano while glaring at them.
"A bunch of us Jewish kids just clammed up and folded our arms in refusal. He got into a whiny shouting match with us and most of the Christian kids just laughed," she said. "I didn't feel too uncomfortable because a significant percentage of my school was Jewish."
How to put an end to mandatory Bible readings
While many of our readers wrote about mandatory morning Bible readings, and their discomfort with the practice, Harold Rosenfeld took things into his own hands. In 1945, he was appointed to read a Bible passage every morning in his homeroom at a Philadelphia school, and pulled out the Old Testament. 
"I started with Genesis 1. Each day I read the next portion. They became lists of begets and begots," he said. "By the second week the class successfully voted no more Bible reading. So I was the first in Philadelphia to stop public school Bible reading."
Breaking the dress code
"My son wanted to wear a knit beanie after his bar mitzvah," Stefani Goerlich said, to cover his head to follow Jewish tradition. But Goerlich said his Michigan middle school suspended him for violating the dress code and told him that he would have to wear something "more stereotypically Jewish" if he wanted to cover his head.
"We had to get the ADL involved," said Goerlich. "He ended up having to wear a Star of David pin anytime he wanted to cover his head."
A Christian weight-lifting group
"Our school brought in a Christian weight-lifting group to show what Christ's love could do for everyone — and then invited us to an assembly at the gym later that evening to be saved," David Silverstein wrote of his elementary school in New Albany, Ohio. "For many, I was the first Jew that they had ever met, and for some it seemed like it was their sole mission to convert me."
Silverstein said he also had to routinely miss synagogue services on Shabbat to participate in marching band. And his teachers didn't seem to believe in Jewish holidays. 
"I had massive anxiety missing school for Rosh Hashanah and Yom Kippur," he recalled, "because homework was always assigned and teachers assumed that myself and my Jewish peers were just lounging around at home all day (which was completely not true)."
A church graduation and hostile classmates
Cas S., a convert to Judaism, grew up atheist, which was not widely accepted in their area of Illinois.
"My high school graduation was held in a local evangelical megachurch and none of the administration seemed to care or understand why that made me so uncomfortable," they said. "My peers thought I was a devil-worshipper and bullied me for not accepting the words of Christ into my heart and teachers would victim blame me by saying I shouldn't express beliefs that challenge Jesus if I didn't want to get picked on."
Santa visits the classroom
Barbara Kavandias said hers was the only Jewish family in her elementary school in the 1960s, and that they were welcomed — the school changed its Christmas pageant to a nondenominational winter celebration without being asked. 
But when Kavandias sent her own children to public school, in a heavily Jewish district in New Jersey in the 1990s, it was a different story.
"​​We were shocked to find the school had a Christmas tree and that Santa Claus delivered presents to the children," she said. "We were told by the principal that Christmas was everyone's holiday. We were told by other parents to stop trying to take things away from them.
"The final straw was when my son was forced to make an Easter basket and told by his first-grade teacher that 'we are going to put matzo in it, what more do you want?'"
'Conduct yourself like good Christians'
"I went to public school in Washington, D.C.," wrote Verna Zola Rosenzweig. "When I entered junior high school, we all had to go to the auditorium to be addressed by the principal. She said, 'Although most of you are Jewish, while you are in this school, you will conduct yourselves like good Christians!'"
"I began to think there was something wrong with my religion," she added. "That maybe we were 'heathens.'"
Sing or enjoy getting an F for the day
Martin Cohen attended high school in 1970 in Glendale, California, where he was one of two Jewish kids in class. Choir was a particularly sore spot during Christmas season. 
"My fellow Jew and I didn't make a fuss, we just politely sat, quietly," he wrote. "The teacher singled us out, and told us if we didn't sing, we would get Fs for the day, and for every day until the Christmas break that we didn't sing." He lodged a complaint with the principal, and got an apology.
High Holy sick days
A reader named Emily wrote that she was one of the only Jewish children in Longview, Texas, and "never stood a chance to win the perfect attendance award" because "the faculty insisted I use sick days for the High Holy Days."
"There was almost no occasion — from dance team tryouts to opening night of the school play — where a teacher wouldn't instruct us to bow our heads, then lead us in prayer, always with the same ending: 'In Jesus' name, we pray,'" she wrote. "Every time, my mood would go from innocent excitement to crushing silence. It felt like a betrayal. I felt unseen. It is not a feeling I want any other child — Jewish or not — to know."
On stage, but not singing
Ilisia Kissner attended school in the 1950s and '60s in New York City, and "refused to sing Christmas carols at the holiday assemblies."
"My mom had to go to school and negotiate on my behalf," she said. "The result was that I had to be on the stage but didn't have to sing the songs that were overtly religious. 
"We also had weekly assemblies where a teacher would read from a big Bible with a cross on it. I would hide if she was walking by with that Bible in her hand because it terrified me." 
Evangelical pep rallies
"While in elementary school I had a teacher who made us read the Bible out loud," wrote Danielle Hess of her time going to school in South Carolina in the 1970s. 
She later moved to Georgia, where she encountered more of the same. "In high school, they invited Campus Crusades for Christ to our pep rallies."
'The Jewish kid who hates Jesus'
Jenna Goldman grew up south of Jacksonville, Florida, which she described as " a lovely Southern town with very few Jews." Goldman recalled prayers before track meets, prayers before lunch at art camp, and prayers before graduation as well as "church pastors being allowed to roam the lunch room to talk to students" and church-sponsored pizza parties on school premises.
She was uncomfortable, but the situation felt like a Catch-22. "If I told my parents how much Christian prayer was part of daily life at school, they would of course go to administration and then I would be known as the Jewish kid who hates Jesus," she wrote. "So I just grinned and beared it." 
As she approached graduation, though, Goldman decided not to attend the baccalaureate ceremony. "I had gone the year before to support a friend and it was held in a church with only Christian prayers," she said. "I wrote to my school administration explaining why that was not OK, and they offered that I could do a Jewish prayer. I declined, because that was not the point — there should be no prayer in a public school setting."