Culture
With a flag and 'The Star-Spangled Banner,' an Israeli Uncle Sam broadcasts love for America
On July 4th — and every day — Shimon Horowitz, 75, rides his flag-festooned tricycle on an Israeli boardwalk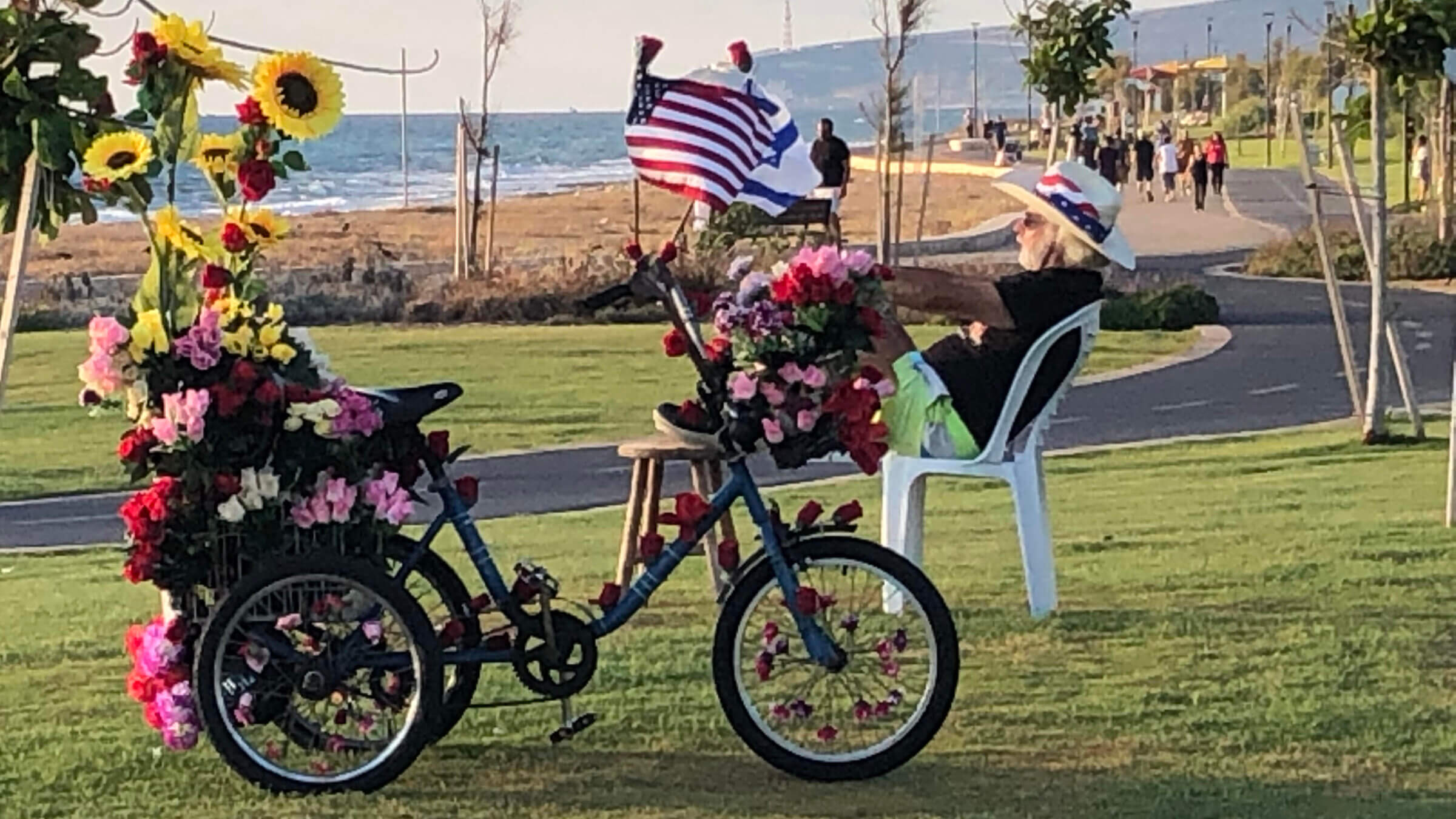 A man with a silver goatee and a red, white and blue cowboy hat rode along a boardwalk on an adult-size tricycle. Its hidden speaker blared Stevie Wonder's "I Just Called to Say I Love You."
The Uncle Sam-like scene out of Anytown, USA, happened to take place on a recent evening in Nahariya, a city along Israel's northern Mediterranean coast.
The cyclist, Shimon Horowitz, 75, is a seventh-generation Jerusalemite who adores America from his periodic sojourns there. His elder daughter and only grandchild live in Boston. The Nahariya resident is a dual citizen, thus the Israeli and American flags flapping from his handlebars.
He'll honor the United States on July 4th by continually playing "The Star-Spangled Banner" during a 50-minute boardwalk ride to symbolize the 50 states. He'll then settle into his white plastic chair on the beachfront promenade and play nothing but country music, his favorite American genre, during the two hours when, as is his wont most evenings, he enjoys the view and welcomes passersby.
On each daily ride and sessions holding court, Horowitz blasts a playlist heavy on American music. People stare. Older women regularly ask him to dance, and vice versa.
"It makes me happy to see people happy," Horowitz said in mildly accented English.
The American get-up? Horowitz said it's because he's enamored with the United States: its open spaces, wide highways, national parks, music, and the nightlife in New York and Las Vegas — but primarily Americans themselves.
"The people are very kind. They have patience," Horowitz said as Miley Cyrus sang "Jolene." "America is like a second mother to me."
"City of New Orleans" came on just as Horowitz described having lived in dozens of places in Israel and the U.S., always renting or living with women he befriended. He's lived in New York, New Jersey, Montana, Idaho, Tennessee, Arkansas, Utah, New Mexico, Nevada, Arizona and Texas. He's pumped gas, sold light bulbs and auto parts, spun records at a Manhattan discotheque, taught nutrition and hygiene to kids and dancing to seniors, and volunteered at a rape-crisis center.
Horowitz was married three times, all to Americans, meeting two on dance floors. His first marriage ended in divorce, cancer took his second wife and he remained single for three decades until an Arkansas woman he met online invited him to visit. They married in a civil ceremony after three celibate days together, then never saw each other again.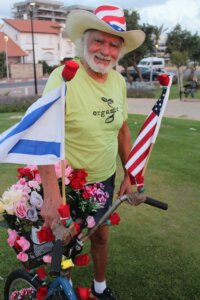 It's one of the seemingly endless stories Horowitz summoned, like the one about chasing off a bear when it approached a llama pen at the Big Fork, Montana, ranch where he stayed, strolling in a Montana field amid hundreds of buffalo, and hanging out with Navajo friends in Arizona.
Like the man, Horowitz's tricycle is a magnet, its bars, spokes and baskets adorned with multicolored plastic roses, carnations and sunflowers. Throughout the interview, acquaintances waved, took photos, shouted greetings or ventured guesses about the songs playing. 
He's at it six hours most days — 10 a.m. to 1 p.m. finds Horowitz sitting elsewhere on the boardwalk broadcasting music. Horowitz spreads the joy as a volunteer, but the city allotted approximately $650 for the tricycle and speaker.
"He's a wonderful addition to the tayelet [boardwalk]," said Steven Haberfeld, an immigrant from California. "He adds color to my dog-walking."
Veteran resident Tiki Paz posted a photo on Facebook in April after Horowitz cycled by in the center of town. "He spreads love and optimism," she wrote. "He always gladdens my heart."
On Monday evening, Miri Schwartz and Miriam Unger danced with Horowitz. New immigrants from Ukraine sat their year-old daughter on Horowitz's seat for a picture as "A Horse With No Name" played. Above the din of Glenn Yarbrough's "Baby the Rain Must Fall," a man, not breaking stride, mentioned Paul Anka's upcoming concert in Jerusalem. "I saw him in Las Vegas in 1979," Horowitz called back. Volunteers collecting trash on the beach posed with Horowitz.
"Kudos for what you're doing," Schwartz said. She directed the comment to the trash-pickers, but could've meant Horowitz, too.