Culture
The surprisingly Jewish history of Blue Note records
The legendary jazz label was the brainchild of German Jewish refugees in America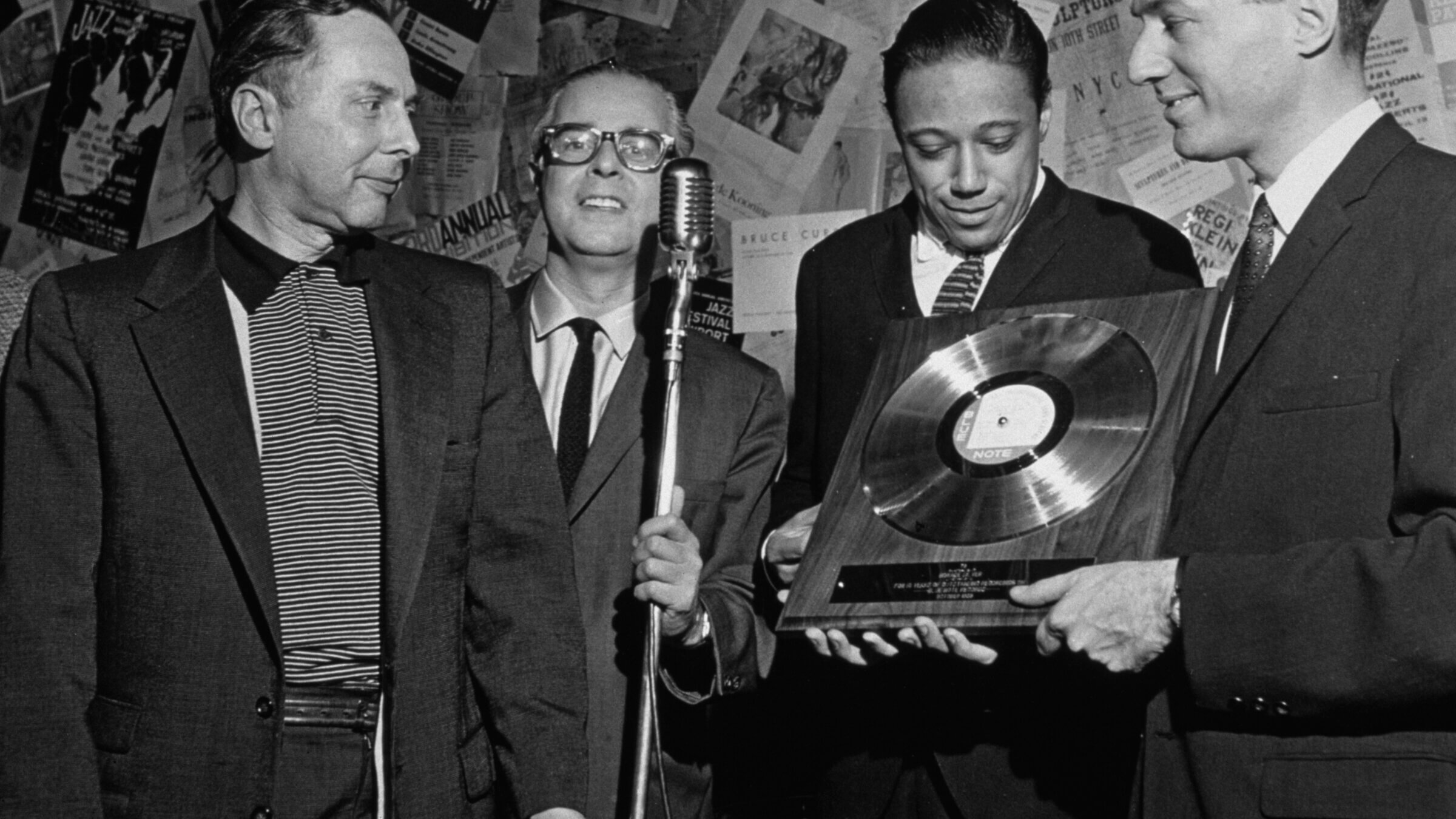 A new edition of Richard Havers' lavishly illustrated history of Blue Note records is an occasion for recalling how that unsurpassed small jazz label was the brainchild of German Jewish refugees in America.
Havers reminds us that Blue Note was founded in 1939 by Alfred Lion (born Löw), the son of a Berlin Jewish architect. Lion made several attempts to escape perils in his homeland, but learned quickly that violence against minorities was a longstanding American tradition as well as something seen in the old country.
As a teenager in 1925, Lion had heard a riveting performance in Berlin by the African American jazz pianist Sam Wooding. One year later, Lion emigrated to the United States, but while working on the docks of New York, he was attacked by a fellow laborer who militated against foreigners occupying jobs that might otherwise sustain native born Americans. Lion returned to Germany to recover from his injuries, but in 1933 tried again to escape Nazi Germany by fleeing to Chile with his mother. He finally returned to Manhattan in 1938. Attending landmark jazz concerts at Carnegie Hall entitled "From Spirituals to Swing," featuring Benny Goodman in a racially integrated sextet, among many others, galvanized Lion.
Oblivious to backbiting among even talented musicians, Lion remained focused solely on music. He probably could not have cared less that Goodman, a notoriously harsh taskmaster, would reportedly sabotage the music stand light of his own Jewish star jazz bassist, Arthur Bernstein, two years after their Carnegie Hall triumph, to make Bernstein play poorly and provide an excuse for firing him.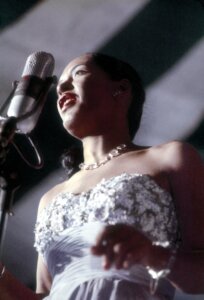 Among Lion's decidedly more benevolent co-founders of Blue Note were Max Margulis, a Marxist vocal coach, and the critic Emanuel Eisenberg. None of the trio quit their day jobs to dabble in jazz music. Yet coincidentally, Blue Note was launched in 1939, a watershed for heightened Jewish awareness of African American experience. That year at Café Society, Billie Holiday first performed "Strange Fruit," an anti-lynching song by a Bronx Jewish high-school teacher, Abel Meeropol.
From the start, Lion and colleagues so empathized with the sufferings of persecuted fellow minorities, and so revered jazz music and musicians, that they were among the rare cherished amateur proprietors in an industry rife with profiteers and exploiters, then as now.
Indeed, Blue Note began with a quasi nonprofit-style manifesto. After all, if a manifesto was good enough for Karl Marx, why not for a few Jews starting a record label? Margulis, who bankrolled the first modest recording sessions, wrote, and signed along with Lion and Eisenberg, the following credo:
"Blue Note Records are designed to serve the uncompromising expressions of hot jazz or swing. Direct and honest hot jazz is a way of feeling, a musical and social manifestation, and Blue Note records are concerned with identifying its impulse, not its sensational and commercial adornments."
Although no more commercially oriented than his landsmen, Eisenberg's own trajectory was complex. He authored some short fiction in the Yiddish-accented mode popularized by the humorist Leo Rosten, including one tale that appeared in 1938 in Rosten's preferred outlet, the New Yorker. Eisenberg's attempt at levity involved a Jewish-accented exchange with a physician, hardly innovative or authentic apart from the fact that unlike Rosten, who used the anglicized pen name of Leonard Q. Ross to write about Hyman Kaplan in posh publications, Eisenberg dared to sign his pieces with his real, clearly Jewish-sounding, name.
Eisenberg, also a contributor to the "New Masses," an American Marxist magazine, was one of the authors who collaborated with Marc Blitzstein on "Pins and Needles" (1937), a musical revue featuring music and lyrics by the American Jewish composer Harold Rome. "Pins and Needles" was produced by the International Ladies Garment Workers Union. A celebrated early production was directed by Charles Friedman and choreographed by Russian Jewish modern dance pioneer Benjamin Zemach, spoofing European Fascist dictatorships and bigots among the Daughters of the American Revolution who had blocked Marian Anderson from singing in their Washington, D.C. concert hall in 1939.
Finding parallels in racism, whether against blacks or Jews, echoed the philosophical stances of Lion and his associates at the start of Blue Note, leading to feelings of unity. Not coincidentally, the label's first hit was a tune by George Gershwin, "Summertime," played by Sidney Bechet in an outpouring of Jewish and African American musical verve.
Lion insisted that 78 rpm record lengths be expanded to 12 inches, the format usually reserved for classical artists, instead of the pop format of 10 inches. Lion saw jazz performers as classicists in their own right, and posterity has confirmed his viewpoint.
After World War II began, Margulis and Eisenberg moved to other projects and were replaced by a boyhood friend of Lion's, Francis (born Jacob Franz) Wolff. A photographer Wolff was employed at a music store owned by Milt Gabler, another American Jewish jazz aficionado and small label owner. Gabler would offer essential help to Blue Note in its early days with distribution and sales venues.
As a photographer somewhere between dramatic portraits of his Jewish contemporary Philippe Halsman and the spontaneity of Erich Salomon, considered the first photojournalist, Wolff created splendid icons that have been displayed in exhibitions and publications, after rediscovery following prolonged hibernation in Lion's personal archives.
Wolff amused musicians by dancing about the studio during recording sessions to attain certain camera angles. They knew that if he was inspired to terpsichorean exertions, the take would probably be lively enough to be released. Meanwhile, Lion would chide Wolff between takes: "Stop! You're clicking on my record!"
Presciently, in 1932 Emanuel Eisenberg had published a short story about a camera bug who aspired to photographic close-ups, moving closer to subjects until he arrived at microscopic detail. Without reaching absurdist proximity, Wolff nevertheless reveled in the nearness of creative musicians in the gently nurturing aura of a recording studio that did not exploit musicians.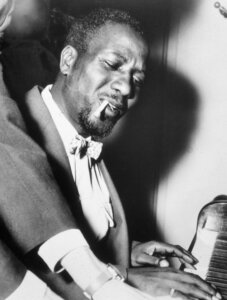 Despite their names, Lion and Wolff were neither leonine nor vulpine with performers, who later uniformly recalled them with affection. Lion and Wolff responded with loyalty, being the first to record the keyboard genius Thelonious Monk in 1947 when no other company would, and continuing for five years to record Monk even when his records proved commercially disastrous, until the future of Blue Note was jeopardized.
Other musicians who did some of their best work for Blue Note, and were photographed in action by Wolff, included the superstars John Coltrane, Art Blakey, Miles Davis, Dexter Gordon, Herbie Hancock, Bud Powell, Sonny Rollins and Horace Silver.
Blue Note would encounter many upheavals over the years, and by the late 1960s was no longer the small independent firm it had once been. Yet it seemed appropriate when in 2012, a pedestrian bridge named in honor of Lion opened in Berlin's Tempelhof-Schöneberg borough, linking the so-called Red Island neighborhood where Lion was raised with areas to the north. To be sure, Alfred Lion and Francis Wolff built bridges connecting Jewish music lovers to African American creative spirits, resulting in recordings of permanent fascination as well as indelible fond memories.