Culture
How Bill Russell learned the spirit of Judaism
The Boston Celtics star felt an affinity with coach Red Auerbach who faced prejudice on the streets of Brooklyn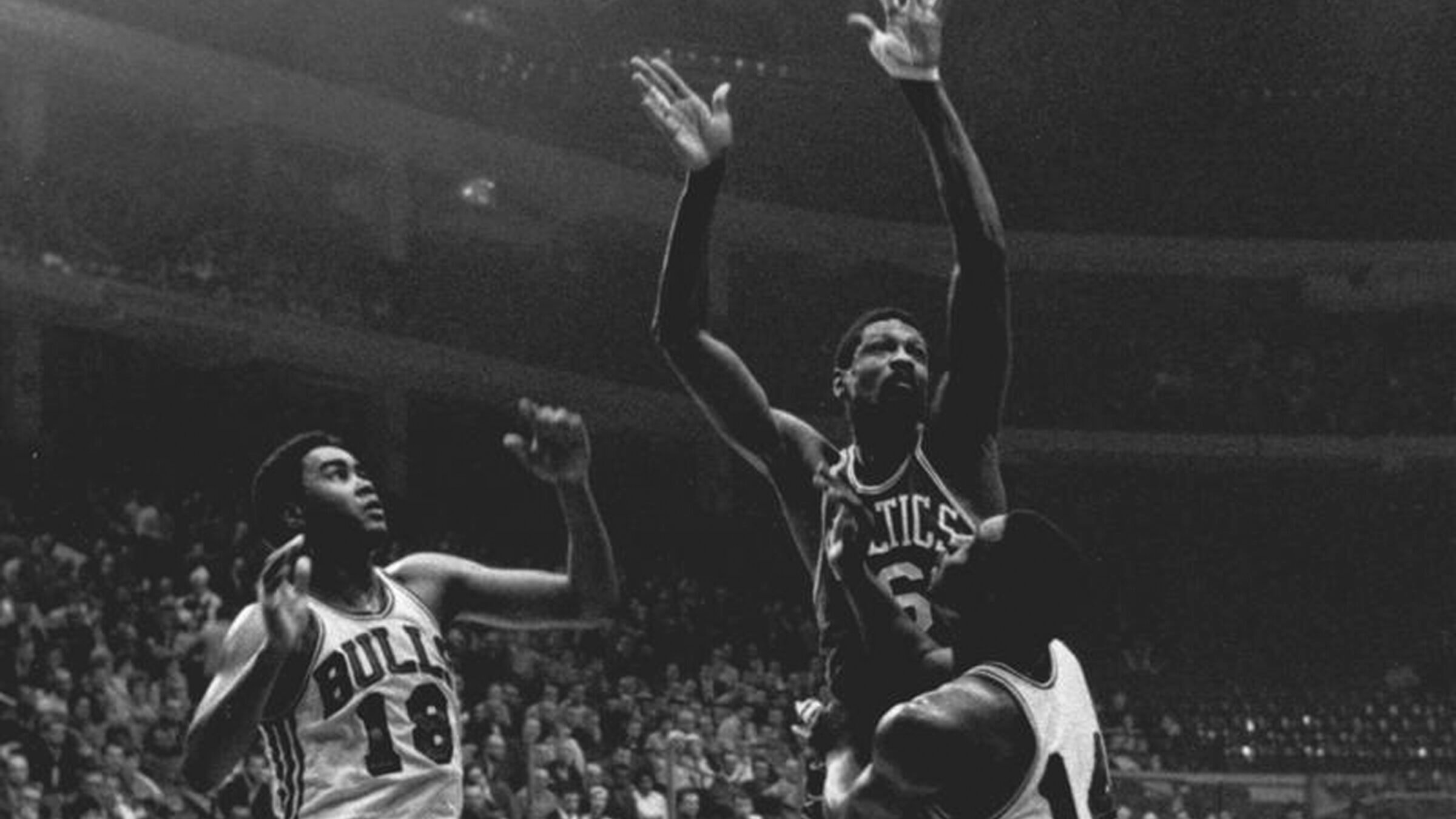 Bill Russell, the legendary Boston Celtics center who died July 31 at age 88, identified his professional accomplishments as cohering with the inner qualities of his Brooklyn-born Jewish coach, Red Auerbach.
Both Russell and Auerbach were feared for their furious will to win. For both, growing up as members of minority groups made them resolve never to accept victimhood or be hindered in their goals. Russell noted in a memoir that during his first year with the Celtics, Auerbach informed him: "It was tougher than hell growing up in Williamsburg. There was a lot of prejudice against Jews. I'm a Jew."
Russell, whose acquaintance with Jews had been limited in his native Louisiana and as a University of San Francisco undergraduate, asked his coach to define Judaism ("What is a Jew? Is it a religion? Is it a culture? A tribe?") Auerbach's response was concise: "Russell. A Jew is a Jew!"
Although they remained friends for decades, Auerbach never offered any further explanation on the subject. Sometimes, when Auerbach was screaming at referees, as was his wont, Russell would wander by and mutter to lighten the mood: "Auerbach. A Jew is a Jew!"
Only once did Auerbach acknowledge Russell's comment by winking at his star player, before returning to yelling at the referees. In exchange, Auerbach would tease Russell, saying that his wife considered the latter a "nice young man," adding: "You sure fooled her!" Russell termed this type of joke "Red's usual Brooklyn-Jewish needle — his way of expressing friendliness."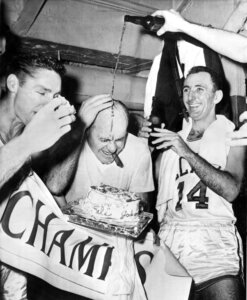 Earlier, in 1957, Auerbach announced that another African American player had been drafted by the Celtics and assumed Russell would know the newcomer. To which Russell joked: "Listen, Red. I don't know all of them!"
Although Russell was always highly alert to race-related prejudice, he tolerated Auerbach's occasional use of the term from "schvartze" because he said he understood that his coach trusted him implicitly and esteemed him without an iota of patronization or paternalistic posing. While in some instances Auerbach appeared slow to appreciate the import of racial prejudice which he encountered, Russell found the coach open-minded, willing to learn and always respectful.
Russell also took it good-humoredly when Auerbach called him a Goyishe kop." But Russell was not so tolerant about potential slights from other Jewish basketball personnel. Indeed, before Russell signed with the Celtics, he rejected an offer to join the Harlem Globetrotters exhibition basketball squad after team owner Abe Saperstein, of Polish Jewish origin, would only negotiate with his college coach rather than speak to Russell personally.
Nor was Russell enamored of all Jews in basketball. Following Auerbach's example, he would taunt veteran Jewish referee Mendy Rudolph, asking if he would like a recommendation for a good optometrist.
Russell and Auerbach had parallel approaches to the game, with Russell scrupulously analyzing playing styles of other athletes, while Auerbach preferred to study weaknesses of referees before each game. Irritating and distracting the opposition were key elements of their shared performance strategy.
Defining his friendship with Auerbach in his memoir, Russell intriguingly compared it to E = mc2, Albert Einstein's formula for mass–energy equivalence in which complex equations were condensed by Einstein to a brief formula. Likewise, the labyrinthine personalities of Russell and Auerbach added up to a friendship despite their own intricately individual approaches to life and sport.
Part of the equation was speaking little, and scarcely ever about subjects not immediately concerned with the game. As Russell put it, "I didn't know if [Auerbach] went to synagogue, and he didn't know if I went to church."
Yet when Russell ideally realized Auerbach's goal of playing defense-oriented basketball, the coach was ready to support his player when others accused him of improperly blocking shots by opponents.
In 1957, Philadelphia Warriors coach Eddie Gottlieb (born Isadore Gottlieb of Ukrainian Jewish roots) was so enraged by Russell's defense tactics that he announced, "I'm certainly going to ask Maurice Podoloff," referring to the Russian Jewish-born NBA president at the time. Auerbach dismissed Gottlieb's complaints as "absolutely ridiculous" and merely a "question of sour grapes."
Russell also refrained from speaking as a basis for their relationship in 1964, when Auerbach led a U.S. State Department goodwill basketball tour behind the Iron Curtain that included a daylong visit to Auschwitz concentration camp in Poland. Russell later recalled:
"We saw the ovens, and mounds of hair and jewelry and shoes, and then we just walked around somberly. Red looked solemn — it made a big impact on him. It had a strong impact on me, too. I thought, 'This is the utmost demonstration of men's inhumanity to other men. This is a great evil.' I could only wonder what Red was thinking and feeling. I didn't say a word to him the whole time we were there. I thought if I said something wrong, it might sound disrespectful or be uncomfortable for him — this place had more to do with his people than mine. However, the place did summon thoughts about segregation in the United States. While that was different, it arose from the same ignorance and fear that triggers such cruelties."
Russell and Auerbach also shared temperamental inclinations to treat players and staff with dignity, while mere fans often received decidedly less respect. Other Celtic players were as impressed by Auerbach as Russell was. One told National Public Radio that some of his teammates could not bear to follow Jewish tradition and toss a little soil on Auerbach's casket at the end of his funeral ceremony.
For his part, Russell's inspirational persona would be referred to by Aviam Soifer in a memorial article about a fellow legal scholar for the Harvard Law Review, comparing his colleague to Bill Russell for adding "an entirely new dimension to the game he played. Strong defense mattered most to both men. Both pioneered how to block their opponents' best shots, and both altered the flow of the entire game through their court presence. Ironically, [they] were two loners who nonetheless managed to be at the core of some legendary teams."
During Auerbach's early years with the Celtics, a Boston reporter slated his draft choices and added to the coach: "Besides that, you're a Jew, and we don't like Jews either! And we're gonna run you out of town!"
When Russell heard this tale from Auerbach, he asked how such a comment could be handled. Auerbach replied, "Oh, I'll just outlive the bastards." Auerbach's "will to outlive hate, ignorance, entitlement and even evil," Russell concluded, "echoed my own perspective."
Despite Bill Russell's long life highlighted by much-deserved honors, he did not quite manage to outlive hate and ignorance in his homeland. Yet he will be remembered in tandem with Red Auerbach by sports fans everywhere, who admire their shared sensibilities as essential not just for winning games, but in serving as ingredients for exemplary lives based on Jewish and African American experience.