Culture
How a terrific collection of stories managed to escape Lithuania and survive
Chana Blankshteyn's work improbably emerges in a glorious new translation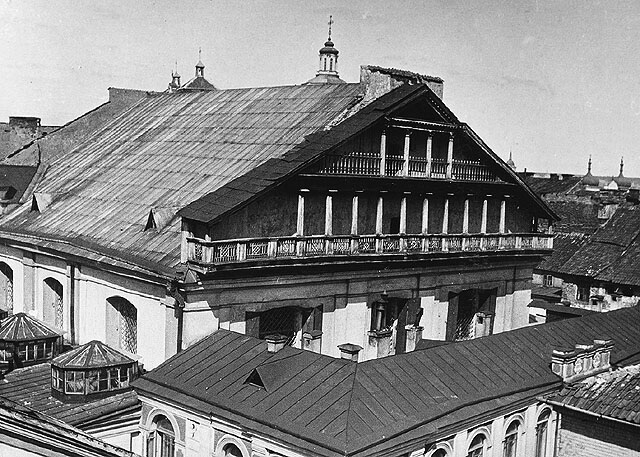 Fear and Other Stories
By Chana Blankshteyn, translated by Anita Norich
Wayne State University Press, 138 pages, $34.99
"Fear and Other Stories" was originally published in Yiddish in July 1939, mere weeks before Germany invaded Poland and mere breaths before World War II began. In the annals of book publication dates, the eve of world war must be one of the least lucky options. Yet, two copies of this slim and memorable book from Vilna — then known as "the Jerusalem of Lithuania" — somehow made it all the way to the United States. Over 80 years later, that bit of transatlantic fortune made this translation possible.
Of the two surviving American copies of the Yiddish original, one somehow got from Vilna to St. Louis and has an inscription dated April 1940. The other, later found in New York, has an even more incredible inscription — November 1943. Both copies appear tied to the Abramowicz family, which is well-known to Yiddishists.
Hirsz Abramowicz (1881-1960), an essayist and teacher, was on a speaking tour in America when war broke out; his wife, Anna, who signed the 1940 copy, was in Vilna in 1940 and later perished in Treblinka. Their daughter Dina Abramowicz survived the war as a librarian in the Vilna ghetto; she was also a partisan and part of the famous "paper brigade" that saved Jewish books and archives. After the war, Dina reunited with her father in New York, and was the librarian at YIVO for more than 50 years.
The mind boggles in contemplating how books of Yiddish stories made it to post offices, out of Europe, and across the Atlantic in 1940, and then 1943, while their senders were trapped. We will never know the entire story of how these stories made it, but what we do know is that the eminent Yiddish scholar Anita Norich, a professor emeritus of English and Judaic Studies at the University of Michigan, came across this collection of stories by Chana Blankshteyn, who was well-known in her lifetime and largely unknown today, during a fellowship year at the Center for Jewish History and translated them.
Norich's tremendous work — first as sleuth, then as researcher and translator — is part of a growing movement to translate women writers who wrote in Yiddish. Other recent examples include Fradl Shtok, recently translated by Allison Schachter and Jordan Finkin; Miriam Karpilove, translated by Jessica Kirzane; and Ida Maze, translated by Yermiyahu Ahron Taub.
Norich has made two fascinating choices as a translator. She changed the title, which sometimes happens in translation. But the original title here — Noveles, or "Novellas" — did not disappear entirely. Instead, it is delightfully placed on the beautifully designed cover, and you can see it if you look closely. Norich also changed the order of the stories, which allows the reader to discover all kinds of fears, and to understand that the antisemitism, poverty and sense of entrapment felt by the characters depicted here had been building for quite some time before the Nazis blitzed into Poland.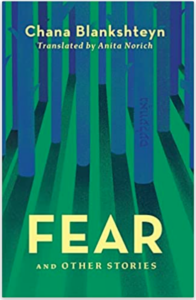 One enchanting element that Norich preserves here is an introduction from Max Weinreich, the most famous Yiddish linguist of the 20th century, dated June 21, 1939. Weinreich praises Blankshetyn for having a profession other than writing. We learn that of the big three — Sholem Aleichem, Mendel Mocher Seforim and I.L. Peretz — only Sholem Aleichem made a living off writing, and, Weinreich writes that even he "became one after he was able — by the skin of his teeth — to get out of doing other work."
Weinreich apparently thinks that not writing for a living lets Blankshteyn only write when she has something to say, instead of making observation into a livelihood and commenting on anything and everything. To a reader in 2022, this introduction offers a window into 1939 Vilna, and a time and place where Yiddish writers could be praised for their lifestyle as well as their work.
A great variety of lives
In its 130 pages, "Fear and Other Stories" portrays a great variety of lives — from energetic businessmen who suddenly feel trapped and endangered to malnourished escapees of pogroms to orphan girls who manage to make it in Paris as dressmakers and find love on their own terms. There is also a classic love story between the granddaughter of a Hasidic rebbe and a very secular Jewish official in the time of the Russian Revolution, complete with a scene in which the all-powerful official raps on a terrified rabbi's door in the middle of the night in order to be officially married. History seeps into all these stories, and so Blankshteyn offers a glimpse of what the rebbe and his granddaughter, now working as a waitress in a city, have gone through by slipping it into a conversation between two men:
"I know the whole family," he says. "Recently, a Jew from there came to me saying the shtetl asked the rabbi to leave for his own safety. It's not yet quiet in their region, gangs are still roaming around. But the old rabbi didn't want to abandon his Hasidim. He did, though, send his orphaned granddaughter, Leah, here to the big city."
In Blankshteyn's stories, gangs roam, disaster is very possible, and unsurprisingly, fear is ever-present. In "Fear," the story that opens the collection, a businessman takes a trip by train. At the second-to-last stop, he is told that there is a place to get something to eat at the station. With a 15-minute stop, he thinks he has plenty of time to purchase a cup of tea. First, there is no tea, but coffee, and the story feels harmless, almost pedestrian. But then, when the businessman comes back, the train is locked and he cannot get back on.
Desperate, he bangs on the door, and a soldier comes with a rifle and aims it at him. Then, another armed man, a commander arrives, and asks the now-desperate businessman why he is trying so hard to get on a train full of prisoners. The reader catches that sense of everything-can-change-in-an-instant that must have surely been the mood at that time, as well as that feeling of entrapment, of danger.
Yet the story ends with a beautiful meditation on the power of an individual life:
"Out of the noise, clarity emerged," Blankshteyn writes, "the consciousness of the awesome power of life grew. With every limb and with all his senses, he understood the value, the enormous, singular value of being, of naked being."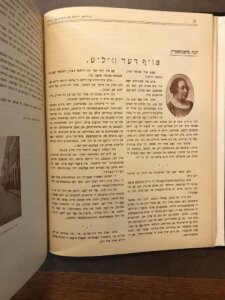 While it's impossible to ignore the publication date of "Fear and Other Stories," and its threat to the "naked being" of so many, these stories are really about the years before World War II, and not the Holocaust itself. In her introduction, Norich points out that the "war" mentioned here was World War I. These stories are saturated in the Russian Revolution and its aftermath, in economic pain and political upheaval, and in the many pogroms the Jewish community suffered, along with, of course, the rise of Nazism.
Blankshteyn had no way of knowing the horror ahead of the Holocaust, and she herself managed to die in her own bed. But the shadows of other terrifying watershed moments in Jewish history come through, as with an orphaned girl who works in a dress shop who meets and falls in love with a Spaniard — who dozens of pages later, turns out to be the descendant of Marranos.
Smaller deceptions abound in these stories. A man flirts with a young woman, repeatedly; later, by chance, she runs into him and his pregnant wife. There are also cruelties — a "malnourished" girl who survived a pogrom is beaten by a female co-worker. Yet, at the same time, there is a wonderful exploration of the possibilities of female freedom, in the character of a young girl in Paris who believes love can come later, and who manages to use her meager savings to give herself a few months off:
"She contemplated the gorgeous landscape, looked at the cars, horseback riders, pedestrians, at all the movement reigning there in the morning," Blankshteyn writes. "Unwittingly, instinctively, she assumed the free, confident walk of the women whom she had, until then, seen only briefly in the workshop. She wholeheartedly enjoyed the scene, which made this place the most beautiful corner in the world. She immersed herself in the beauty of old trees, delighted her strained eyes with the fresh greenery, breathed in the clean air, was pleased to feel the rhythmic movement of her healthy, supple body."
Other stories here chronicle the sudden loss of freedom — economic, political, and physical. This can be felt in the portrayal of the relationship between Shtoltsman, the official in love with a rebbe's granddaughter, and his landlady. Here, too, Blankshteyn packs a lot of history —and a lot of fear — into a few sentences:
"The landlady, who had once been rich, trembled over her tenant, knowing that only because Shtoltsman lived in her house was she able to keep her possessions, which she had with great difficulty kept from being requisitioned. Sometimes he also did her a favor. Because of his connections, she was able to get a pair of shoes."
A triumph of feminist translation
There is so much hard work, penny-pinching, and well — finagling — in these pages that it made me return to Weinreich's introduction with its stated preference for writers who work at something other than writing. He was, perhaps, reacting to the intimacy of these stories, their familiarity with the finances of cleaning ladies saving for their own funerals and the struggles of those disabled by pogroms.
Blankshteyn had experienced a lot herself — two marriages, the first when she was 17 or 18; two divorces; years living in both France and Germany; a stint as a nurse in the Russian Army; and two unsuccessful runs for a seat on the Vilna City Council. She came to writing in Yiddish late in life, and her stories are reflective of a writer who has traveled and who has survived multiple phases of life. They also have some unusual narrative moves and are firmly within Yiddish modernism.
For those who are used to reading Yiddish fiction by men, such as the famous big three mentioned by Weinreich, this is something different. It's an important book and another triumph of feminist translation, as it expands the canon and shows what women were thinking about. It is also, of course, a miraculous survivor from the once-thriving literary scene of Jewish Vilna.
That world, full of Yiddish readers who also understood Hebrew, including one who would take the time to mail a copy of a short-story collection to a Yiddish reader in St. Louis, is gone forever. But the title of "Fear and Other Stories" hints at something beautiful in Jewish literary history — there are often "other stories" about to happen, in the future, that will eventually help the previous stories stay in the world of the living.