Culture
The Armory Show shocked the art world in 1913. Here's what to expect this year
200 galleries from 30 countries offer up art this weekend in New York — including, of course, work by a number of Jewish artists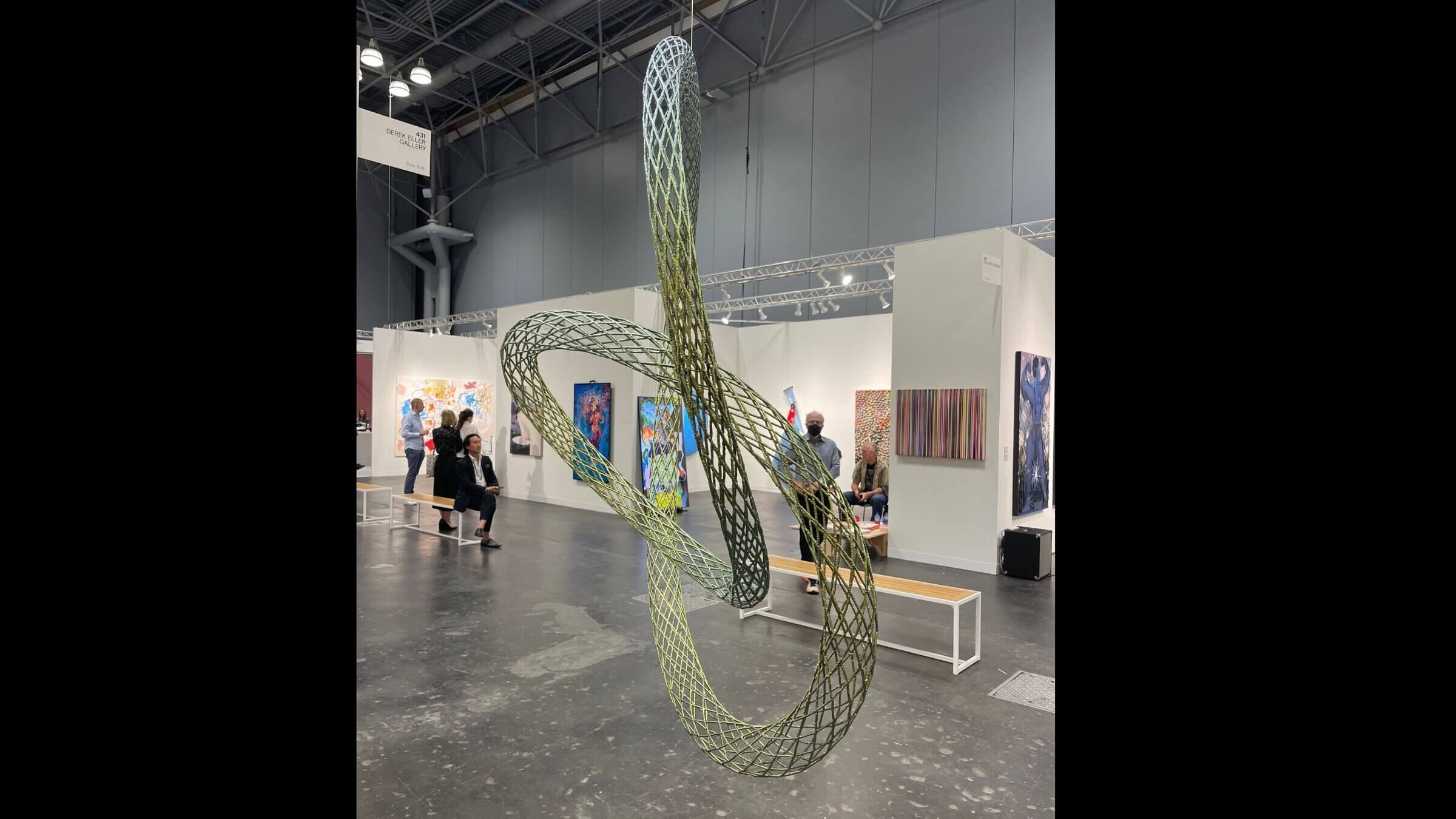 The Armory Show is back for its annual run in New York. The exhibition is a venue for art presented by more than 200 galleries from 30 countries, including work by a number of Jewish artists. This year's show has a focus on Latin American and Latinx art, with themes including environmentalism, race and gender. Not surprisingly, the pandemic also crops up as a theme in some works. 
The massive exhibition is only here for the weekend, and it's downright impossible to take it all in. But if you're an art lover, you'll want to try. Here's what you need to know.
History
The original Armory Show took place in 1913 at Manhattan's 69th Regiment Armory on Lexington Avenue and 25th Street. The exhibition of avant-garde impressionism, fauvism and cubism revolutionized the art world. It was the first time Americans were seeing work by Picasso, Matisse, Duchamp, van Gogh, Munch, Gauguin and many others. 
Camille Pissarro was among the Jewish artists represented at the original show, along with Paul Burlin, Elie Nadelman, Jo Davidson, Abraham Walkowitz and William Zorach. American artists included Mary Cassatt, Edward Hopper and James Whistler.
The show's contemporary incarnation dates to 1994, when four New York art dealers organized an international art fair at the Gramercy Park Hotel. Five years later, the Gramercy International Art Fair moved to the 69th Regiment Armory and was renamed the Armory Show in a nod to the 1913 exhibition. The fair was staged on piers on Manhattan's West Side for two decades, then moved to its current site at the Javits Center last year. There's also an offsite component in venues that this year include Times Square and the U.S. Open.
A note about how the exhibition is organized: Individual galleries create mini-shows of the artists they represent, and those galleries are listed on a map online and onsite at the Javits Center. We've included gallery names to help you find some of the artists mentioned here.
What you'll see
You'll see plenty of pieces on display by big names like Chris Ofili and Marina Abramović, Warhol and Man Ray, and even Picasso and Duchamp.
But it's work by artists you've probably never heard of that jumps off the walls and floors to engage, surprise and delight. Galeria Estação presents work by Santidio Pereira, who was born in a small village in Brazil and whose sublime, colorful canvases depict rainforest plants. The Charlie James Gallery is showcasing a sculpture by Dominican American artist Lucia Hierro of a bag of Cafe Bustelo coffee in its familiar yellow, red and black packaging — but here, the bag stands more than 4 feet tall. The Breeder Gallery's offerings include colorful portraits by the Ghanaian artist Rufai Zakari.
One thought-provoking highlight — and you don't need a ticket to pop in for a look — is a display of Paula Rego's "Abortion Etchings" in the Javits Center's Crystal Palace (entrance at 36th Street and 11th Avenue). The 10 small, powerful drawings show women, alone and suffering, their legs open as they lie on beds and sit on floors. The artist wrote that she wanted to depict "the fear and pain and danger of an illegal abortion." Rego created the series after a referendum to legalize abortion in her home country of Portugal failed to pass in 1998. The works were shown in Portuguese newspapers in the run-up to a 2007 referendum that ultimately legalized abortion. Text accompanying the display says the drawings were "credited with helping sway public opinion." Rego died earlier this year.
Other works that resonate include "Home Sweet Home: Pandemic Love 6" by the artist Mak2 (presented by Peres Projects), showing a couple kissing passionately — with their masks on — while Munch's "The Scream" hangs on a wall behind them.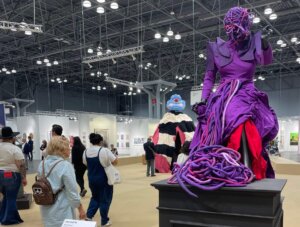 Mary Sibande's "Ascension of the Purple Figure" is prominently displayed in The Armory Show's "Platform" section. Sibande depicts a lifesize female figure on a pedestal draped in purple, a sculptural homage to protesters in South Africa whom police sprayed with purple ink so they could be easily identified.
Reynier Leyva Novo's "What it is, what it has been," based on a bust of Cuban nationalist and poet Jose Marti, obscures Marti's features with paint as a statement about totalitarianism in Cuba. The piece won the $25,000 Pommery Prize, which honors a large-scale artwork at The Armory Show.
Jewish artists
Among the Jewish artists whose works can be found amid the many offerings is Alyson Shotz. Her swirling gold-green filigree of welded painted steel, "Rim of the Hour," is presented by the Derek Eller Gallery.
Frith Street Gallery is showing a tabletop sculpture by British-Israeli artist Daniel Silver called "Dance Oli," a pink ceramic confection.
Mel Bochner's "Oh Well," presented by Marc Selwyn Fine Art, appears to shrug off a letdown, with block letters in oil on velvet spelling out phrases like "Oh well," "That's the way it goes" and "It is what it is." Nearby hangs Richard Misrach's haunting seascape "Shorebreak."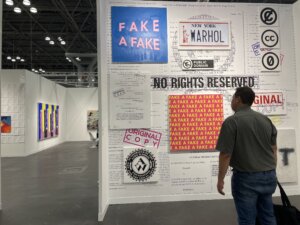 Kenny Schachter (Nagel Draxler Galerie) has an NFT project that includes a large collage incorporating signage with the words "No rights reserved," Original Copy," "Fake a fake," and a New York license plate that says "WARHOL."
Beverly Fishman's "Untitled (Pain, Pain, Anxiety, Pain, GERD)," shown by the Kavi Gupta gallery, offers sentiments related to the pandemic. The piece includes a heart symbol amid pastel geometric shapes. An accompanying text by the artist says the heart is an "abstraction of the V in valium," a reference to women being given valium for "their nerves." Fishman says in the text that she is driven by "the medical stuff, the pain. I have a few single friends that almost lost their minds during the pandemic, they were so isolated from everyone. It's real. The pandemic has caused a lot more distress. So if it feels like love, baby, let's go for it."
The Armory Show is open at the Javits Center until 8 p.m. Friday, noon to 7 p.m. Saturday, and noon to 6 p.m. Sunday. Tickets are $55.