Culture
How late is too late to atone — a requiem for my mother-in-law
An excerpt from Letty Cottin Pogrebin's 'Shanda'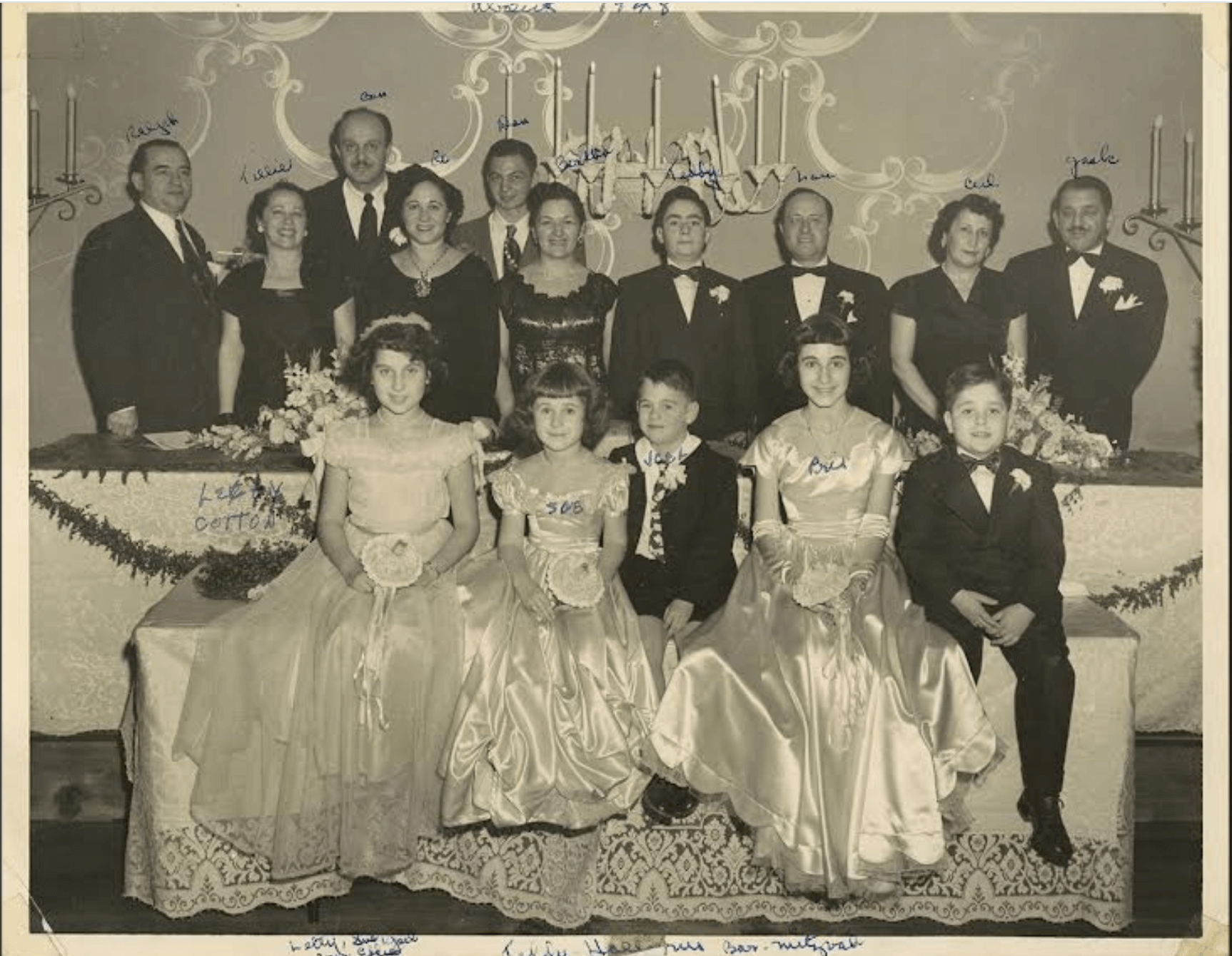 My husband Bert's mother, Esther Pogrebin, was the most unfiltered person I've ever known. Her reactions to the art on your wall, your new hair style, or your opinion of FDR, could fuel a master class in bluntness. Though her cooking repertoire and Yiddish fluency marked her as a member of our tribe, "Jewish" wasn't a religion to Esther, it was an ethnic I.D. Her faith rested in the Communist Party, of which she was a card-carrying member for years, and in her passion for labor union advocacy and left-wing politics in general. She never went to shul and she never observed the High Holy Days. But she did atone for her sins. Once. Even though, she was an avowed atheist.
A few anecdotes will give you an idea of my mother-in-law's style and spirit. When Bert was 5, he hung up one of his father's socks near the dumbwaiter in their Brooklyn apartment building hoping it would pass for a Christmas stocking when Santa came down the chute on Christmas Eve. The sock was still limp the next morning, empty not because his mother wanted to teach Bert he was Jewish and Christmas was for Christians but because religion was the opiate of the masses and his belief in Saint Nick could be its gateway drug.
Esther lived her politics outsized and out loud and expected similar behavior from her children. When the family moved to Roosevelt, New Jersey, a New Deal town based on cooperative principles, she made Bert hand-deliver The Daily Worker to every house by stealthy means, instructing him to tuck the Communist party newspaper inside whatever "reactionary" paper (i.e., The Herald Tribune, The Daily News) was on their lawns after the regular newsboy made his rounds.
Movie houses in Southern New Jersey were still segregated when Bert was a boy, but his mother insisted that they sit in the "Negro Section" which usually were the rows closest to the screen, the least desirable part of the theater.
"Don't make a scene, Ma," Bert would plead as she dragged him down the aisle. "They don't want us here!" But Esther, who'd cut her teeth standing with workers against capitalist exploitation, was damn well going to sit in solidarity with Black people to protest race discrimination. And take her son with her.
Esther never hid her political affiliation; she proclaimed it to anyone who would listen. She collected funds for the Communist Party on the streets of New York. And she never hesitated to defend her radical views at town meetings, even acknowledging her past membership in the CP when she ran for a seat on the Roosevelt Borough Council.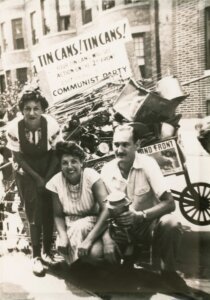 It took guts to be so outspoken at the height of the Red Scare when the FBI was ordering surveillance of union bosses and "Negro agitators" and bugging the phones of leftist Jewish housewives. I often told Esther how much I admired her courage and how grateful I was that her strong views and bold advocacy had prepared her son to accept similar actions and commitments from me, albeit on gender issues. I thought my feminism would, if not align, at least cohabit with her Marxism, but I was wrong. To her eyes, women's mistreatment by men, in the home or on the job, did not qualify as oppression.
I always described my mother-in-law to my friends as a brave iconoclast. I made her prickly personality, ornery moods, and contrarian habits sound quirky, nervy, even charming. I crowed about her ferocity and her fearlessness, never admitting the pain inflicted by her constant criticism of me or my frustration at not being able to please her. Only when I revisit our relationship in my mind, do I feel a rush of anger and hurt, the resurrection of decades of humiliation, and the secret shanda (shame) of my failure to win her love.
I was determined to be the daughter-in-law of her dreams. Five months after Bert and I were married, I invited Esther, her other two kids, her four sisters, and their husbands and children– about 30 people in all – to our apartment for a lox and bagel brunch on Mother's Day. On the first night of Chanukah, I invited the same crowd to a latke party and gave each adult couple a bottle of wine as a take-home favor. For Esther's 70th birthday, I organized a dinner at The National, the fabled Russian restaurant in Brighton Beach, Brooklyn, where she and her sisters and brothers-in-law, all immigrants, tanked up on vodka and feasted on foods they remembered from the Old Country. When she turned 80, I hired a klezmer band with a soloist who knew all the Yiddish songs she loved. And I made sure they brought an extra microphone so she could sing along with the group.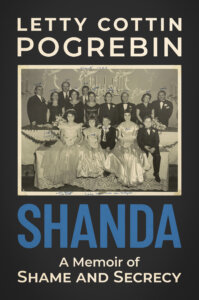 I took care to praise her stuffed cabbage, blintzes and rugelach , wrote down her recipes, asked her to show me how to make them. She never praised my cooking. I called her "Mom" from the day Bert and I got engaged, hoping she would fill the hole my mother left behind after her early death eight years before. Esther refused to be maternal to me; she already had three grown children whose lives she monitored closely; she didn't need another. My sister-in-law, a clinical social worker, hypothesized that her mother always resented me for displacing her in her son's affections. From 1958, when their father died, until I came into their lives in 1963, Bert, a labor and employment lawyer, had called their mother regularly, talked politics with her, described his most interesting cases, and, about once a month, drove out to Roosevelt to sit in her kitchen while she fed him home-cooked meals and town gossip. After Bert and I built a family, it took a very long time for her to accept that her son's wife and three kids, had become his priority.
Her audacity was breathtaking. Days after we moved into our first apartment, she asked for a key so she could come and go unannounced; it was Bert who told her that was a nonstarter. When our twins, Abigail and Robin, were born in 1965, she criticized my childrearing style, how I'd decorated their room, how I dressed them.
On April 17, 1968, a few days after I finished writing the last page of my first book and stacked the manuscript on my desk, I went to the hospital by appointment to deliver our son, David, by C-section. Esther came in from New Jersey to help Bert take care of the twins while I was gone. A week later, I returned home to find that she had "edited" my 350-page manuscript and inserted sentences or crossed out sentences on almost every page. In ink. On the one and only copy of the manuscript. Before I could submit the book to my publisher, I had to retype the whole thing. I wanted to banish her from our lives but how could I excommunicate my children's sole surviving grandmother? The answer is, I couldn't. Nonetheless, when they grew old enough to listen, she began bad-mouthing me to my own kids.
Her ultimate act of unadulterated chutzpah happened in 1972 at a conference hosted by the governor of New Jersey and his state Commission on Women. I'd been invited to be the keynote speaker at the commission's annual conference and since Esther was by then a 30-year resident of New Jersey and a member of the Roosevelt Borough Council, I asked if she would like to come as my guest and sit with me at the governor's table. Expecting her to use the opportunity to buttonhole the state's chief executive and discuss local issues — taxes, traffic, education, air pollution, over-development, I was shocked when I overheard her lobbying him on behalf of the labor movement and ridiculing the women's movement. Mind you, she did this at a conference on women at which I was the headliner. The event organizers had seated her on one side of the governor and me on the other so I couldn't kick her under the table when she started telling him what I was really like.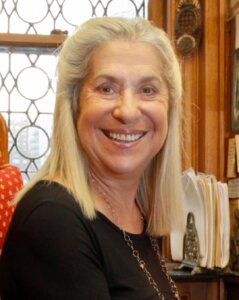 "My daughter-in-law talks like a feminist, she's an editor of Ms. magazine, but behind the scenes, she makes dinner for her husband and costumes for her children."
"MOM! What are you doing?"
"Just telling the truth," she smirked.
Mercifully, that's when a staff member interrupted to say it was time for the governor and me to take our seats on the stage so the program could begin.
Driving back to Roosevelt, I lit into Esther, told her how much I resented her undermining me in public, especially at a feminist event.
"I did not undermine you," she countered. "All I did was tell everyone you were a good wife and mother, and you make dinner and Halloween costumes, which is true. When I last checked, those were compliments."
"Don't be coy. You were implying that I'm a fraud, a housewife in feminist clothing. You were trying to delegitimate my politics."
"I just wanted the governor to know you're not one of those radical libbers."
"Mom! I am one of those radical libbers. I have no problem answering to that label. And it pisses me off when you misrepresent me and distort what the women's movement stands for. I didn't invite you there to tell the governor that I cook and sew."
Esther rolled down her window, lit a cigarette, and exhaled noisily. "I can tell the governor of New Jersey whatever I want."
I flicked on the car radio and swallowed my tears.
Time never softened her tough stance toward me. But I gave up the fight, finally realizing that the best route to amity was empathy. Putting myself in her place, I focused on all the hardships and disappointments she'd endured: The Communist party never recognized her for her work as an organizer or her years of devotion to the cause. The Soviet Union imploded along with her dreams of world revolution. Bert's father, Abe, a hat blocker, was seasonally unemployed. During his down time, he painted houses and took odd construction jobs, like roofing, and they still had to scrimp to pay the bills. Suddenly, in his mid-50s, Abe died of bone cancer, probably from prolonged exposure to the chemicals used in hat factories. Esther made do for a while on his modest life insurance. When the money ran dry, she worked as an aide in a nursery school, then took a clerical job in a local real estate agency. Two cancers, lung and colon, shadowed her later years and when it became too difficult her to manage in the country on her own, she left her home of 40 years, her Roosevelt friends, and the town she loved and helped build, and moved to a senior citizens residence in Manhattan.
Focusing on Esther's harsh life experience made it easier for me to forgive her behavior toward me. I saw how the combination of loneliness, financial insecurity, an empty nest, a failed revolution, poor health, advanced age, and being taken for granted could embitter a person and make her resent someone like me who'd been spared such burdens. Rather than pile on, I simply smiled at her "quirks" and stayed still.
Jokes about mothers-in-law abound because so many people don't like theirs. I, on the other hand, started out feeling wildly enthusiastic about mine and eager for the two of us to be close. I loved Esther's Yiddishkeit, her haimish (homey, folksy) brand of Jewishness, her genuine commitment to the issues she cared about, how sure-footed she was in her analysis of people and power relations. Her politics and passions were as familiar to me as those of my own family members. I admired her; she interested me; I shared her values and I expected her to feel something similar about me.
To my sorrow, the relationship I'd imagined never materialized. For 30 years, her disapproval remained an irreparable dent in the gleaming surface of the family I had created to heal the cracks and fissures in my childhood family. My failure to win my mother-in-law's approbation became my secret shanda. I was ashamed of my inability to make her love me. When my every effort to please her met with rejection or criticism, I became, in my own eyes, unlovable. I hated that my children were witness to my pathetic pandering and my perennial failure. To neutralize the pain caused by her behavior, I transformed her quirks into entertaining anecdotes that amused my friends. I never told anyone how impotent I felt against her provocations or how hurt I was by my inability to crack her shell. I hid the truth because I didn't want my friends to think I'd done something to cause her to reject me. I was afraid they would say, "She sounds like such a terrific woman; why do you think she's not nice to you? What did you do wrong?"
Bert and I were the only ones at his mother's bedside the night she died. To my everlasting amazement, about an hour before she drew her last breath, Esther Pogrebin, 82-year-old curmudgeon, now weak as a wraith, gripped my arm hard, pulled me close, and whispered, "I treated you badly. I'm sorry. You deserved better."
More than a quarter century after her death, my mother-in-law appears to me now and then, sharply etched, opinionated, incensed about something or other, her image conjured by a politically relevant event . The death of Pete Seeger. A fundraiser for the Veterans of the Abraham Lincoln Brigade (Americans who fought in Spain against Franco). The bizarre phenomenon of the word "Red," once a pejorative term for Communists, having become the color code for Republican states.
As the High Holidays approach, I'm remembering a secret wish that embarrasses me because it's so self-referential: I wish I told her before she died that she didn't have to atone because I'd forgiven her long ago. And I wish she had lived a few more years so she could make good on her apology.
Letty Cottin Pogrebin, a founding editor of Ms. magazine, is a writer, activist, and the author of 12 books, most recently "SHANDA: A Memoir of Shame and Secrecy," from which this excerpt has been adapted. © 2022 by Letty Cottin Pogrebin. Published by Post Hill Press. Used with permission.