Culture
In Lena Dunham's latest, a medieval teen gets a girlboss makeover she doesn't need
The 'Girls' creator's adaptation of children's novel 'Catherine, Called Birdy' misses everything that made it a cult favorite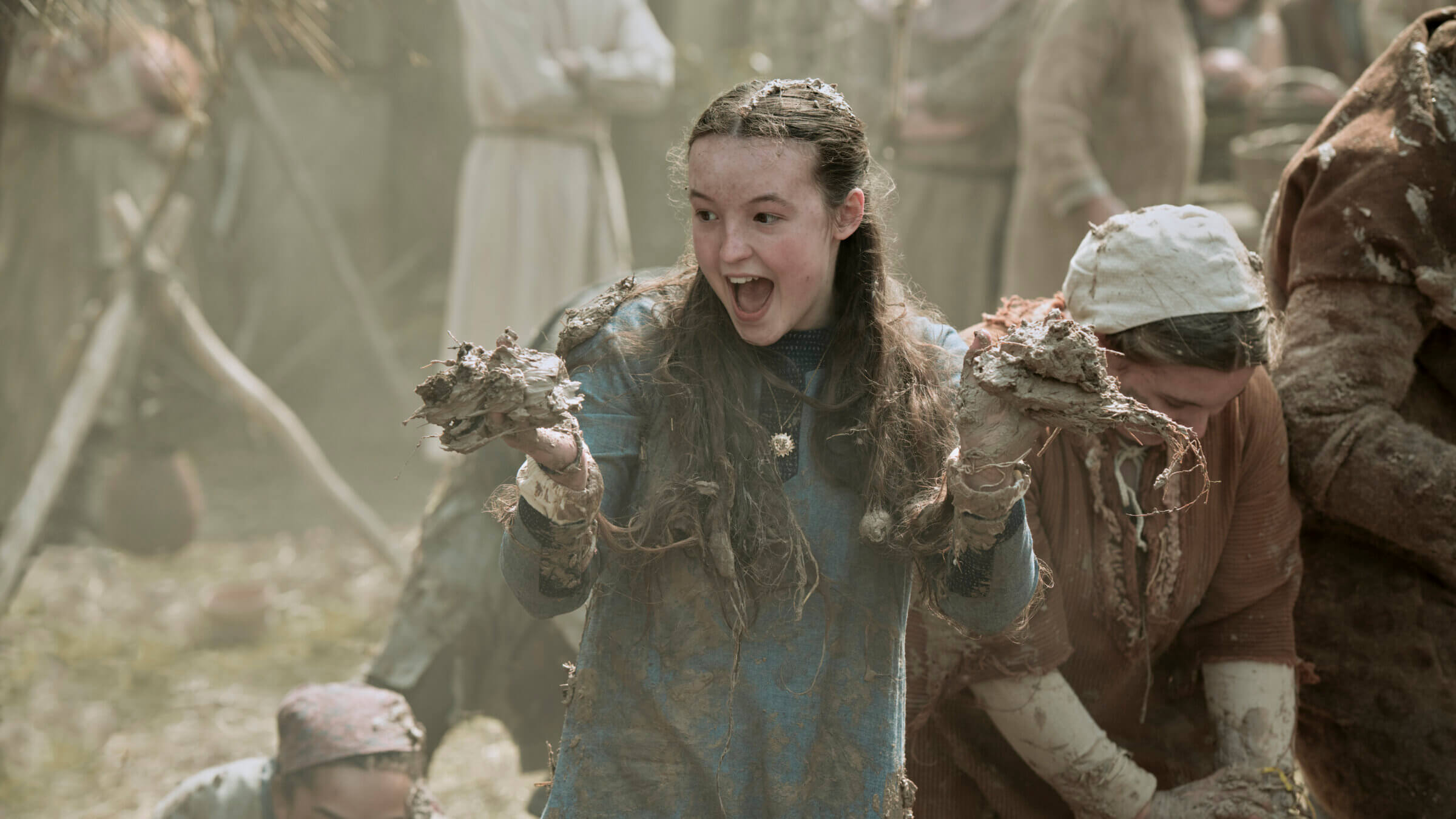 It's 1290, and there are Jews in the great hall. 
They are men, women and children, en route to Flanders after an edict expelled all England's Jews from the country. Seeking shelter from a rainstorm, they've stopped at the ramshackle, nearly bankrupt Stonebridge Manor, where the lord is away and the lady lets them in. Catherine, the 14-year-old daughter of the house known to her family as Birdy, is supposed to stick to ladylike pursuits, like embroidering in her chamber. But she's heard so many stories about Jews. Hoping to catch a glimpse of their "horns and tails," she sneaks into the hall. 
Instead of the monsters she's expecting, Birdy finds an old woman trying to amuse a group of tired and hungry children with fables. One story she tells concerns an exceptionally stupid man who, when told to wash himself, starts looking for "himself" under the bed and behind the chair. Embedded in this silly story, the old woman says, is a lesson. "Know where you yourself are," she tells the children. "How? By knowing who you are and where you come from." 
I was in grade school when my mother first read aloud this chapter from "Catherine, Called Birdy," Karen Cushman's 1994 Newbery Medal-winning children's book. I probably read it to myself a dozen times afterward. But I'd forgotten about the Jews' visit until, just after watching Lena Dunham's lush but lackluster new movie adaptation, I sat down with the book again. 
Birdy, on the other hand, does not forget about the Jews. It makes sense that she would empathize with a people capable of preserving their identity at the moment of their dispossession, because she's facing something of a predicament herself. To remedy the manor's ailing finances, her parents are looking for a groom for their just-barely-marriageable daughter — essentially selling her off to the highest bidder, no matter how loathsome he might be. Birdy is a teenager whose greatest pleasures involve instigating mud fights with local goatherds, but she already understands that in her world, marriage means a total surrender of rights and self.
Told in a series of diary entries, the novel chronicles Birdy's fight to evade matrimony, a charming but superficial narrative the film emphasizes at the expense of a more profound one: her cultivation of a sense of self that will sustain her in the face of a fate that was, for most women of her time, inevitable. There are no Jews in Dunham's adaptation, nor many of the grown-up realities Cushman managed to smuggle into a book for elementary schoolers. By jettisoning these elements, Dunham creates a girlboss fantasy of medieval life that lacks the book's subtle power. 
I first encountered Birdy's story at a time when, like most young female readers, I was assailed daily by frilly and anesthetized stories about virtuous princesses who wore clean clothes and certainly never hid menstrual rags to prevent their father from realizing they'd reached childbearing age. Cushman provided a boisterous and uncensored take on life within this much-vaunted demographic. The more suitors visit the manor, the cleverer Birdy becomes at fending them off. She blackens her teeth to make it look like she has none; she decorates her hair with mouse bones; pretending to be a servant, she slanders herself to one suitor, insisting that Lady Catherine has a stooped back and "pits on her face." Her tactics work — until her father dredges up Shaggy Beard, a lord so aged and disgusting that Birdy's grossness doesn't faze him.
It wasn't just the nastiness and brutishness of life in the medieval gentry that kept my mother and me turning pages, although that was certainly entertaining. ("I am near fourteen and have never yet seen a hanging," Birdy laments at one point. "My life is barren.") It was the adult calamities with which Birdy reckons: Not just antisemitism but forced marriage, miscarriage, and plain old sex. As a child, I puzzled long over one particular episode, during which Birdy begins to suspect that her older brother has impregnated his betrothed before their wedding. "Either the girl has overfed herself on honey cakes or the child is with child," Birdy writes drily. Moments like this made "Catherine, Called Birdy" a book I grew into over years, as the indignities and improprieties I observed in my own world informed my own nascent sense of self.
Beggars for adaptations of idiosyncratic childhood favorites, of course, can't be choosers. I didn't expect the movie to reflect my precise relationship with the book, and I admit to enjoying the 108 minutes I spent at Stonebridge Manor. Dunham, who established herself with "Girls" as a purveyor of ribald realism, is actually a good choice to direct a medieval romp, and she excels at depicting the physical messiness of Birdy's world: When she stumbles home after rolling in the mud at a village cottage-raising, Birdy's harried nurse laments, "And to think I just bathed you a fortnight ago!" Bella Ramsey (known for playing Lyanna Mormont on "Game of Thrones") makes a charming Birdy, her expressions as mulish and her hair as witchy as I imagined as a child. The landscapes are stunning, the robes earth-toned, the anachronistic pop soundtrack (British singer-songwriter Misty Miller is heavily featured) appropriately trendy.
But when it comes to emotional and ethical messiness, Dunham retreats, diluting the harsh and complicated realities that Cushman found sneaky ways to convey. No one impregnates their betrothed in this movie. When Birdy's friend is married off to a seven-year-old boy, he conveniently dies and frees her up for a love match. It's easy to see why Dunham nixed the Jews — the whole expulsion thing wouldn't really go with the vibes.
Nowhere is the film more profoundly inoffensive than in its treatment of one of its most important characters: Birdy's father. In the book, Lord Rollo is a distant and forbidding force, known for hitting his daughter and assessing her marital worth as if she's "a bull bought for breeding." The movie's Lord Rollo (played by Andrew Scott, otherwise known as the hot priest from "Fleabag") dresses in a perplexing array of influencer-chic silk robes and vacillates between charming fecklessness — one reason for the manor's insolvency is his purchase of a live tiger — and a deeply ahistorical reluctance to use his daughter as currency. I won't say exactly how he saves Birdy, but it involves an eleventh-hour change of heart and a very weird duel that turns the movie into a parable of twenty-first century fatherly virtue.
Cushman, by contrast, offers us something very different: a story of how women keep going even when they can't liberate themselves from mercenary fathers or unwanted marriages. By the end of the novel, Birdy has used up all her tricks. She knows that none of the adults in her life are going to save her from a repugnant union with Shaggy Beard. Yet the exercise of recording her life has proved transformative. In her journal, she's crafted a narrative in which her value has nothing to do with the bride price she can command or the children she can bear. Comparing herself to the Jews who took their stories into exile, she writes, "No matter whose wife I am, I will still be me."
After Birdy arrives at this realization, Cushman swoops in with her own deus ex machina, if a more period-appropriate one than Dunham's: Shaggy Beard dies in a convenient brawl, leaving Birdy to marry his son. Sure, she's never met him. But he's "young and clean" and "loves learning," which puts him ahead of all the other suitors she's met. 
When my mother and I arrived at this ending, we were both a little scandalized. Children's novels about spunky and clever heroines, to which my mother gravitated precisely because they provided an alternative to the princess industrial complex, were not supposed to end in arranged marriages, even to clean and learning-loving men. They were supposed to end with the heroine beating the odds to become a queen or a doctor or a problematic suffragist leader. Dunham provides exactly this kind of ending. When the movie's Birdy, now an emancipated woman, leans out of a turret and murmurs plangently, "I wish I could help every girl in the world," one starts to wonder if she is opening a Ye Olde franchise of The Wing.
As an adult rereading "Catherine, Called Birdy," I found myself unexpectedly touched by that ending, and able to see why I came back to the book again and again. An obedient child who, born in medieval times, would have embroidered in my chamber until the end of time, I was always a little overwhelmed by the "Lean In"-style novels I was supposed to read to empower myself. In a literary landscape saturated with stories of girls who beat the odds, it felt more real and more intimate to read about girls whose inner strength sustains them when they can't.
I don't think it's a coincidence that Cushman's novel starts and ends with a naming exercise. In the first chapter, Birdy describes herself in terms that emphasize her captivity: "Daughter of Rollo and the lady Aislinn, sister to Thomas, Edward, and the abominable Robert," and so on. By the end, though she hasn't achieved the right to own property or choose her own groom, she no longer defines herself that way. She's simply "Little Bird or Birdy, of the Manor of Stonebridge in the shire of Lincoln, in the country of England, in the hands of God." 
Like most of us, Birdy can't simply throw away the constraints of her unequal, unjust world. She can change painfully little about her circumstances. But, all by herself, she has changed something. In allowing Birdy's father to save her, Dunham loses track of the quieter, more powerful ways in which Birdy was already saving herself.