Culture
Three months after mass shooting, klezmer band returns to Highland Park
When a shooter opened fire on a Fourth of July Parade, a video of people fleeing past the Maxwell Street Klezmer Band went viral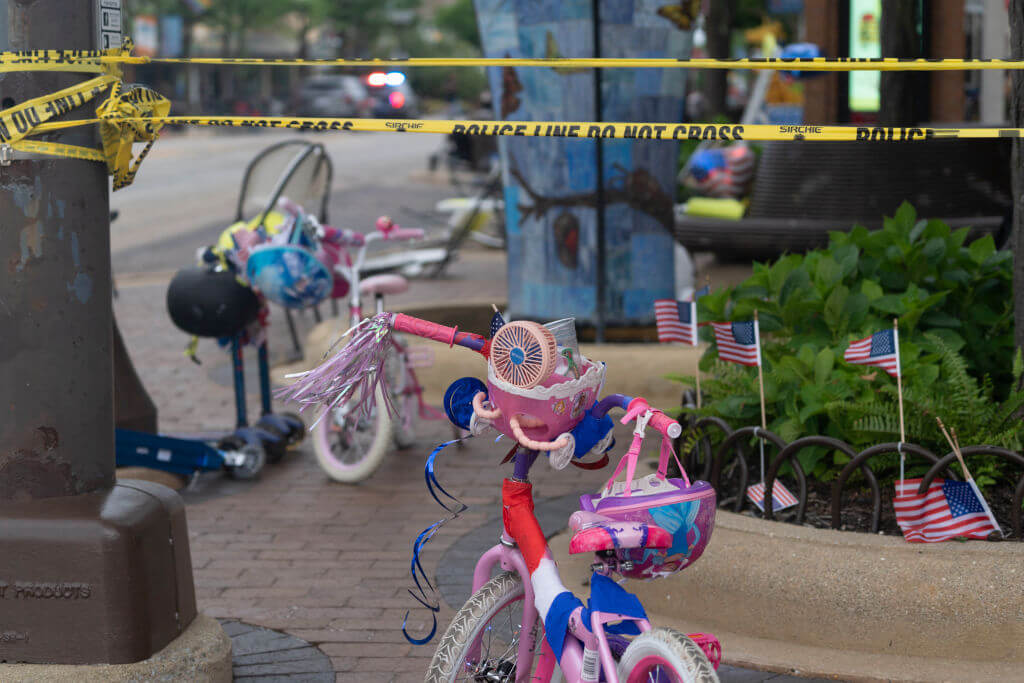 Perched on a flatbed truck decorated with patriotic bunting, the Maxwell Street Klezmer Band launched into an upbeat Yiddish wedding tune. It was the Fourth of July in Highland Park, Illinois, and the band was performing in the town's annual parade, just as it had for the last decade.
Then, the shooting started. Terrified families began fleeing down the parade route toward the band.
"They were screaming, 'Active shooter! Get out of here!'" said Alex Koffman, who was in charge of the band when Robert E. Crimo III opened fire on the July 2022 parade. One of the first videos to emerge and circulate on national news showed the band beginning to play — and then realizing something was terribly wrong.
Because of that video, the Maxwell Street Klezmer Band became an unwitting symbol of the day's events, especially to onlookers aware of Highland Park's high Jewish population and worried that the shooter was motivated by antisemitism.
Three months later, the band is set to perform in Highland Park for the first time since the shooting. An Oct. 23 concert at the town's public library will feature a medley of Yiddish theater tunes, Ukrainian Jewish songs and folk melodies. Lori Lippitz, the band's founder and director, plans to dedicate the concert's final song to the people of Highland Park. 
"We're out there putting music into the world as a positive force," Lippitz said. "If this shut us up, it would be very sad."
My video.. I was at #Highland Park parade.. Terrified people fleeing July 4th parade when shooting started. pic.twitter.com/DSe0NJOuem

— Lynn Sweet (@lynnsweet) July 4, 2022
Founded in 1983, the Maxwell Street Klezmer Band has a longstanding relationship with Highland Park. Lippitz estimated that the band has performed over 1,000 events there, including b'nai mitzvah and weddings. The band has played at the Fourth of July parade for a decade. 
Crimo killed seven people and injured many more, including an 8-year-old boy who became paralyzed from the waist down after a bullet entered his spine. In August, Crimo pled not guilty to 117 felony charges. He faces life imprisonment. Authorities have not discovered an antisemitic motive for the shooting.
For Koffman, a violinist who has been a member of the band for 32 years, returning to Highland Park means revisiting a traumatizing day. Military service in Belarus, where he was born, taught him how to respond to situations like this. When he realized there was an active shooter in the parade, he helped the truck driver navigate to safety without hitting other fleeing parade-goers.
Koffman said he was unable to sleep for several nights after the shooting. But he is happy to return to Highland Park. "It's a very dear place to me," he said. "I hope next year everything will be like it was supposed to be."
Lippitz said that the shooting has made her more cautious about booking events at venues with which she's unfamiliar.
However, she says she won't let the shooting define the band, or its relationship with Highland Park — including the annual Fourth of July performance.
"When Highland Park is ready to resume the parade, we'll be there."