Culture
Professor makes his mark on Black (and Black Jewish) history
World-renowned philosopher has mentored scores of Black and Jewish studies scholars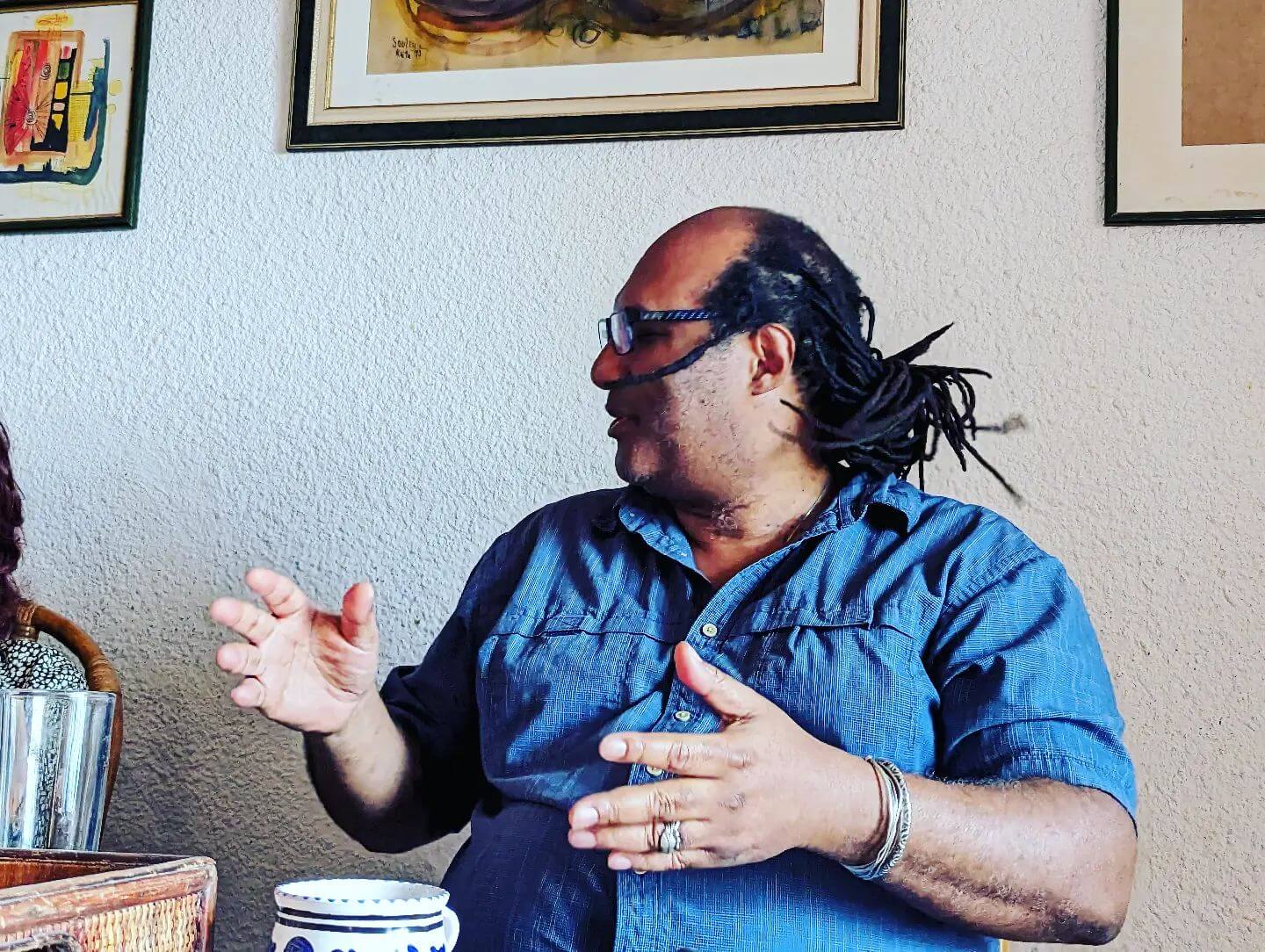 Lewis R. Gordon is a world-renowned philosopher, not a history professor. But his impact on Black history and Black Jewish history in particular has been profound.
The head of the philosophy department at the University of Connecticut, Gordon, 60, previously founded and directed the Center for Afro-Jewish Studies at Temple University. And before coming to Temple in 2004, he created and led the Africana Studies Department at Brown University. 
Along the way, he's mentored scores of students, many of whom have gone on to do serious scholarly work in Jewish studies. One is Walter Isaac, a member of a Hebrew Israelite group not popularly associated with serious academic study. After graduating Yale, Isaac became a research fellow under Gordon at Brown and later followed him to Temple to earn his doctorate.
"He has definitely had a major impact on many areas of intellectual life — including American Judaism."

— Walter Isaac
"I was researching the influence of the Cardozo family in the creation of Rhode Island's Hebrew Israelite communities. I was also looking for mentors to help oversee my doctoral-level research in Jewish studies," said Isaac, who teaches at the University of Tennessee Knoxville and is an ordained Universalist rabbi.
"At that time, most Jewish studies programs — including some heavily funded ones with world-renowned scholars — simply weren't interested in using resources to study the problems faced by either African diaspora populations of Hebrew ancestry," Isaac said, calling Gordon a welcome exception. 
"Dr. Gordon saw the value in the work I was doing. He has definitely had a major impact on many areas of intellectual life — including American Judaism," continued Isaac, who has gone on to produce scholarly works on Hebrew Israelites, as has another of Gordon's Temple proteges, Andre Key of Claflin University.
Along with his classroom progeny, Gordon himself has written extensively about Jews of color, including a 2016 paper in the journal American Jewish History about the subject as an academic discipline, "Rarely Kosher: Studying Jews of Color in North America."
Joining the University of Connecticut in 2013 and becoming the Philosophy Department head seven years later, Gordon also has appointments with the school's departments of Judaic Studies, Caribbean, Latinx, and Latin American Studies, Women's Gender and Sexuality Studies and its Institute for Brain and Cognitive Science.
His seminal work is What Fanon Said: A Philosophical Introduction to his Life and Thought, and he is an expert, if not the expert, on the Black Caribbean existentialist, drawing from his own roots.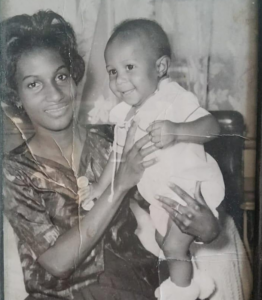 Early Life
Gordon's roots begin in Kingston, Jamaica, where he was born to a Sephardic and Mizrahi mother and a Chinese and African father. Their Jewishness was centered in their home. 
"My family's experience is something I've seen all over the world — it's very familiar in places where you have people who are Jewish in a heavily Christian environment," Gordon said in an interview. "So, we worshipped at home. The prohibitions around food and the way it's prepared, the way you wash the house — the history we talked about — those things were so much part of our identity that we wouldn't call the actions Jewish, or the moment Jewish. It was just a way of life, so natural and normal among my family members."
That sense of normalcy was challenged when Gordon moved to Bronx, New York, at age 9. 
"The way I thought of Jewish people was the way I thought of Jewish Jamaican people," he said. Coming to the states was a rude awakening. 
"You see people who look like some of your relatives, and you talk to them. But they're not talking to you — they're white, you're Black." He didn't understand this new dynamic of "white Jews versus every other Jew. At the same time, I saw people throw pennies at Jewish kids and wondered what that was about. The behavior of white people struck me as very odd." 
He found acceptance with public school teachers who were Jewish but didn't call themselves white. In the eighth grade, a Jewish teacher, Ms. Fierman, gave him a copy of The Autobiography of Malcolm X. 
"I repeatedly came across a seamlessness between Jewish thought and Black thought."
Scholarly pursuits
Determined to understand these dynamics, Gordon steeped himself in Jewish studies, first with his uncles and grandmother, then through varied Jewish political organizations in New York. He earned a bachelor's degree from Lehman College of the City University of New York and two master's degrees and his Ph.D. from Yale.  
"Because I'm also a philosopher, when I go through Jewish studies it's not just about the minutiae, historical events, or complex questions about demography and movement. I also went to the ideas, and I repeatedly came across a seamlessness between Jewish thought and Black thought," he said. 
He has written extensively on Africana and Black existentialism. Many of his 18 books and articles have been reprinted and translated around the world. He's co-authored several works with his wife, Jane Anna Gordon, also a University of Connecticut professor. The couple has two children together and raised four, all adults.
Gordon's latest book, Fear of Black Consciousness, examines the history of racialized Blackness, the resulting problems, and creative responses from diverse communities in contemporary struggles for dignity and freedom. Activist and professor Angela Davis lauded it, saying it reminds us "that the ultimate aim of Black freedom quests is, indeed, universal liberation." 
Gordon said for him, "Black consciousness links to all oppression and that's exactly the kind of Jewishness I was raised in. It was always explained as connected to the ethical, the political dimensions of what it was to be Jewish. His mother, Yvonne Patricia Solomon, was a union activist guided by her unified view of her Jewishness and Blackness. "I was brought up with such a positive Jewish identity connected to fighting for social justice and dignity," he said.
Bruce Haynes, the author of The Soul of Judaism and a professor of sociology at the University of California, Davis, knew Gordon's work before he met the man himself. "Lewis Gordon is a unique, important voice that represents a different kind of conversation about race and identity, and one of the first public intellectuals asserting that his lived experiences as Black and Jewish are both legitimate."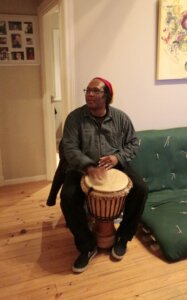 Gordon says he loves the Jewish religion — so much so that he belongs to three synagogues across the hemisphere. 
"Beyond the Hillel centers at the universities in which I have taught, I am an active member of Kehilat Chaverim, Beth Shalom B'nai Zaken Ethiopian Hebrew Congregation of Chicago, and, in Jamaica, Kahal Kadosh Sha'are Shalom. "I'm also welcomed in shuls from Orthodox to Reconstructionist when I visit cities across the country and abroad," he said.
When not mentoring scholars or writing seminal works, Gordon is also a musician, coming of age in New York nightclubs. His musical expressions — playing various instruments across genres as varied as jazz, blues, rock'n'roll, reggae, samba, and Punjabi music — are as wide-ranging as his scholarship, academic achievements and indelible stamp on the histories of his people.  
Correction: This article has been updated to correct the reference to Gordon's adult children, and the year he became the Philosophy Department head at the University of Connecticut.