Film & TV
How Spielberg's Oscar losses paved the way for 'Everything Everywhere All at Once'
'The Fabelmans' ditched the genre trappings that the Daniels embraced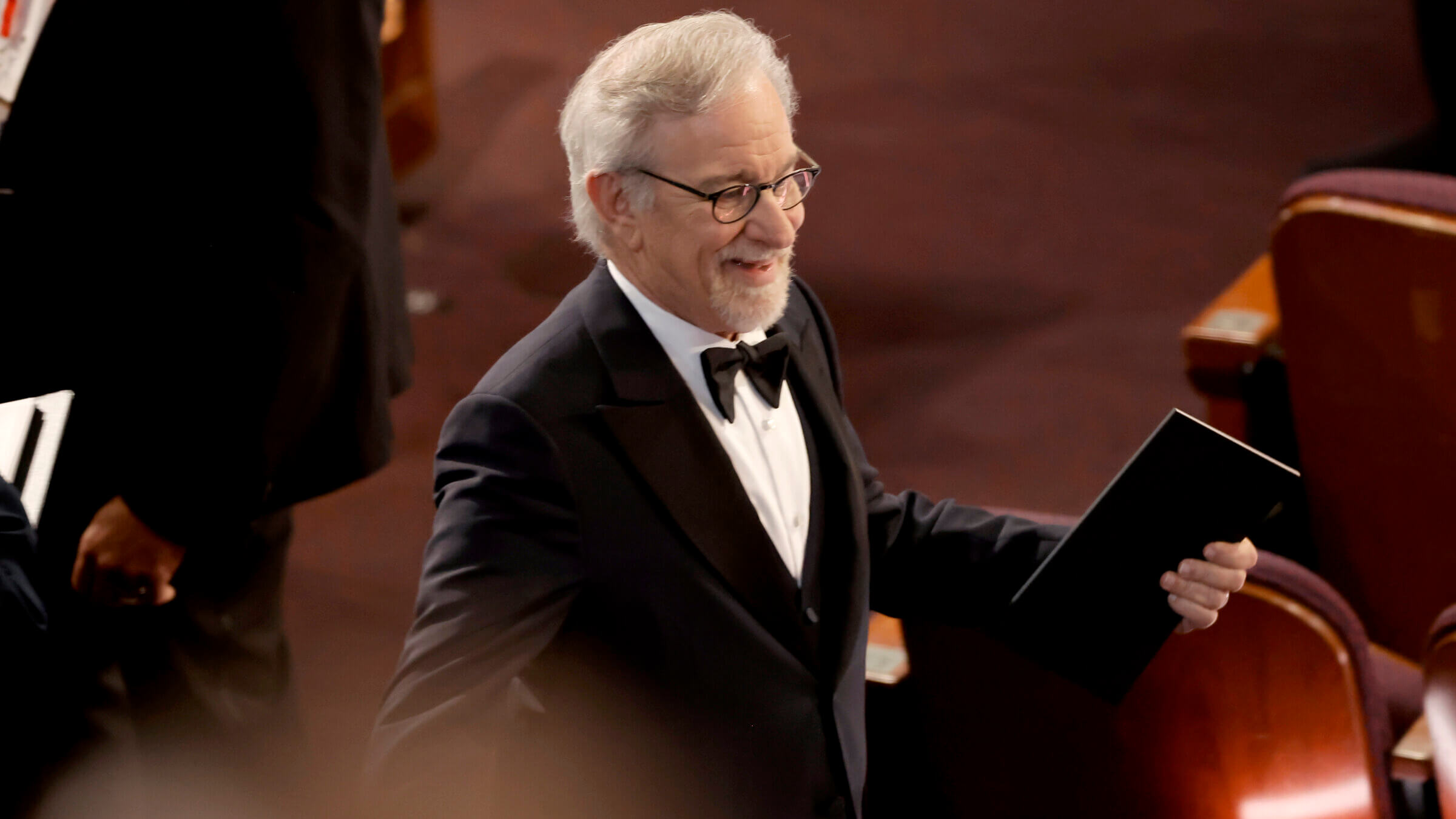 There's an old adage that at awards ceremonies, gentiles thank their god and Jews thank their moms. At least that's what my mom always told me.
But at Sunday's Oscars, everyone, regardless of religious affiliation, was thanking their mothers. It was a theme, as Everything Everywhere All at Once, which director Daniel Kwan pitched as "what if we put my mom in The Matrix?" took home seven Academy Awards.
The film is an ode to an immigrant mother, whose story mirrors not just that of Kwan's mom, but supporting actor winner Ke Huy Quan's as well; both men honored them in their acceptance speeches. Michelle Yeoh, who won best actress, dedicated her win to "all the moms in the world, because they are really the superheroes." 
One person who didn't get to thank his mom was the world's most famous Jewish director.
The Fabelmans, Steven Spielberg's rhapsodic eulogy for his mother, Leah, was shut out, despite winning big at the Golden Globes. In a way, it's a shock. A decorated director telling his life story, freighted with family drama, a socially relevant message about antisemitism, and David Lynch in a cameo as John Ford seems lab-grown for Academy acclaim. 
Profile after profile gushed about how Spielberg was finally ready to be vulnerable, disposing of the scrim of genre that always obscured his autobiography. The Fabelmans was to be Close Encounters of the Third Kind, E.T. or War of the Worlds with all the absent fathers, but none of the aliens. (Or Catch Me If You Can without the cat and mouse or Last Crusade without the Arthurian ghost.)
The gambit should have worked. Spielberg's two directing Oscars were for grounded historical works: Saving Private Ryan was dedicated to his father, Arnold, a World War II veteran. Spielberg's first win was for Schindler's List. The Academy was smart enough to nominate Spielberg for Close Encounters, but gave Woody Allen the win for Annie Hall. Maybe the voters, like Mitzi Fabelman, on acquiring her monkey, needed a laugh that year. E.T., Spielberg's most human film, featuring some of his sharpest direction, lost out to a more typical Oscar pick, Richard Attenborough for Gandhi. 
It's hard not to walk away from Sunday's ceremony without feeling like the ground has shifted, and not just because more creators of color are receiving their belated due. 
The Daniels, whose trippy opus gleans inspiration from anime, Golden Age musicals, martial arts, Hong Kong cinema and theater of the absurd, was the darling in a race that is usually stodgy and risk-averse. Poaching one of Spielberg's actors (Ke Huy Quan got his first gig playing Short Round in Indiana Jones and the Temple of Doom), flipped through a trope rolodex to tell an intimate story about mothers, daughters and dreams deferred. Was it a move they learned from Spielberg?
At the DGA Awards, Daniel Scheinert named Spielberg as one of the "storytellers and filmmakers that inspired this movie, that we ripped off."
It was kind of an odd statement, given that the film seems more indebted to the Wachowskis and Wong Kar-wai than anything Spielberg made. That is, unless we accept that Spielberg demonstrated something more essential to the film's success. He laid out a template for telling a personal story through genres the Academy often dismissed, and, in winning for "serious" films, primed the pump for the day they'd be accepted.
With The Fabelmans mostly foregoing conventions he made famous, Spielberg made a film that is not only rather pedestrian, but something rarer — a Spielberg film that has red in the ledger. It's no wonder he took notice of the Daniels' ability to take his formula even further.
"I learn actually more from young filmmakers today than I do from some of the older filmmakers," Spielberg said at the Berlinale, citing the Daniels' "amazing, genius work."
But then, parents often say it's their children who end up teaching them. It's not a stretch to say Spielberg was one of the many mothers of their invention.