Fast Forward
ADL calls for advertiser boycott of Tucker Carlson's show on Fox News
The ADL linked their call to Carlson's promotion of the antisemitic 'replacement' conspiracy theory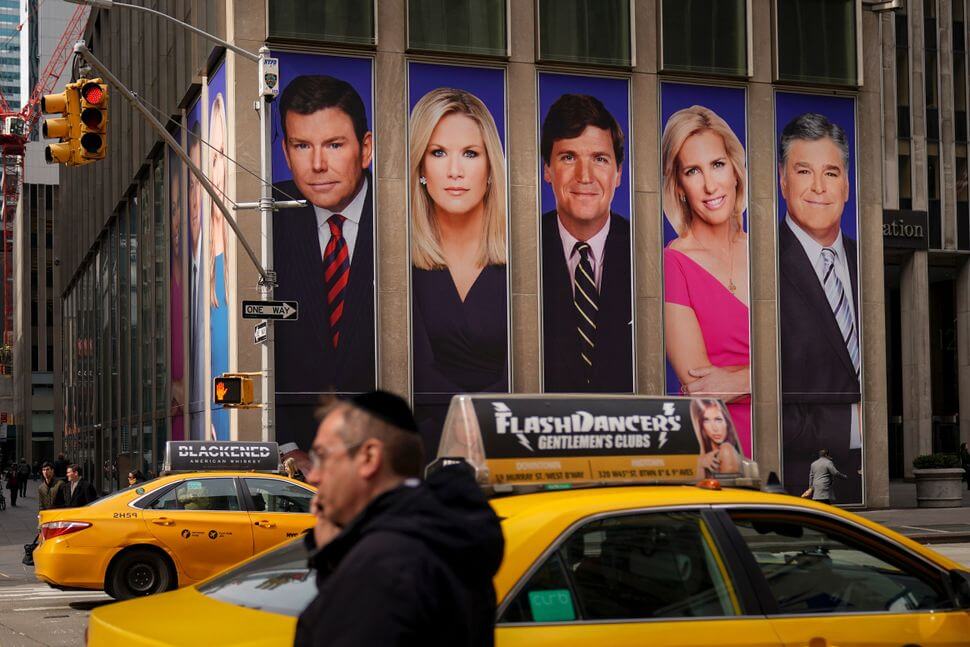 Speaking to the World Federation of Advertisers on Tuesday, Jonathan Greenblatt, the head of the Anti-Defamation League, called on advertisers to boycott "Tucker Carlson Tonight," the right-wing Fox News television talk show.
The call for a boycott follows Carlson's promotion of the antisemitic "replacement theory" — the conspiracy theory that Jews are orchestrating a replacement of white Americans with nonwhite immigrants — in a primetime segment earlier this month. The "Great Replacement Theory" has been traced by anti-extremism watchdogs to incitement of numerous white supremacist attacks, including the 2018 Tree of Life Synagogue shooting, and drew headlines in 2017 when "Unite the Right" protestors marched through Charlottesville, Va., chanting "Jews will not replace us."
In his remarks on April 8, Carlson asserted that the Democratic Party is "trying to replace the current electorate" in the United States with "new people, more obedient voters from the Third World." His statement led Greenblatt the following day to take the unprecedented step of calling for his ouster in an open letter to Suzanne Scott, the chief executive at Fox.
Four days later, on April 13, Fox responded to the ADL's letter, saying they will not be firing Carlson over his remarks. Lachlan Murdoch, in a letter to Greenblatt, claimed that a "full review" of the segment shows Carlson did not intend to support replacement theory, and was instead speaking about voting rights.
In speaking to the World Federation of Advertisers this week, Greenblatt condemned that explanation as disingenuous. "I can assure you that Carlson's message was not lost on those white supremacists and bigots who are now applauding him for embracing their talking points," Greenblatt said. He asserted that corporations that advertise have a "distinct and powerful voice in what information networks" allow on their platforms.
"You can hold them accountable like few other actors in society because your dollars are the fuel that enables their business model," Greenblatt said. "So, I'll close with a challenge to you: Commit to this fight. Choose a side."
Greenblatt explained that while the First Amendment does guarantee talk show hosts like Carlson the right to "espouse fringe theories," advertisers can play an important role in "keeping them on the fringe."
Greenblatt's rebuke of the anchor saw varied responses from leaders of the Jewish community. Coalition for Jewish Values, a group that claims the membership of 1,500 Orthodox rabbis, signed a letter supporting Carlson against the ADL's accusations. President of the Union for Reform Judaism Rabbi Rick Jacobs, on the other hand, said in a tweet that the "overwhelming majority of North American Jews support [Greenblatt's] principled stand" against Carlson.
Carlson's show frequently draws as many as three million nightly viewers on average, making it the top most-watched hour of cable news as recently as late March.
In previous instances, his high ratings have seemed immune to ad boycotts. In June 2020, advertisers fled the show following his repeated derision of Black Lives Matter protesters as "criminal mobs," but this viewer numbers stayed steady, the New York Times reported at the time.