Fast Forward
ADL chief compares 'radical left' critics of Israel to right-wing extremists
'These radical actors indisputably and unapologetically denigrate and dehumanize Jews,' says ADL chief Jonathan Greenblatt, singling out groups such as Jewish Voice for Peace and Students for Justice in Palestine.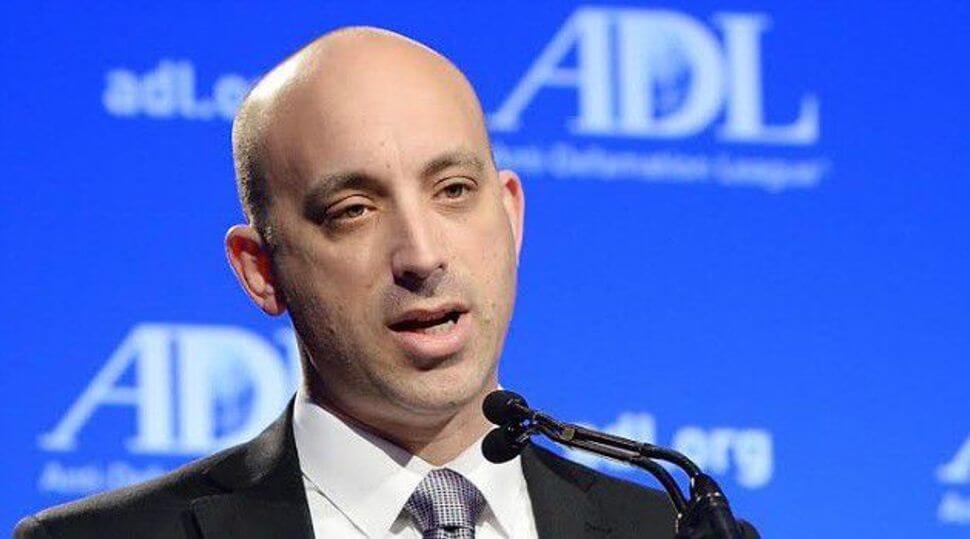 This article originally appeared on Haaretz, and was reprinted here with permission. Sign up here] to get Haaretz's free Daily Brief newsletter delivered to your inbox.
WASHINGTON – Anti-Defamation League Director Jonathan Greenblatt on Sunday delivered his sharpest criticism yet of far-left critics of Israel, drawing direct comparisons to right-wing extremists his organization has spent decades monitoring.
Greenblatt accused "radical left" groups such as Students for Justice in Palestine, Jewish Voice for Peace and the Council on American-Islamic Relations as being the "photo inverse" of the extreme right.
"Unlike their right-wing analogs, these organizations might not have armed themselves or engaged in an insurrection designed to topple our government, but these radical actors indisputably and unapologetically regularly denigrate and dehumanize Jews," Greenblatt said, speaking at the ADL Virtual National Leadership Summit.
Anticipating an adverse reaction to his comparison, Greenblatt noted that "some will claim that putting these groups in the same category as right-wing extremists somehow makes ADL anti-Muslim or anti-Palestinian." He dismissed this as "a lie as toxic and false as the claims by alt-right bigots that calling out their extremism makes ADL anti-Christian or anti-white."
He slammed members of Jewish Voice for Peace for attempting to "use their Judaism as a shield," saying that "undoubtedly there are many among their ranks who genuinely do not intend to be antisemitic, who think their activism is rooted in their Jewish values. But neither their identity nor their intent relieves them of responsibility for their actions."
Greenblatt highlighted the ADL's recent audit, which found that antisemitic incidents in the United States reached a record high in 2021. He cited the "greatest hits of antisemitic rhetoric," including conspiracy theories, unfounded Holocaust analogies and blaming Jews for killing Jesus, while also stressing that anti-Zionism is antisemitism.
"Antizionism as an ideology is rooted in rage. It is predicated on one concept: the negation of another people, a concept as alien to the modern discourse as white supremacy," he said. "It requires a willful denial of even a superficial history of Judaism and the vast history of the Jewish people. And, when an idea is born out of such shocking intolerance, it leads to, well, shocking acts."
In the audit's findings, published last week, the ADL highlighted a "substantial surge" in reported antisemitic events during the May 2021 war between Israel and militant groups in the Gaza Strip, while noting that anti-Israel sentiment did not account for most of the 2021 incidents.
Greenblatt accused Students for Justice in Palestine and Jewish Voice for Peace of calling for more homicidal violence amid the recent wave of terror attacks in Israel, stressing their calls to "globalize the intifada."
He also dismissed criticizing "Zionism" instead of "Jews" as a rhetorical technique pioneered in the 1950s by Soviet disinformation specialists. "It was propaganda and prejudice then, it is propaganda and prejudice now – even if the lies today are repeated by DSA [Democratic Socialists of America] boosters rather than 1950s Kremlin supporters," he said.
Greenblatt said the ADL, dedicated to stopping the defamation of the Jewish people, "must act against the antizionist extremists just as we have against other extremists from the white supremacists and alt-right ilk." He added that his organization "will apply more concentrated energy toward the threat of radical antizionism."
He also alluded to pushing the Biden administration to combat these groups, saying that the ADL will demand that it "speak out against all expressions of antisemitism, whether it is coming from QAnon or SJP or from the Islamic Republic of Iran – far and away the largest state sponsor of antisemitism and terror in the world."
While Greenblatt's comments are his most pointed to date, it is not the first time he has used an official ADL summit to take on antisemitism from the left. Last November, he compared such antisemitism to climate change, singling out Irish author and BDS supporter Sally Rooney; the Sunrise Movement's D.C. branch, which called for the removal of three progressive Jewish groups from a voting rights march; and Democratic lawmakers opposed to emergency funding for Israel's Iron Dome defense system.
"This latest attack by the ADL is proof of their desperation to prevent any accountability of Israel's apartheid regime," Jewish Voice for Peace Executive Director Stefanie Fox said, adding "for years, the ADL has been losing support from human rights organizations, American Jews and the progressive movement."
"Instead of dismantling antisemitism by fighting white supremacy," Fox continued, "the ADL is abandoning even the pretense that it is a civil rights organization and declaring all out war on defenders of Palestinian human rights."
This article originally appeared on Haaretz, and was reprinted here with permission. Sign up here] to get Haaretz's free Daily Brief newsletter delivered to your inbox.