Fast Forward
The bountiful conspiracies about Hitler's Jewish blood
Most of the claims about 'Hitler's Jewish blood,' repeated Sunday by Russian Foreign Minister Sergey Lavrov, arise from the fact that the identity of his paternal grandfather is unknown. The answer to that question seems to have been buried with his grandmother.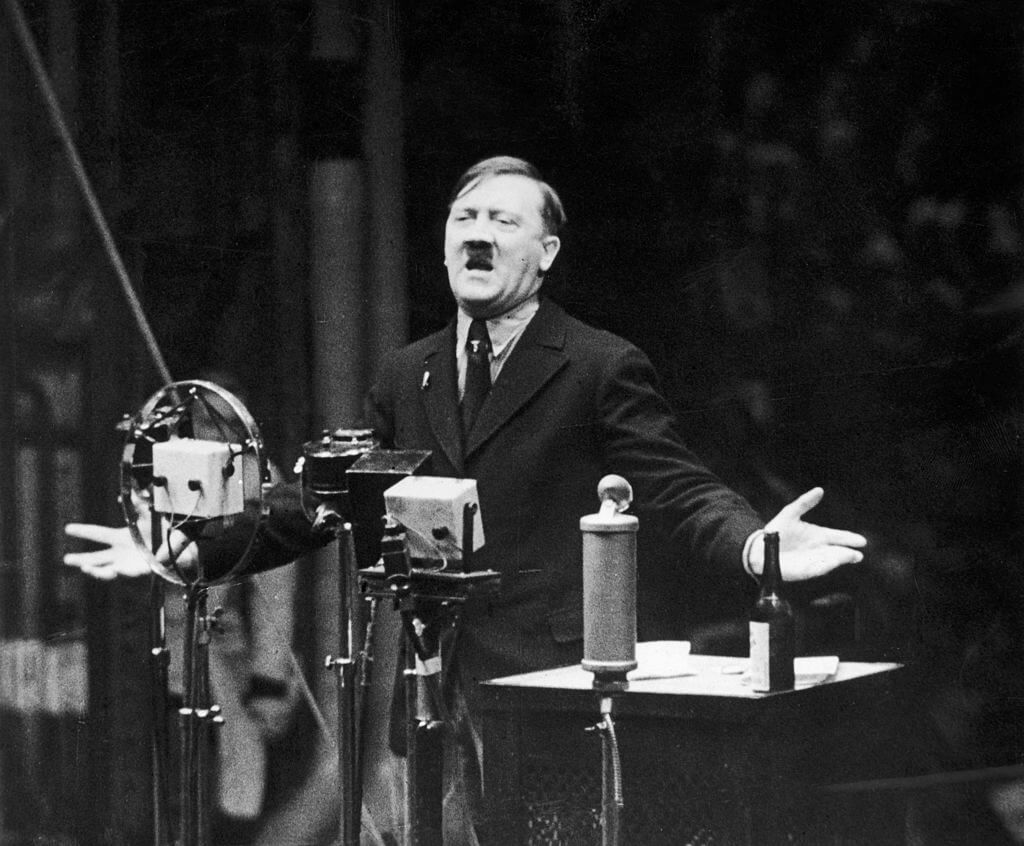 This article originally appeared on Haaretz, and was reprinted here with permission. Sign up here to get Haaretz's free Daily Brief newsletter delivered to your inbox.
Russian Foreign Minister Sergey Lavrov caused outrage Sunday when he declared that "Hitler had Jewish blood." Speaking on Italian television, he said of Ukrainian President Volodymyr Zelenskyy: "So what if Zelenskyy is Jewish? The fact does not negate the Nazi elements in Ukraine. I believe that Hitler also had Jewish blood. It means absolutely nothing. The wise Jewish people said that the most ardent antisemites are usually Jews. Every family has its black sheep, as we say."
There is no historical proof of Hitler's supposed Jewish heritage, but conspiracy theories that emerged before World War II have occasionally resurfaced this century. These theories generally arise from the fact that Hitler's father was born out of wedlock and we do not know who his paternal grandfather was.
Munich cafés in the 1920s were rife with rumors that Hitler's grandfather was Jewish. In the '30s, these allegations received greater prominence mainly due to newspapers looking for sensational stories following the Nazis' rise to power in 1933.
At the heart of these rumors was an assumption that the origin of the name "Hitler" was Jewish, and that a Jewish family of that name resided in the Romanian capital of Bucharest.
According to another theory, Hitler's father was born as a result of a sexual tryst between a member of the Viennese branch of the Rothschild family and a non-Jewish servant woman.
However, the debate about Hitler's alleged Jewish ancestry really began in earnest after the end of World War II.
One of the protagonists spreading the theory was war criminal Hans Frank, who had headed the General Government in Nazi-occupied Poland. In his memoirs, published after he was executed in October 1946, he claimed that in the late '30s Hitler showed him a letter from a nephew who threatened to reveal that the führer had Jewish blood.
Frank also claimed that, on Hitler's orders, he had begun to research the roots of his family and found that his paternal grandmother, Maria Anna Schicklgruber, gave birth to a child while working as a cook at the home of the Frankenbergers – a Jewish family from the Austrian city of Graz.
According to this theory, the child was Adolf Hitler's father, Alois.
The allegation was that a member of the Frankenberger family had gotten Hitler's grandmother pregnant and the Jewish family paid her maintenance until the son reached the age of 14. Frank claimed that letters exchanged between Hitler's grandmother and the Frankenberger family offered proof of this.
He also claimed that Hitler told him he had heard from both his grandmother and his father that his grandfather was not actually a Jewish man from Graz. Hitler, he said, told him that because his grandmother and her future husband were poor, they persuaded the Jewish man to believe he was the child's father in order to receive his financial support.
The problem with this testimony is that Hitler's grandmother died before he was born, so he could not possibly have heard this from her.
Historians claim that the entire story is illogical since the Jews of Graz were expelled from the city in the 15th century and only returned around 1860 – more than two decades after Hitler's father was born. In other words, at the time when a Jewish man from Graz was supposed to have impregnated Hitler's grandmother, there were no Jews in Graz.
However, in 2019, Jewish psychologist Dr. Leonard Sax claimed that he was in possession of information that contradicted this and that a small Jewish community resided in Graz even before this time.
Still, even if this is true, there is no proof that a Jewish family by the name of Frankenberger lived in the city. A family with a similar name, Frankenfurter, lived in the city but was not Jewish. Furthermore, there is no proof that Hitler's grandmother was ever in Graz, and there is no documentation connecting her and a family of that name. Neither is there any proof that Hitler's nephew tried to blackmail him or threatened to reveal his "Jewish roots."
So, who was Hitler's real grandfather and who impregnated his grandmother? This is a question without an answer. His father Alois was born in 1837 as the illegitimate son of Maria Anna Schicklgruber, who was 42 at the time. The father's name was left empty on his baptism documents.
Five years later, his grandmother married a man by the name of Johann Georg Hiedler. Hitler's grandmother died in 1847, and it seems she took the answer of who Alois Hitler's father was with her to her grave.
Alois Hitler was adopted by Johann's brother, Johann Nepomuk Hiedler. In 1876, when he was 39, he changed the family's name and adopted the surname Hitler, which was similar to that of his grandmother's husband, Hiedler. He also had documentation forged so he would be registered as Hiedler's legal son.
Various claims have been made over the years that Hitler had Jewish blood. Among other things, it was reported that Nazi supporters claimed Hitler was Jewish as an attempt to provide an explanation for their defeat in World War II.
Other reports claimed that Hitler's persecution of the Jews resulted from feelings of shame about his partial Jewish ancestry. The bottom line, though, is that there is no historical proof for any of this.
This article originally appeared on Haaretz, and was reprinted here with permission. Sign up here to get Haaretz's free Daily Brief newsletter delivered to your inbox.