Fast Forward
Israeli police to investigate officers' conduct at journalist's funeral
Video footage showed officers attacking mourners with batons, nearly causing pallbearers to drop coffin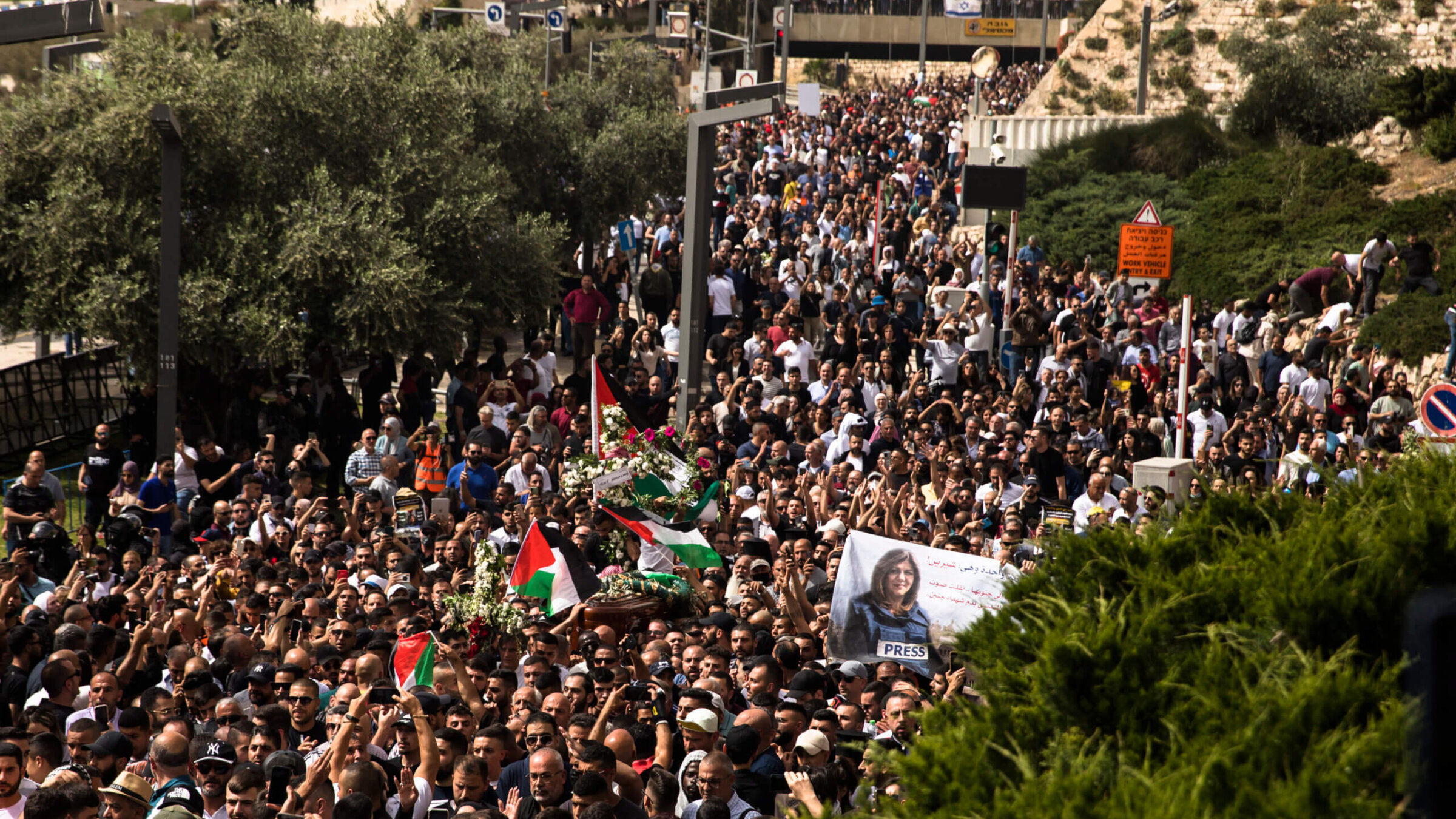 This article originally appeared on Haaretz.com. 
Israel's police commissioner ordered a probe on Saturday into police actions during clashes that erupted at the funeral of Al Jazeera journalist Shireen Abu Akleh a day earlier.
Police Commissioner Kobi Shabtai, in coordination with Public Security Minister Omer Bar-Lev, demanded that the results of the investigation be presented to him in the coming days.
The probe will focus on the preparations made by police ahead of the funeral, and will examine what triggered the violence towards the officers and the level of force used by police. Police sources said that they supported the officers' conduct at the funeral, but that they will work to learn from the incident.
Bar-Lev said on Saturday that the police "acted yesterday in order to allow the funeral procession of the journalist Shireen Abu Akleh to take place properly, in coordination with her family and out of a clear understanding of the sensitivity and complexity of the event."
He added that, "unfortunately, during the funeral, serious violence broke out on the part of the participants that caused the situation to deteriorate." The investigative team that Shabtai has assembled, Bar-Lev said, "will carry out a thorough investigation over the next 24 hours of what occurred during the funeral."
On Friday, Abu Akleh's funeral procession was marred by clashes between police and mourners after hundreds of people gathered outside the hospital where the procession began. Many of them flying Palestinian flags and chanting what police dubbed "nationalistic incitement calls."
Television footage from the procession shows Israeli officers striking mourners who were carrying Abu Akleh's casket with batons. At least 10 people required medical assistance, and the police said six rioters were arrested for attacking officers during the procession.
Following the funeral, the Biden administration issued a particularly harsh rebuke of Israel. U.S. Secretary of State Antony Blinken said the U.S. was "deeply troubled by the images of Israeli police intruding into the funeral procession of Palestinian American Shireen Abu Akleh," adding "every family deserves to lay their loved ones to rest in a dignified and unimpeded manner."
Blinken's rebuke came shortly after U.S. President Joe Biden said "I don't know all the detail, but I know it has to be investigated" when asked about Israeli forces' action at the funeral.
Israel's Regional Cooperation Minister Esawi Freige of Meretz condemned the police's conduct saying it "marred the memory and funeral of Shireen Abu Akleh today," and that attempts to confiscate the Palestinian flags at the event led to an unnecessary "flare-up."