Fast Forward
Palestinian-American student snubs Blinken at Georgetown graduation to protest killing of Al Jazeera journalist
The student was carrying a Palestinian flag to honor Palestinian-American journalist Shireen Abu Akleh, who was shot to death while covering an IDF raid in the West Bank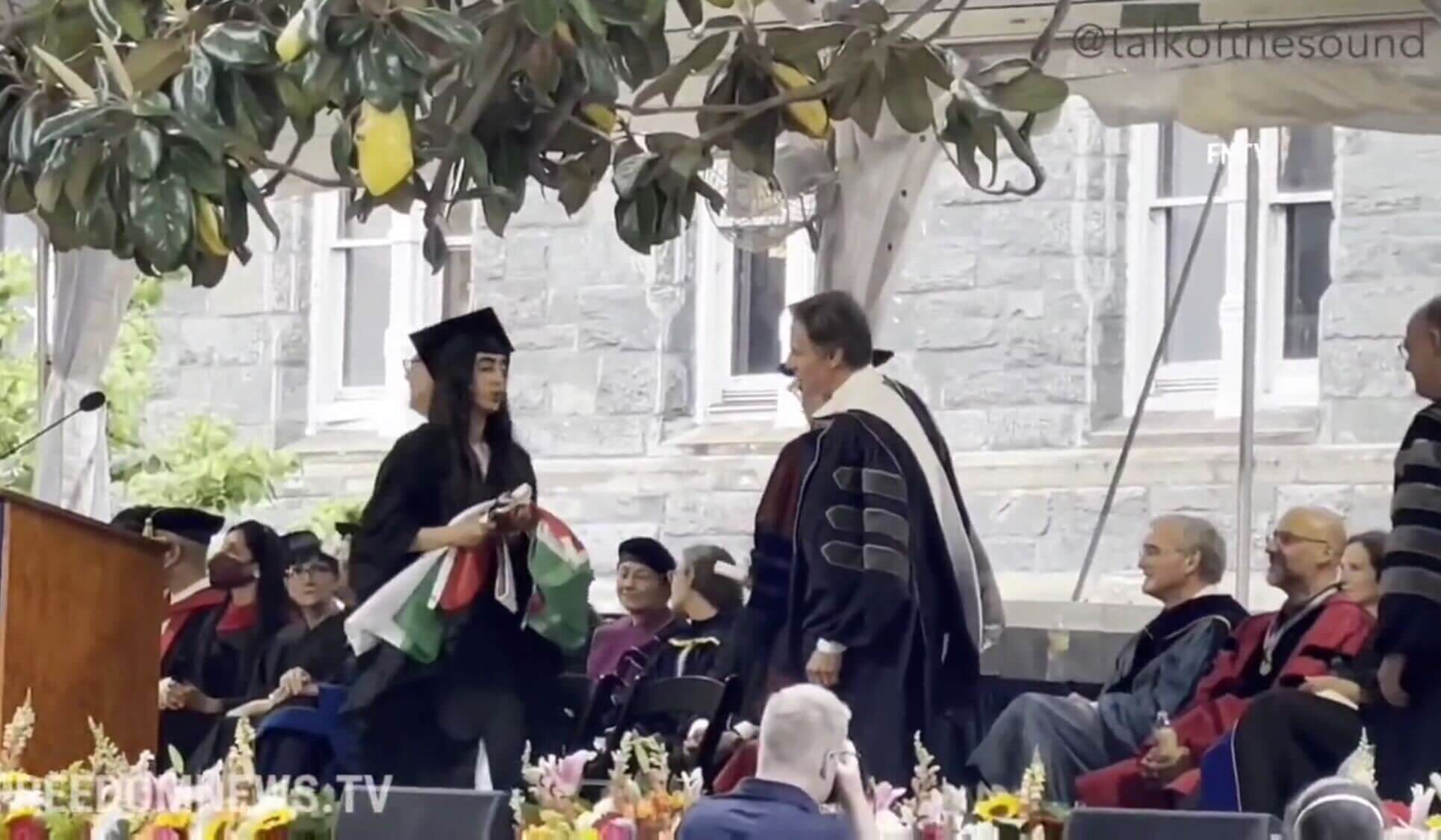 A Georgetown University student carrying a Palestinian flag refused to shake the hand of Secretary of State Antony Blinken Saturday after she received her diploma.
Video of the scene shows the graduate, identified as Nooran Alhamdan, shaking her head as Blinken reached out to shake her hand. She then shook the hand of another person on the dais. Blinken delivered the commencement address for the 2022 class of the Walsh School of Foreign Service at Georgetown University in Washington, D.C.
@FreedomNews tweeted that Alhamdan had withheld her hand to honor Palestinian-American journalist Shireen Abu Akleh, who was killed on May 11 while covering a raid in the occupied West Bank for Al Jazeera. Palestinian authorities say she was shot by an Israeli soldier. Israel has said that it is unclear whether the bullet came from an Israeli soldier or a Palestinian militant. The veteran journalist is now honored as a martyr to the Palestinian cause. Her funeral became a political event, and was disrupted by Israeli police.
Palestinian American student carried the Palestinian flag and refused to shake the hand of US Secretary of State Blinken during a graduation ceremony, in honour of slain Al Jazeera journalist Shireen Abu Akleh

Video by Robert Cox TalkOfTheSound (FNTV https://t.co/RkvKn04ZzY) pic.twitter.com/o7OhUYqgA2

— FreedomNews.Tv FNTV (@FreedomNTV) May 24, 2022
Blinken spoke with the family of Abu Akleh after condemning Israel's use of force at her funeral and offered U.S. support.
The Palestinian Authority has refused to cooperate with Israel in a joint inquiry or turn over the bullet from Abu Akleh's body.
The student tweeted after the event that she was "proud to have refused" Blinken's handshake "and to have reminded" him of the Palestinians' cause.
"They have the tanks, we have the clocks." This motto taught to me by one of my most supportive professors at Georgetown. @SecBlinken justice for Shireen Abu Aqleh and all Palestinians. I am proud to have refused your handshake and to have reminded you of our existence. https://t.co/NbUrbL1KZX

— Nooran A. (@nooranhamdan) May 22, 2022
She also posted pictures of several other students with keffiyehs draped around their shoulders and holding up posters that read: "Resistance until liberation and return. We honor martyr and journalist Shireen Abu Akleh."
Last week, a group of 57 members of Congress, making up 25% of the House Democratic caucus, signed a letter to Blinken and FBI Director Christopher Wray urging an independent investigation into the killing of Abu Akleh.