Fast Forward
Nonprofit: Feds should continue to monitor antisemitism at NYU
The Biden administration could soon decide that the university has adequately addressed problems raised by Jewish students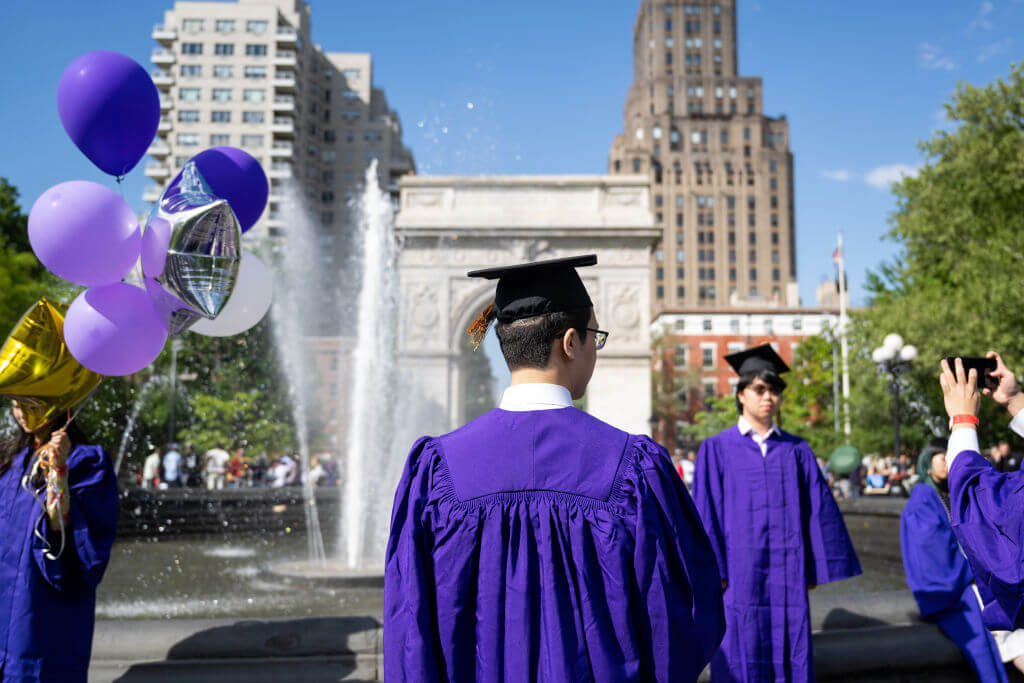 Editor's note: This story was updated on June 1 to include NYU's response.
The U.S. government could soon stop monitoring New York University's efforts to ensure its Jewish students are protected from antisemitism, but a nonprofit says NYU hasn't fulfilled its responsibilities to those students and should continue to be watched. 
"Permitting NYU to bypass its obligations by ending the monitoring period at the end of the academic year would signal to Jewish students that the Dept of Ed is not serious about protecting Jewish students from harassment and discrimination that targets them on the basis of the Jews' shared ancestry and ethnicity," the nonprofit Brandeis Center wrote to the U.S. Department of Education on Tuesday.
An NYU spokesman called the Brandeis Center's assertions "inaccurate and misleading."
The monitoring period began in 2020, after a Jewish student, Adela Cojab, filed a civil rights complaint of discrimination with the Education Department on the basis of her ethnic and ancestral identity, including her support of Israel. In a settlement agreement with the department's Office for Civil Rights, NYU agreed to beef up its programs to combat antisemitism.
The university at the time also agreed to address not only traditional antisemitism but discrimination related to anti-Zionism.
Such monitoring agreements are typically reviewed after the date of their last reporting requirement to the department, in this case, May 31 of this year.
NYU spokesman John Beckman said in a statement that the school has fulfilled its obligations under the monitoring agreement. It "met every mutually-agreed upon deadline; annually submitted reports to OCR about student conduct cases involving discrimination or harassment; and submitted its proposed revisions to its non-discrimination and anti-harassment policy for OCR's review and approval on time, promptly adopted the approved version, and sent it to everyone on campus nearly a year ago," he said.
The U.S. Department of Education did not immediately respond to inquiries about the Brandeis Center's letter.
Kenneth Marcus, chair and founder of the Brandeis Center, said in an interview that although NYU took some "good steps" and issued some "strong statements," it did not fulfill all its responsibilities under the agreement and antisemitic incidents at the university have continued. 
Marcus, who served as assistant secretary for civil rights in the U.S. Department of Education at the time the settlement was brokered, had been cheered by pro-Israel and other Jewish groups for protecting Jewish students. But he had also been accused of giving preferential treatment to Zionist groups. 
"Very few cases have received this level of attention from the United States, which is why it would send a bad signal for the administration to drop the monitoring before the monitoring is done," Marcus said in an interview.
Beckman touted the university's record in his statement. "NYU — which has built what many consider to be the most prominent academic presence in Israel of any major US research university — utterly rejects anti-semitism, and is a leader in combatting it on campus," his statement continued.
"In fact," the statement continued, "this spring NYU's president acted as host for a summit of university presidents sponsored by Hillel International, the American Jewish Committee, and the American Council on Education on preventing and responding to campus anti-semitism, at which NYU's Blueprint for Preventing and Addressing Antisemitism was distributed."