Fast Forward
Pennsylvania GOP gubernatorial nominee Doug Mastriano once likened gun control to Nazi policies before the Holocaust
In the wake of the mass shooting at a Texas school, blue states are trying to make it harder to buy assault weapons and other guns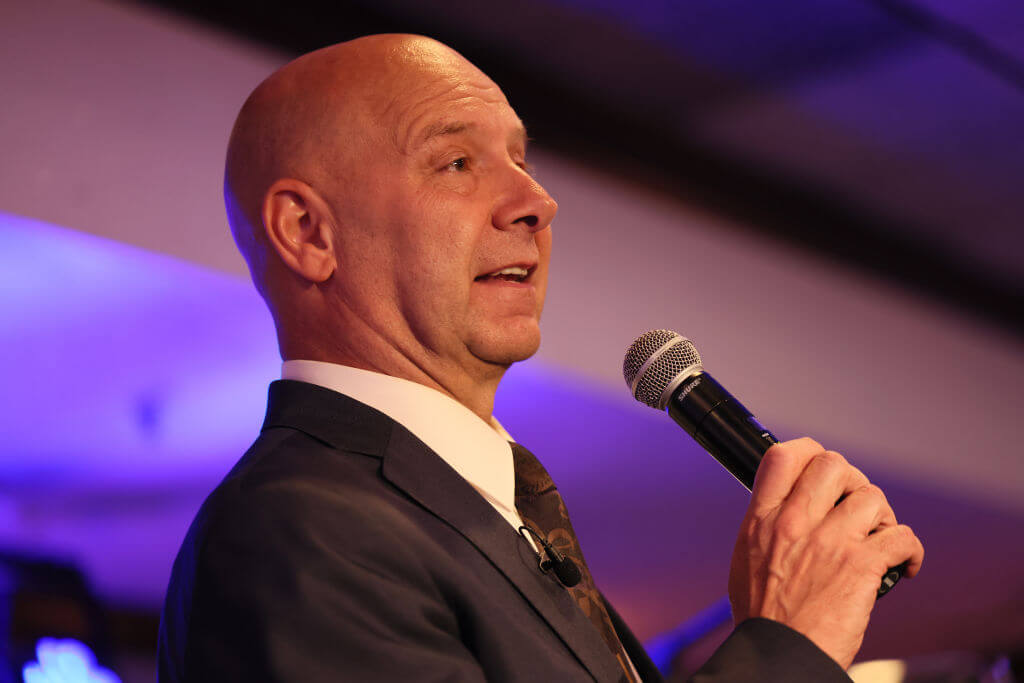 Douglas Mastriano, the Republican nominee for Pennsylvania governor, has in the past invoked Nazi-era analogies in the debate over gun control, an issue in the spotlight following last week's mass shooting at Robb Elementary School in Uvalde, Texas. As Congress remains deadlocked on legislation, many states have already begun advancing measures to tighten access to firearms.
Running for Congress in 2018, Mastriano, a retired Army colonel, called it "appalling" that Democrats were proposing gun restrictions to end mass shootings and likened it to the Nazis confiscating privately held firearms by political opponents and Jews before World War II and Vladimir Lenin's actions in the Soviet Union. 
"We saw Lenin do the same thing in Russia. We saw Hitler do the same thing in Germany in the 30s," Mastriano said in a debate streamed on the local PCN cable network with his Republican primary competitors for the southeast Pennsylvania district, according to an archived video viewed by the Forward. "Where does it stop?"

The Mastriano campaign didn't immediately respond to a request for comment.
In 2015, Ben Carson, a Republican presidential candidate, made a similar claim that linked the Holocaust with gun control laws. "I think the likelihood of Hitler being able to accomplish his goals would have been greatly diminished if the people had been armed," Carson said in an interview with CNN's Wolf Blitzer, who is Jewish. The Anti-Defamation League called it "historically inaccurate."
Mastriano, a far-right state representative who attended the Jan. 6 Capitol riot and repeatedly promoted QAnon conspiracies, won the Republican nomination for governor earlier this month following a last-minute endorsement by former President Donald Trump. Mastriano led the effort to overturn the 2020 election in Pennsylvania. He will face Josh Shapiro, the state's Jewish attorney general, in the fall. 
The Cook Political Report ranked the battleground state race as leaning Democratic following the primary. 
The Republican nominee is a strong opponent of gun control. Last year he introduced a bill that would forbid state and local government officials from enforcing federal gun laws and regulations. In answers to a questionnaire by the Pennsylvania firearms association ahead of the primary, Mastriano said he would veto legislation that limits the sale, manufacture, importation, or possession of rifles, including semi-automatic firearms and ghost guns. 
At the 2018 debate, Mastriano also criticized the idea of creating gun-free zones in schools. "We didn't declare gun-free zones and airports when a Palestinian Liberation Organization attacked American and European airports in the 70s," he said.