Fast Forward
Judge: Yeshiva University must recognize LGBTQ club
The ruling requires the university to give the YU Pride Alliance 'all the privileges afforded to all other student groups'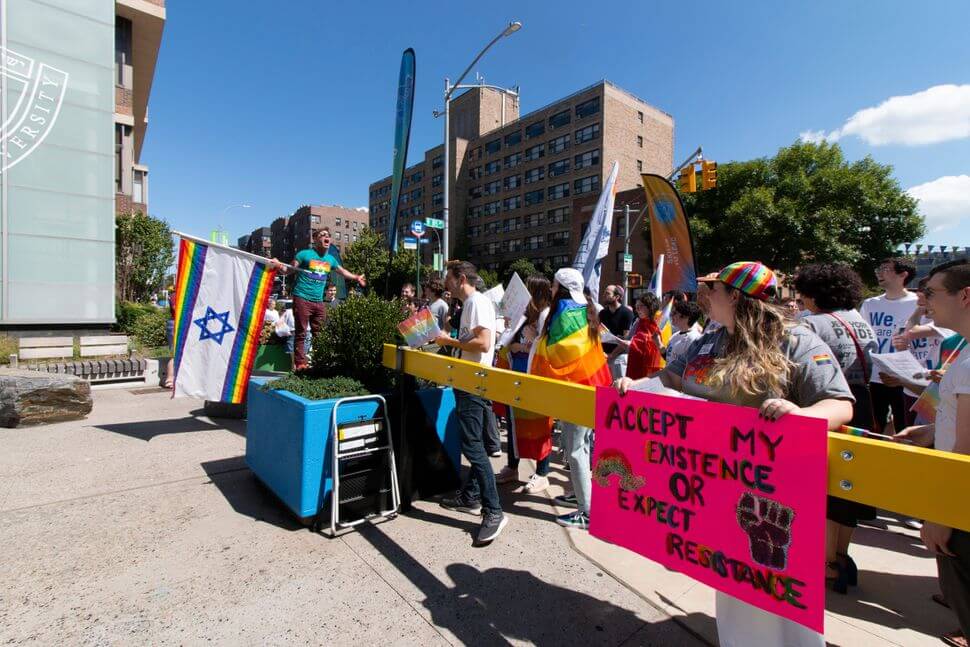 A judge ruled Tuesday that Yeshiva University must formally recognize an LGBTQ student group, handing victory to advocates who said the school's failure to foster an inclusive environment on campus amounted to discrimination.
In the decision, Judge Lynn Kotler of the New York County Supreme Court ruled that YU was in violation of the New York City Human Rights Law by denying recognition and equal accommodations to the YU Pride Alliance, whose members brought the suit last April.
She ordered the university to immediately grant the YU Pride Alliance "full and equal accommodations, advantages, facilities, and privileges afforded to all other student groups" at the school. 
Her ruling rejected the university's claim that it is a religious corporation, and therefore exempt from the city's nondiscrimination laws. Kotler wrote that YU's own descriptions of itself — in its charter, public messaging and applications for state funding — deem it an educational institution that must abide by these laws.
"Yeshiva is either a religious corporation in all matters or it is not," Kotler wrote.
Furthermore, citing precedent, the judge held that forcing YU to recognize the Pride Alliance did not violate the school's First Amendment rights because "formal recognition of a student group does not equate to endorsement of that group's message."
The school said it would appeal the ruling in a statement issued Wednesday morning.
"The court's ruling violates the religious liberty upon which this country was founded," the statement read. "The decision permits courts to interfere in the internal affairs of religious schools, hospitals, and other charitable organizations. Any ruling that Yeshiva is not religious is obviously wrong."
The likelihood of an appeal did little to dampen the excitement in YU's LGBTQ community.
In a tweet, Molly Meisels, a YU graduate who was among the plaintiffs, called the decision "monumental."
The Pride Alliance's decision to take their case to court — arguments were heard in February — followed repeated denials of recognition by the YU administration. After one such rejection in September 2020, the school issued a statement, titled "Fostering an Inclusive Community," in which it said that students could avail themselves of a LGBTQ mental health professional should they need one.
As the flagship Orthodox university in the U.S., Yeshiva's refusal to recognize the group likely stemmed from halachic, or Jewish legal issues, with same-sex relationships. 
But LGBTQ students and alumni have said that they often feel like second-class citizens on campus.
Katie Rosenberg, who represented the Pride Alliance in the case, told Teen Vogue last year that without official recognition, the students were unable to meet on campus, receive funding or put up posters advertising events.
"Everything requires 10 extra steps of difficulty for them," Rosenfeld said.
Jewish Queer Youth, a a nonprofit that supports LGBTQ youth in the Orthodox community and which organized a gay panel at YU in 2009, celebrated the news.
"The ruling is a victory for human dignity, mental health and safety on campus," Rachael Fried, JQY's director and a YU alum, said in a statement. "We could not be prouder of the heroic plaintiffs, and the hundreds of queer Yeshiva students (past and present) who have persevered in making Yeshiva University an even better Jewish institution."