Fast Forward
Israeli lawmakers dissolve Knesset, elections set for November 1
Yair Lapid will take the mantle of the premiership on Thursday midnight until Israel's next round of elections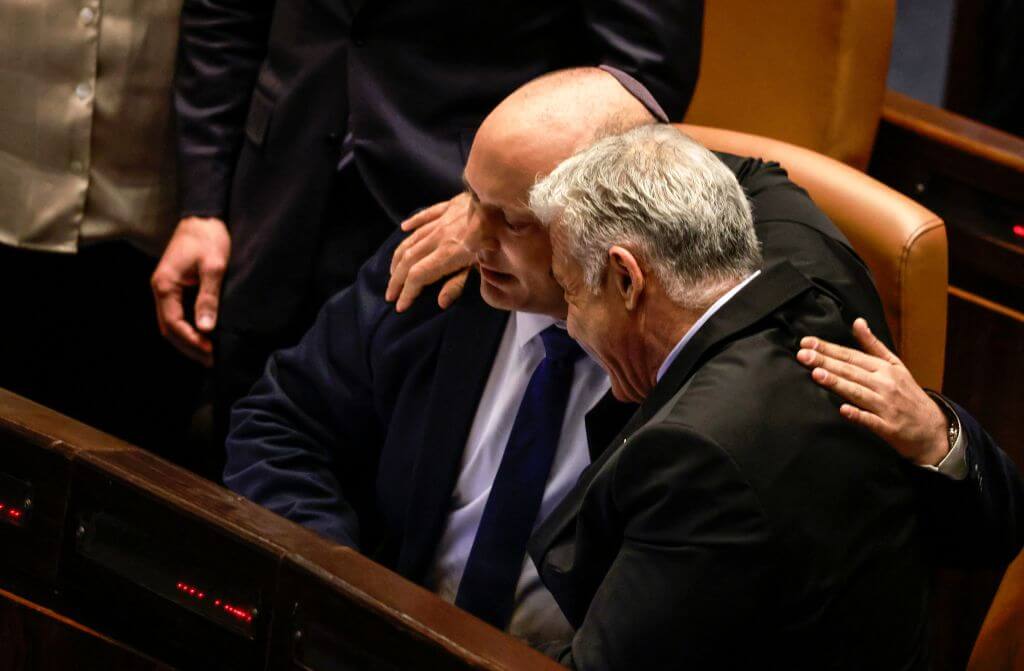 This article originally appeared on Haaretz, and was reprinted here with permission. Sign up here to get Haaretz's free Daily Brief newsletter delivered to your inbox.
Israeli lawmakers voted to dissolve the Knesset on Thursday morning, sending Yair Lapid to the premiership and the country to its fifth election in three years.
Lapid will assume the position of caretaker prime minister on Thursday at midnight until the next round of Israeli elections, set to take place on November 1.
After a drawn-out, overnight Knesset session, 92 lawmakers voted in favor, without a single MK opposing the bill. Yisrael Beiteinu and Labor abstained from the vote in protest of the wrangling over legislation to expedite the Tel Aviv light rail's construction.
Opposition leader Benjamin Netanyahu took the final Knesset session to pan the experiment of a broad-based coalition, stating they "promised to make changes and spoke about healing. They tried and failed. This is what happens when you bring together the fake-right and the far-left."
Lapid replaces his coalition partner Naftali Bennett, who on Wednesday evening announced that he would not run in the upcoming election. Once the Knesset dissolves, Lapid will embark on a series of meetings and ceremonies as he is instated as prime minister.
Lapid visited Yad Vashem Holocaust Remembrance Center immediately after the vote, and is due to attend a small ceremony at the Prime Minister's Office. Lapid will then have a transitional meeting with Bennett, followed by a meeting with President Isaac Herzog and his wife, Michal, at their residence.
In his farewell address on Wednesday evening, Bennett called for a government representing all Israelis and also took a dig at the opposition, claiming that his short-lived coalition achieved "more than what other governments did in a full term."
The vote to dissolve Israel's parliament had itself become a political battlefield, and was postponed several times after lawmakers from both sides of the aisle submitted thousands of objections to the bill triggering the disbanding of the Knesset.
Bennett and Lapid moved last week to disband the Knesset after infighting made their ruling coalition no longer tenable. A year ago, they had ended former Prime Minister Benjamin Netanyahu's record reign by forming a rare alliance of nationalists, liberals and Arab parties, which – while ultimately faltering – lasted longer than many had expected.
The forthcoming election campaign has already become dominated by the prospect of a possible comeback by Netanyahu, who hopes to win a sixth term in office despite being on trial for corruption on charges he denies. Surveys have shown his right-wing Likud party leading the polls, but still short of a governing majority despite support of allied religious and nationalist parties.