Fast Forward
Lapid to meet France's Macron in first official trip as prime minister
'The Lebanese government should keep Hezbollah under control – or we will,' Lapid says as he departs for Paris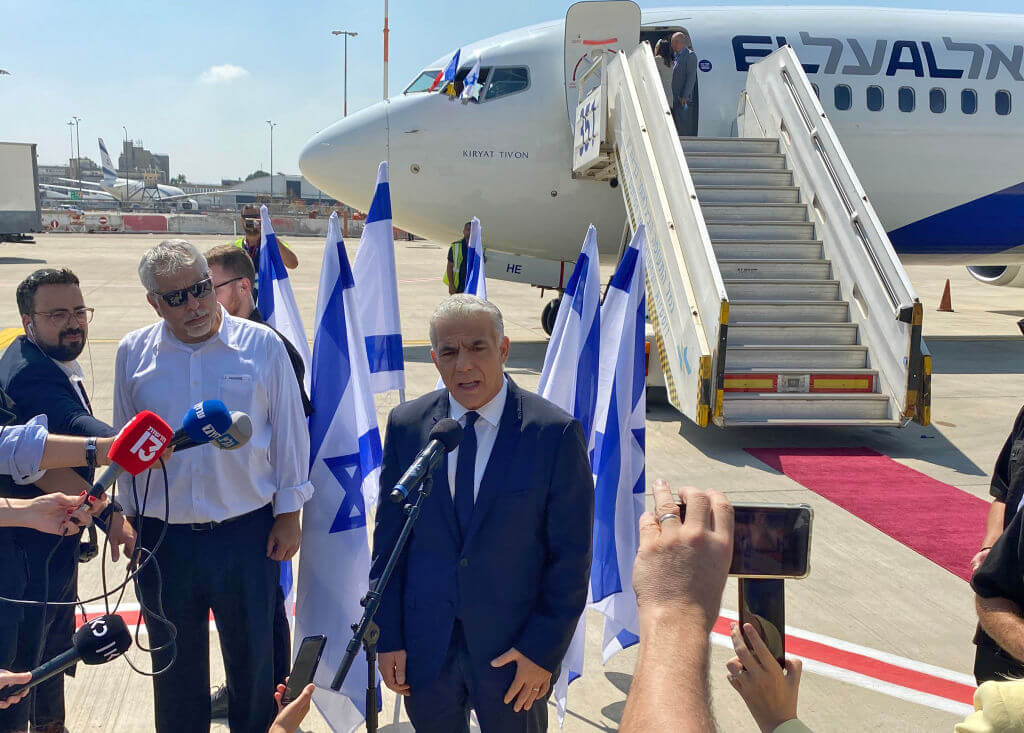 This article originally appeared on Haaretz, and was reprinted here with permission. Sign up here to get Haaretz's free Daily Brief newsletter delivered to your inbox.
Prime Minister Yair Lapid headed to Paris Tuesday for his first diplomatic visit as Israel's prime minister.
Lapid is expected to meet with long-time friend French President Emmanuel Macron in a visit which former Prime Minister Naftali Bennett scheduled before the Israeli parliament dissolved.
Lapid and Macron are expected to focus on Iranian attempts to revive the nuclear deal with world powers, as Europe deals with the ongoing crisis in Ukraine and energy shortage, due to the continent's dependence on Russian gas.
Regarding the Iran nuclear deal, Lapid's stance is expected to align with the Israeli position thus far, which opposes the nuclear agreement in its present form. Lapid, however, will not oppose to an improved deal, if an one will be presented.
Ahead of his departure Lapid said it is crucial for the international community to know that "the Israeli public stand together on the matter of Iran," and that Israel's views on the "dangerous agreement" need to be heard.
A second topic expected to come up is the raising tensions with Hezbollah. On Saturday, Israeli aerial defense systems intercepted three drones launched by Hezbollah at the Karish gas rig in the Mediterranean Sea, located in a disputed territory.
Before his trip Lapid said that attacks of this nature were unacceptable, "The Lebanese government should keep Hezbollah under control … or we will have do it," Lapid told reporters ahead of his departure.
In the meeting, Lapid is expected to present Macron with new information including "proof of the danger Hezbollah is posing to the security and wellbeing of Lebanon," a senior diplomatic source said. The source added that "Hezbollah is playing with fire and trying to prevent us from reaching an agreement regarding the economic water boundary."
The French administration seems to be interested both in the energy which could be pumped by Israel from the rig, scheduled to be liquefied, piped to Cairo and sold to Europe, and also in the security aspect of ongoing negotiations between Israel and Lebanon regarding the border of their economic waters.
The two leaders are also expected to discuss the killing of Palestinian journalist Shireen Abu Akleh. Should this happen, Lapid will likely cite the findings of the American investigation again, saying that the bullet was badly damaged, which prevented a clear conclusion.
The visit is of political importance to Lapid, who has already decided to devote his first few weeks in office to managing a diplomatic and national agenda – with the hope of building up his image as Prime Minister. Next week Lapid will host U.S. President Joe Biden, and is expected to attend a series of ceremonies and events over the coming month.