Fast Forward
Biden in Bethlehem: 'Ground is not ripe at this moment to restart negotiations'
President Biden announced Friday that Saudi Arabia would soon allow direct flights from Israel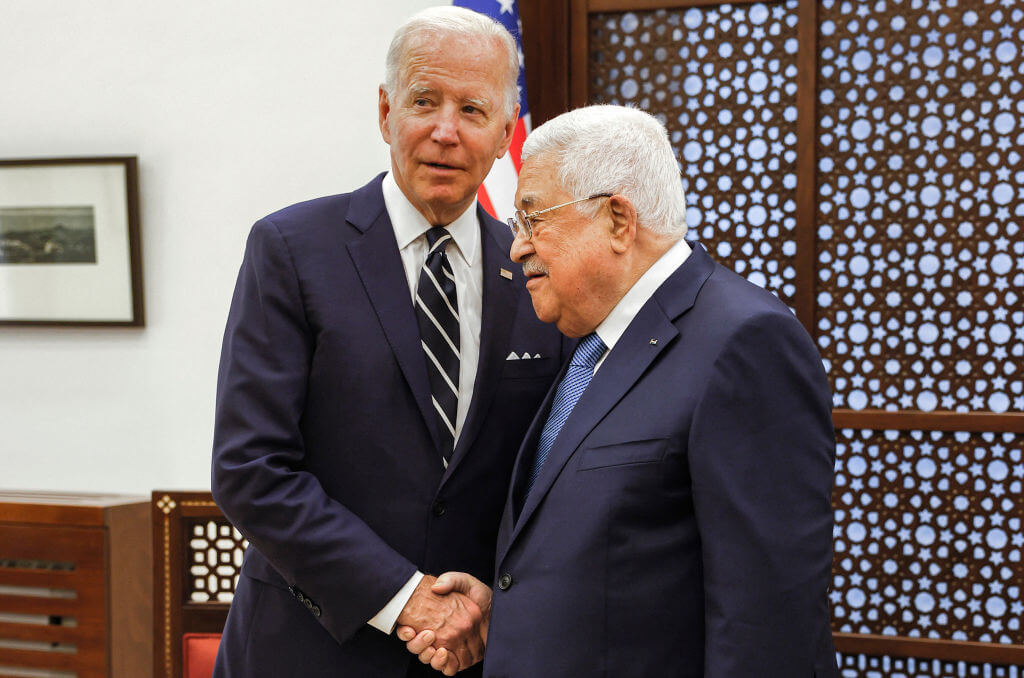 President Biden announced Friday that Saudi Arabia would soon allow direct flights from Israel, a small step toward normalizing relations between the two countries. The news came hours before Biden himself was to make that trip, as he visited an East Jerusalem hospital and Christian holy sites in the West Bank city of Bethlehem, where he met with Palestinian President Mahmoud Abbas.
"Isn't it time for this occupation to end?" Abbas asked pointedly after the meeting. He called on Biden to remove the Palestine Liberation Organization from a U.S. list of terrorist groups and reopen the U.S. consulate in Jerusalem and Palestinian diplomatic mission in Washington that were shuttered by President Trump.
"The key to peace and security in our region begins with the recognition of the state of Palestine," Abbas added. "The opportunity for the two-state solution along the 1967 borders may be available for today only."
But Biden, who had upset many Palestinian activists with his blunt embrace of Zionism as he arrived in Israel on Wednesday, said: "The ground is not ripe at this moment to restart negotiations."
The White House "readout" of the Abbas-Biden meeting said that the president had "reiterated the U.S. position that Jerusalem is the capital of Israel," though U.S. policy dictates that "the specific boundaries of sovereignty in Jerusalem must be resolved through final status negotiations between Israelis and Palestinians."
A senior administration official said Israeli Prime Minister Yair Lapid's statement on Thursday that he personally supports a two state solution was "warmly received" by President Biden and called it a "significant" step.
En route to Bethlehem, Biden's motorcade had passed signs saying "Mr. President, This is Apartheid," and "Justice for Shireen," a reference to the Palestinian-American journalist killed in May while covering protests of an Israeli military raid.
At the hospital, Biden pledged $100 million for Palestinian hospitals and another $201 million for the agency that supports Palestinian refugees and their descendants, and read a verse from his favorite Irish poet, Seamus Heaney, adding, "It is my prayer that we're reaching one of those moments where hope and history rhyme."
The White House also announced that Israel had agreed to help roll out 4G mobile-phone service in Palestinian-controlled areas of the West Bank within 18 months.
Following his meeting with Abbas, Biden took a direct flight from Tel Aviv to Jeddah to meet with Saudi officials and attend a summit with Arab leaders. Israel had hoped the trip would advance efforts toward formalizing ties between Saudi Arabia and Israel, but no such progress is expected.
The senior administration official said progress on the Palestinian issue shouldn't be an obstacle in getting the Saudis to join the Abraham Accords. "We fully support movement towards a two state solution, but it shouldn't be seen as necessarily connected to normalization efforts," the official said. "We believe that working towards a two-state solution is important in and of itself."
This post was updated.